Style Spotlight: Let Taika Waititi coach you on how to wear romphims, loud prints, and fun colors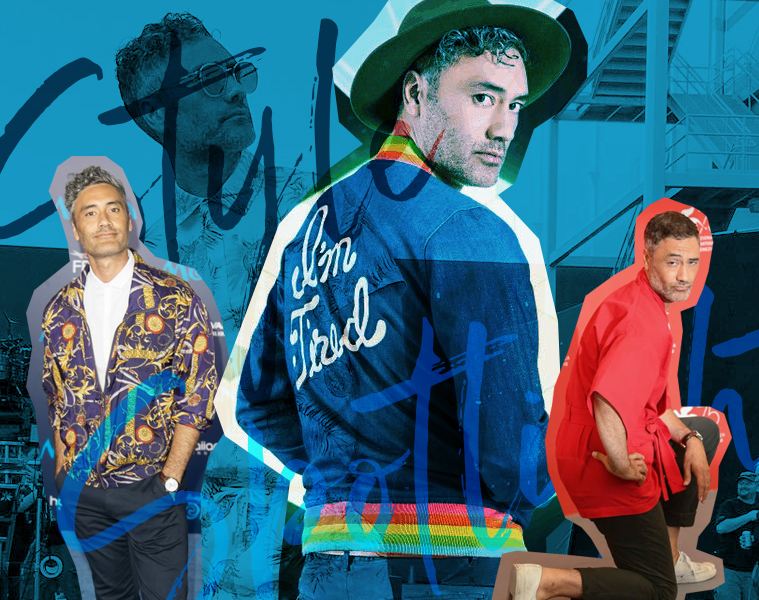 When the romphim made its debut in the fashion scene sometime during the summer of last year, everyone thought it was a joke. (It kind of was.) Though a few brave souls dared to try them on and post the results online, it's still hard to see this tricky clothing piece—something that women wear in defiance of small bladders—becoming a staple in the average Juan/Joe's closet.
But Taika Waititi is providing us with some very compelling evidence that a romphim is something that men should wear more often. That, plus some other  stylishly outré pieces.
The New Zealand native, director (Thor: Ragnarok), and actor (What We Do In The Shadows) made waves at last year's Comic-Con by appearing in a shirt-and-shorts outfit printed all over with pineapples, made by the Los Angeles-based brand Wallpapr. Though technically comprised of two separate pieces, the outfit's overall look was quite romphim-like, and it made everyone at the star-studded event take notice. Waititi himself took the attention in stride.
Sorry you're not me. #god pic.twitter.com/M8tkeehbsK

— Taika Waititi (@TaikaWaititi) July 22, 2017
https://www.instagram.com/p/BW70xrTjKqU/?hl=en&taken-by=taikawaititi
So refreshing is his take on men's fashion that there is even a Twitter account that chronicles the 43-year-old auteur's outfits. Now, while lesser mortals should feel sorry for not having Waititi's cojones to wear something out of the ordinary on the reg, he does have some nifty quotes (and matching visuals) to help guide the clueless on how they can find their own flashy and fun fashion voice. Not all men are created equal, sure, but a sense of humor and a little risk-taking could be the key to standing out like a breath of fresh air in a sea of same old, same old looks.
1. "I don't ever wear anything conservative in a business sense."
Given that most directors are used to calling the shots on how a scene should look and play out onscreen, ironically, not a lot of them give much thought to how they appear. Waititi prefers to be a pleasing spectacle himself, though. He told The Hollywood Reporter last year, "In Hollywood in general, especially in the studios, it's a very boring style. It's very safe. It's a 'You might as well be wearing a beeper on your belt' style, you know. Just tucking in an ugly shirt into some ugly trousers serves a purpose in a way, but you may as well just wear jeans and a t-shirt to work. To me, that's not dressing well."
https://www.instagram.com/p/Bk1R8-AlnhE/?hl=en&taken-by=taikawaititi
Comfort and effort don't have to be mutually exclusive, as Waititi shows here; just a little imagination and some application of taste can make a difference, regardless of whether your outfit will be seen by a lot of people or not. (There's always Instagram for that, anyway.)
2. "Some would call it peacocking. It probably is, but I've always loved bright things and things that stand out."
Waititi's penchant for unconventional prints—fruits, polka-dots, video games—and loud colors are definitely the farthest from the usual business dress code. What helps him carry them off is the enjoyment he gets from being a showy clotheshorse. It's obvious in his stance and facial expressions in red carpet photos. He knows he looks good, thus the swagger, but it's not a douche-y kind of swagger; he just comes off as very comfortable in his own skin. "Making movies is like a fancy job that no one has realized is not really a job," Waititi stated in the same THR interview. "It's a really sweet, small, little creative corridor that I've managed to squeeze into. So I think you've got to embrace that."
https://www.instagram.com/p/BhKgsIKlAxV/?hl=en&taken-by=taikawaititi
https://www.instagram.com/p/BLA-TOQBgS7/?hl=en&taken-by=taikawaititi
When you're low-key excited about the Black Panther movie… pic.twitter.com/sqtmp0O7se

— Taika Waititi Fashion (@Taika_Fashion) July 26, 2017
3. "In order to be irreplaceable, one must always be different."
The origins of this quote is dubious (Taika Waititi Fashion credits it to "Taika Chanel"), but the sentiment rings true for this fashion plate, especially when it means bringing back a relic from the '90s and making it werk (the all-white backdrop for those pineapples really helps):
https://www.instagram.com/p/BnB5UBKF0X2/?hl=en&taken-by=taikawaititi
Denim on denim remains another look that people can feel lukewarm about, despite the number of options on how it can be worn. Waititi himself doesn't need much; just a pop of collar color and a mussed-up salt-and-paper hair have him feeling himself already.
Yeah it's double fucking denim. Even the hair is denim. The lesson? Be me. #GodOfDenim #Ragnarok #DenimyOfTheState #MidsummerNightsJeans pic.twitter.com/03U0i4RlbK

— Taika Waititi (@TaikaWaititi) June 27, 2017
4. "I come from a country whose idea of masculinity is quite extreme, and I've grown up around a lot of that energy. I've been part of that a lot. And it's very draining; it's quite tiring trying to be macho."
This gem is courtesy of Brainy Quotes, and it explains a lot about Waititi's progressive views on race, class, and gender. It also fits right in with his ease with wearing colors and pieces that are traditionally deemed "feminine," like this pale pink-and-blush suit and tie:
And this bomber jacket that was originally designed for women:
The bomber deserved its own post. Big Bud Press's I'm Tired Denim Jacket – technically a woman's item but technically fuck you #TaikaFashion pic.twitter.com/gXKoyix8vr

— Taika Waititi Fashion (@Taika_Fashion) November 3, 2017
5. And this Tweet says it all about Waititi's willingness to sacrifice for all of our benefit.
If you don't love me at my… ahh fuck off, I came from outer space to inspire you mortals.#PierreEtTaika#idunnowhomadethisbutitisdope pic.twitter.com/zGxNsT30nI

— Taika Waititi (@TaikaWaititi) April 13, 2018
Delivered, of course, with a glamour shot