Style Spotlight: Ezra Miller, fantastic fashion beast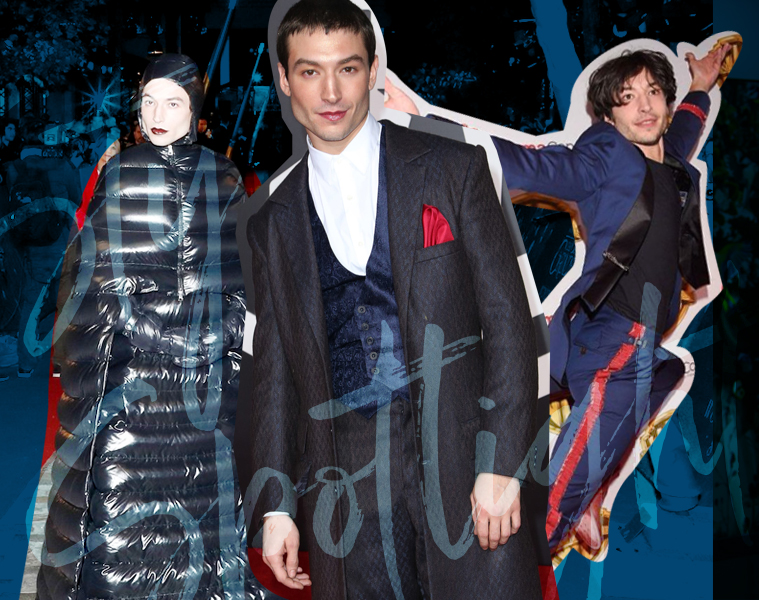 https://twitter.com/ezramillerfans/status/246560796161753088
I've since realized that there are two necessary elements that can help someone's personal fashion sense stand out: Commitment and a sense of fun. You know who has both in heaps?
Ezra Miller.
The 26-year-old has always had this air of unpredictability to him that tells the audience not to take his symmetrical good looks at face value. Miller isn't the Young Hollywood cookie-cutter type, and not just because he could play an eerily reptilian psychopath the way he did in the movie We Need To Talk About Kevin. I mean, it takes some balls for a celebrity to choose to grow their toenails this long and be photographed sporting them:
I have no update on Miller's toe hygiene, but I have seen his latest red carpet look to promote Fantastic Beasts: The Crimes Of Grindelwald and the buzz it generated on the internet:
The actor turned the event into a runway with a white goose-feathered cape and a pair of white slacks, both from Givenchy Haute Couture. Observers speculate that Miller was channeling Hedwig, Harry Potter's dead owl, especially with the killing curse "Avada Kedavra" scribbled on his palm. I don't know anything about Harry Potter, never read the books nor watched any of the films, but I do appreciate the heeled white shoes, the silver under-eye makeup and nail polish, and the spiked hair as his choice of accessories.
But this wasn't the first time that he stunned folks on the red carpet. Just last week, Miller really shut down the show with a regal stance and this outfit:
Wearing a Pierpaolo Piccioli puffer dress/sleeping bag, which was a collaboration between the Valentino creative director and Moncler as part of their new Geniuses program, Miller complemented his outfit with a wine-colored lip and proceeded to display an impressive array of facial expressions that took everyone up and away.
You know it's a crazy and memorable look when Tommy Lenk does a Lenk Lewk for Less version of it:
https://www.instagram.com/p/BqBHiQrgaXD/
In contrast, the look Miller sported in Beijing last month for another red carpet promo for Fantastic Beasts was light and futuristic, with the metallic, oversized Raf Simmons spring 2019 coat worn with metallic boots and accented with the pop of yellow from his high-necked blouse:
It hasn't been all outrageously crazy all the time, however. The actor has veered a bit into the conservative side a number of times in the past, though not to the point where it's the same old three-piece suit that most of his peers would choose. For the Justice League world premiere one year ago, Miller looked as if he had just teleported in from the Regency era with his subtly patterned long coat, waistcoat, and combat boots.
It's a look he seemed to favor during the JL promotional tour:
That's what I meant by commitment. Even when it's a bit more downplayed, Miller's style choices still obviously look as if they had been thought out, and there's no half-assing it. There's no sign of unease or discomfort, just the dedication to pull off a look the best way he can.
And of course, it doesn't hurt that he keeps things cheeky instead of taking himself seriously. Jared Leto could never.
https://www.instagram.com/p/BSTrPmUA3Db/
We all must keep my eyes peeled for Miller, because he seems geared to become a style icon in just a few years. What we've seen so far is just the beginning.
Header art by Inggo Manalo