Style Spotlight: Keiynan Lonsdale knows how to bring the right kind of red carpet drama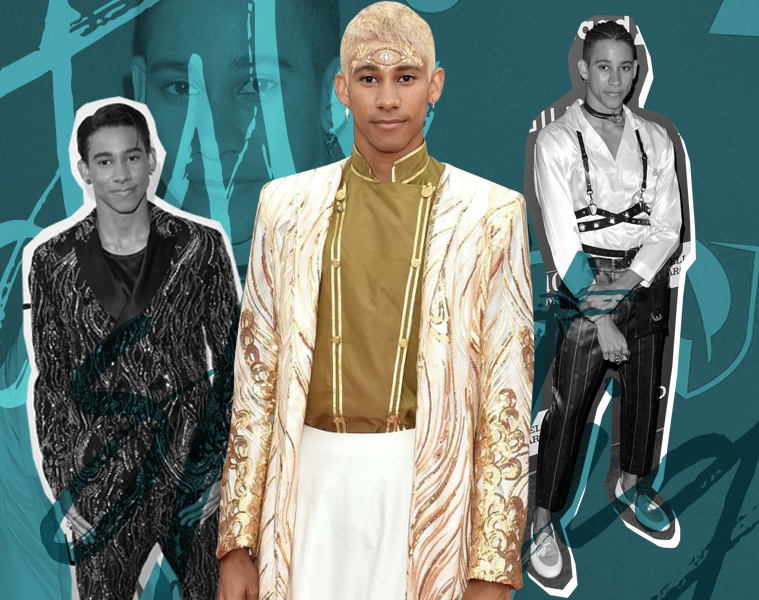 You guys got to catch Love, Simon like we told you too, right? So you got to watch that super-kilig reveal of who Blue was, and how he and Simon got to finally start their relationship, with neither of them hiding behind a pseudonym anymore.
Swear to god, that was such a fun, sweet, and heart-warming movie.
Anyway, we've featured its main actor Nick Robinson's personal style before, but the guy who plays Blue, actor/musician Keiynan Lonsdale has been making some noise with his unabashedly creative take on red carpet dressing, and we think he deserves to get some time under the style spotlight too.
Just take a look at his outfit from last week's MTV Movie and TV Awards:
That's a look that calls for dedication, and Lonsdale more than delivered. It was also an outfit that was meant to be seen, and so it was a great thing that he got to go onstage to receive the Best Kiss award for the night; too bad Robinson couldn't attend the ceremony, or we could have seen a second kiss between these two good-looking actors.
More important than an MTV award, though, was the opportunity that Lonsdale took to encourage teens, especially LGBTQIA teens, to embrace who they are, to live their truth, and to pursue their dreams:
By the way, the 26-year-old Australian, whom you have seen on the CW series The Flash, Legends of Tomorrow, and Supergirl, came out as bisexual last year with this Tweet:
The freedom that Lonsdale feels from being his authentic self is evident in his strong personal style. His outfits can sometimes be cheeky, such as the bondage-themed getup he wore to the GLAAD Media Awards earlier this year (we wonder if this also a Moschino look, much like what Adam Rippon wore to the Oscars):
GLAAD, by the way, is a non-governmental media monitoring organization in the United States that was founded by LGBTQIA people in the media. It was formerly known as the Gay & Lesbian Alliance Against Defamation.
The kilt isn't worn by those with faint hearts, and Lonsdale's arts-and-crafts version called for more balls, but the actor was able to balance it with a sleek blazer:
For the Love, Simon premier last summer, Lonsdale looked a bit more formal, though he was anything but a wallflower in this sparkly suit. (A little more tailoring wouldn't have hurt, we'd have to say.)
This white tux is perfection, though.
If it's starting to seem as if Lonsdale occupies only the extreme ends of personal style, his off-carpet looks speak more of a youthful aesthetic that matches urban streetwear pieces with low-key drama.
https://www.instagram.com/p/Biu1fiYgA_6/?hl=en&taken-by=keiynanlonsdale
https://www.instagram.com/p/BiSiDRtgCw2/?hl=en&taken-by=keiynanlonsdale
https://www.instagram.com/p/BgzT8NWAXAT/?hl=en&taken-by=keiynanlonsdale
Great shirt on this one:
https://www.instagram.com/p/BhPwW9oAA1e/?hl=en&taken-by=keiynanlonsdale
More great things are coming Lonsdale's way, as he'll be releasing his next single "Preach" on June 29 (most probably June 30 for us here). Based on his earlier single "Kiss The Boy," we're excited to hear more of his chill R&B sound. And we're also excited to see what else is in store for this talented young king.