Warm up your engines, 'cause here come the queens of RuPaul's Drag Race UK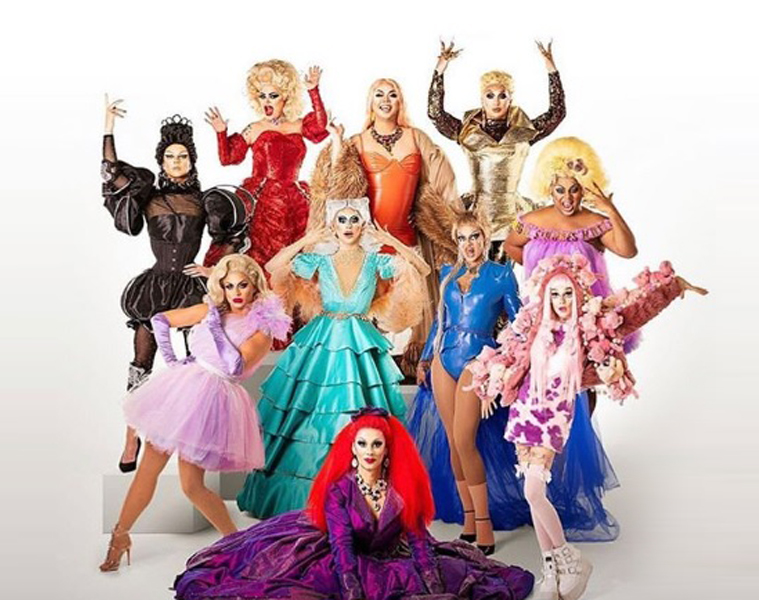 We say "warm up" instead of start, because RuPaul's Drag Race UK won't be arriving until October. But the British version of the Emmy-winning reality TV show has dropped a sneak peek into its first-ever runway show, in which we'll see comedian Alan Carr and actor Andrew Garfield sitting on the judges' panel right beside RuPaul herself and her best squirrel friend Michelle Visage:
With a little over a month before the show premieres, Drag Race fans who are unfamiliar with the British drag scene has time to get to know more about the queens that will be making the show undoubtedly sickening. Fans who exclusively love the looks queens (and pay dust to the rest) may have to expand their appreciation for drag beyond mugs beat to the gods and pageant eleganza extravaganza, because with Drag Race UK, it seems camp, comedy, and performance will reign supreme. As Visage told Gay Times, "It's very American to do the looks, but very British to put performance first, and I celebrate that, being an old school girl myself."
The 10 queens of the first Drag Race UK are a combination of seasoned performers and newbies. One of them is the first bisexual queen to be a Drag Race contestant. With their influences ranging from classic drag inspirations such as Liza Minelli, Tuna Turner, and Bette Davis to more contemporary personalities like Cheryl Cole and Ariana Grande, expect a wide variety of drag that will make you gag—and plenty of conflamma to cry about to your Mama (Ru).
Baga Chipz, 29, London
https://www.instagram.com/p/B1bEp1ylwCV/
Blu Hydrangea, 23, Belfast
https://www.instagram.com/p/B1b2pt7phiT/
Cheryl Hole, 25, Essex
https://www.instagram.com/p/B1atQmopshO/
Crystal, 34, London
https://www.instagram.com/p/B1atYy8F92t/
Divina De Campo, 36, West Yorkshire
https://www.instagram.com/p/Byp_8dqFUjo/
Gothy Kendoll, 22, Leicester
https://www.instagram.com/p/B1eld3WHH21/
Scaredy Kat, 20, Wiltshire
https://www.instagram.com/p/B1atHZVgk9t/
Sum Ting Wong, 31, Birmingham
https://www.instagram.com/p/B1ardqRpOXe/
Vinegar Strokes, 35, London
https://www.instagram.com/p/B1ar-OTnyS_/
The Vivienne, 27, Liverpool
https://www.instagram.com/p/B1a1kUBgab8/
https://www.instagram.com/p/B1bG_ghJB26/
Header image from Gay Times