EXCLUSIVE: Getting up close and personal with River Joseph

Here's a look at the other side where River streams and thrives
If you would look at River Joseph's Instagram account, you would see a typical cool guy who likes to have fun. A young fellow who lives an active lifestyle. Someone who's fun enough to do horseback riding, play ball, travel, skate, drink, and even dance. A classic handsome guy who gets modeling gigs in just a snap of a finger. And it's true, he is!
But behind the pretty face and outgoing spirit, he's actually someone who cares. They say social media is not real as people only showcase the best part of them. In River's case, there's actually more to like outside the social media facade and we're glad to have known the young actor a little deeper.
You have probably seen River's face in TV commercials and hosting a couple of shows online. He's the adorable unicorn in that telecom commercial. He also landed a gig with a biscuit brand. But what's more impressive than landing multiple TVCs in just a year is his conscious nature. We bet you don't know about his passion for the environment.
River has a business called Cassa plastic bags made of cassava starch. He's also involved in an outreach program called Rich for the Poor, an initiative that aims to feed street children and the less fortunate which is dedicated to his late brother. "Rich for the Poor is a foundation dedicated to my brother, Richard, who passed away in 2017. He had a passion for helping and feeding street children and we wanted to continue his legacy through this foundation," he shares. Aside from the foundation, River is also involved in farm tourism with Mr. Tony Meloto, founder of Gawad Kalinga.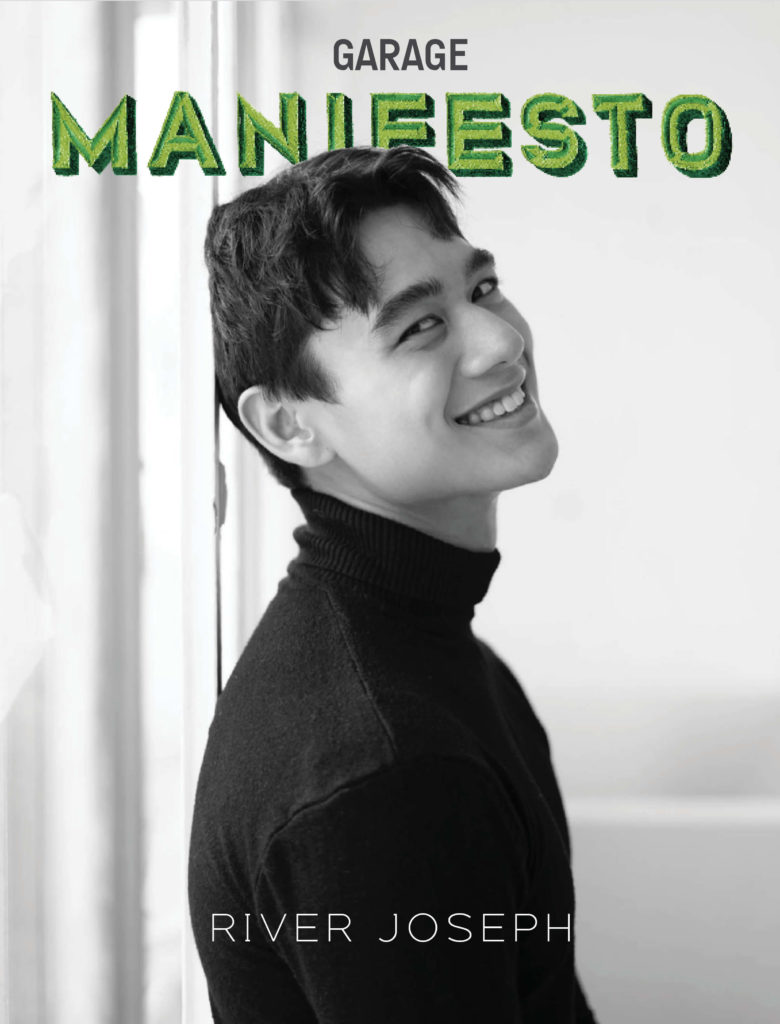 If you have not figured yet, River is Rigo's cousin, a personality we featured a couple of weeks back. Style and sensibilities actually do stream in River and Rigo's bloodline. But for this exclusive, we're putting a spotlight on River and his pursuit of show business. We caught up with the actor on his future plans in the industry as well as his personal style and routines which keep him fit. Read our exchange below: 
What do you like most about being a commercial model and acting?
Ever since I was a kid watching TV shows and movies, I was always inspired and moved by the stories and characters. I was hoping one day, I could do the same and inspire and touch the lives of others by playing a character. Besides that, I enjoy the whole process of acting and modeling. From the whole production and seeing a vision come to life. I enjoy being on set as well as meeting new friends and building relationships.
Which actor do you look up to the most?
An actor I really look up to most is Leonardo DiCaprio. He has been in the industry ever since he was a child and until now, he is still very relevant in the Hollywood industry. He is one of the best actors in terms of his range, variety, and style of acting. He can do romance, thriller, action and comedy movies. Most of the movies he has been in are award winning movies and are some of my favorite movies. Movies such as "Catch Me if You Can," "Wolf of Wall Street," and "Inception."
Other actors I look up to are Seth Rogen and Will Ferrel. They are not just funny in the movies, but in real life also. They bring their own characters to the movies they star in which is something I hope to do one day.
What genre of film would you like to try?
I would like to try all or as many genres as I can to see which genre I fit most in. However, I would like to start in a rom-com film or TV show. I feel that this genre fits my age and the point in life that I am in. In the future, I would like to explore action, drama, and comedy movies.
If you were to recreate a scene in any film, what and why?
If I were to recreate a scene, I would do the ending scene in "Titanic" where Jack tries to save Rose by letting her float on the door. I would recreate it and find a way to fit both of us on the door (haha).
How do you keep yourself fit? What's your fitness routine?
I keep myself fit by exercising five to six times a week and lessening sweets and junk food in my diet. I need to sweat or exercise at least once a day. I do this by either going to the gym, playing basketball, biking, boxing, or golf.
How would you describe your personal style?
My style will always be comfort over style. When I dress, I prefer clothes which are comfy and stylish at the same time. On a normal day, I would just wear shorts, a shirt, and shoes. I also like to wear exercise clothes most of the time so that I am always ready and prepared to workout. My only rule when it comes to styling is never "stripes on stripes."
Who is your style icon?
My style icon would probably be Harry Styles. His style is very unique, known, and distinct from the rest. He wears a variety of clothes and he knows how to carry his clothing with confidence.
What can we look forward to from you in the future?
There's a lot to look forward to in the future and I'm excited for what is to come for me. I believe I am at the very beginning of my career and there's a long road ahead. A lot to improve on, work on, trainings, and even failures to overcome to be able to reach my goals. I hope one day I could star in a movie or a show. I also look to go into different outlets in this industry such as hosting, vlogging, singing, dancing and expressing myself through art.
Photographer: Alain Lababit
Styled: Dave Arden Cruz
Hair and grooming: Mycke Arcano