G-Force's Teacher Georcelle shows her next move: A line of performance-tested lipsticks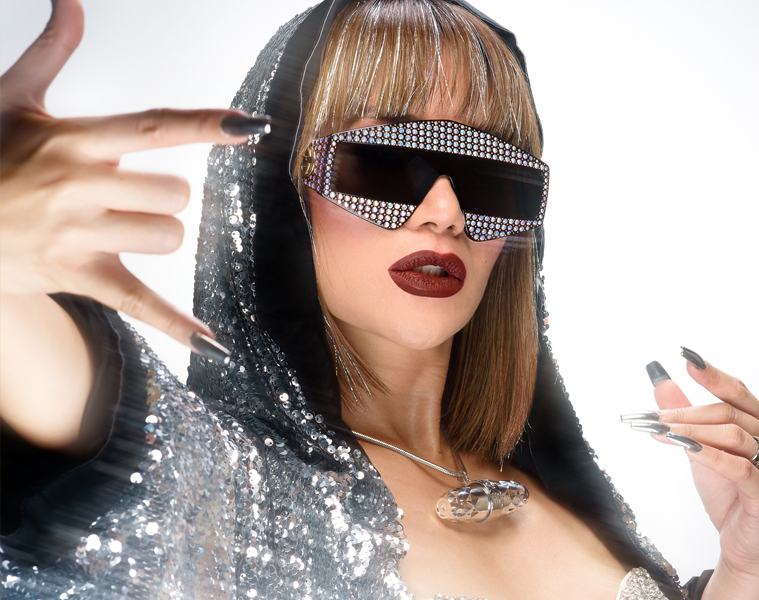 The beauty market is quite saturated already with celebrity makeup lines, but if there is a public personality whose take on cosmetics could also be trusted, then G-Force founder Georcelle Dapat-Sy is as worthy as any actress or YouTube star. With her dance company almost 15 years strong now, Dapat-Sy—more popularly referred to as Teacher Georcelle—would know what good-looking makeup should be like, even after long rehearsal hours and under hot stage lights.
And so she starts with a lipstick line that was developed in partnership with Australian beauty brand BYS. M.O.V.E. features eight rich matte shades, each one named after an aspect of dance and packaged in a bullet-shaped brass lipstick case that doubles as a necklace. Why eight? "Because when you dance, there are eight counts," Dapat-Sy explained sassily during the M.O.V.E. launch.
Held at the G-Force Dance Studio in Quezon City, the event was also a presentation of the dancer/choreographer/performer/teacher's bigger creative vision that she has been working on for a long time—and how makeup is an expansion of it. "I'm thankful to have this new venture, this collaboration with BYS, because it is another opportunity for me to spread the gift of dance," Dapat-Sy remarked. "When I dance, if I have to show a move, it has to be something I'm really into—same with a product. I love lipstick, I wear it every day, so now that I'm expanding and really wanting to elevate what I'm doing, why not start with my favorite makeup item?"
Dapat-Sy said that BYS gave her creative freedom in developing the lipstick line, and in the three-month development process, she used her experience as a performer to create a product that answers her needs. "The G-Force works mostly for television, and it's always paspasan, especially during live shows: There's a long wait backstage, and then everything is a rush. When there's little time to prepare, all we have to do is put on lipstick and we're ready to face the crowd."
With her penchant for loud colors, half of the M.O.V.E. shades feature bold hues while the other half are nudes. "I wanted a lipstick that I didn't have to keep swiping on my lips just to get the effect I want," she described. With the products' rich pigmentation, one application can already lend color to the pucker and layering multiple swipes can achieve a more dramatic look. "I also enjoyed the process of picking the names for the shades. There is a connection to what dancers do in each name."
The dark plum Beast Mode evokes that part of a performance when a dancer eats up the stage and the crowd with their fierce moves. "It's my favorite shade around December time, when there's a lot of work to do and I have to be on top of my game." On Pointe is a classic vibrant red with blue undertones, Fly Girl is a flattering shade of mulberry purple, while Shablam is a bright orange hue named after the popular vogue-ing move that's also referred to as the death drop. "It's like an exclamation point in a performance, and this shade does the same to any look."
Then there's Humbhaaam, the name lifted from Dapat-Sy's favorite expression that she uses to emphasize a point or a statement. "Our call time at A.S.A.P. is at 6 a.m., but I don't go in without wearing lipstick; Humbhaaam is perfect for that hour, kasi di ka naman puputok with your look that early, right?" Later on in the day, she'd put on five more layers for a performance or an event and would be all set.
As for the nude selection, Warmed Up, Pin Up, and Freestyle are variations of the classic shade, to match a user's skin tone and the occasion; Dapat-Sy recommends Freestyle to male dancers who want to have an instant stage-ready look. "These don't dry your lips either; they're G-Force tried and tested. We've used them in our concert where they were pre-launched, and they did not dry the lips."
https://www.instagram.com/p/B100gmKguaL/
Dapat-Sy hopes that the M.O.V.E. lipsticks are just the start of an even bigger makeup line that will serve and grow the dance community—an extension of how she mentors the G-Force Dance Studio students on how to own their capabilities and move to their own beat. "M.O.V.E. stands for 'Make it, own it, value it, elevate it,' so I want these products to be part of a movement where people face challenges and embrace and create opportunities. I want them to be experienced especially by dancers and movers, for them to use these lipsticks to help them go forward and elevate what they do."
BYS x M.O.V.E. Lipsticks (Php649 for those that come with a chain and Php449 for just the lipstick) are available at Watsons, SM Beauty, and Beauty Beat.