Oh, the drama! Our Golden Globes 2019 red carpet review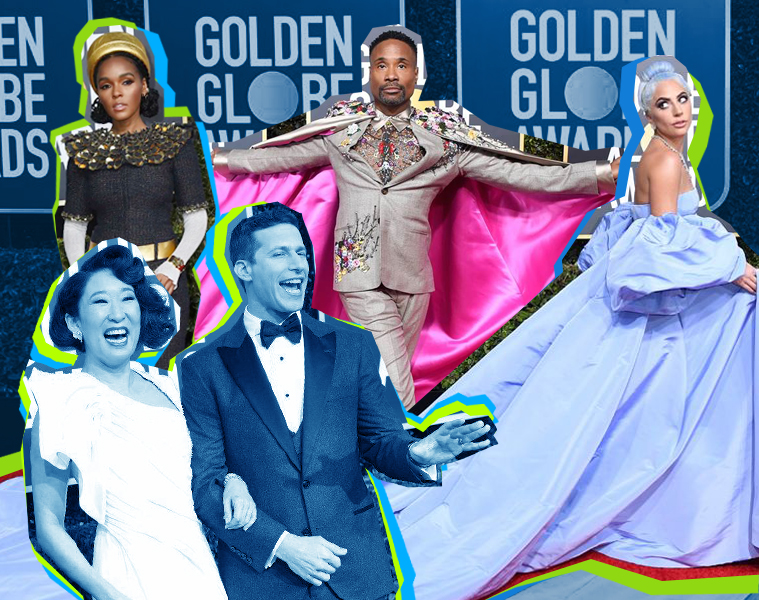 We closed the tab on our Golden Globes 2019 streaming party the moment that Bohemian Rhapsody was announced as Best Picture – Drama, because we've already had enough of the Hollywood Foreign Press Association's award-giving bullshit. Yes, some of our faves (well, one) didn't win, but there were also quite the number of cringe-y moments during the broadcast, such as the Green Book director/writer preach-yelling during his speech 0n how to end racism (he's white, BTW) and this one:
Sandra Oh: ["Crazy Rich Asians"] is the first studio film with an Asian American lead since "Ghost in the Shell" and "Aloha."

Emma Stone [in the crowd]: I'M SORRY! pic.twitter.com/YI1S7sLvPH

— David Mack (@davidmackau) January 7, 2019
Like, do you want a cookie for that "apology," Emma Stone? Ugh.
But what we're all here for is the fashion. Here are our takes on which looks made it to our Faves list and which ones we had to shut down.
Judy Greer
I love seeing women wear suits to formal events, and Judy Greer, a grossly underrated actress, schooled all those bigger-name celebrities who can't seem to let go of belabored mermaid gowns on the kind of power a superbly tailored tuxedo can immediately convey—and how a boxy silhouette can let them eat, Patricia Clarkson. P.S. Love those palazzo pants.  – September Grace Mahino, executive editor
I will always see her as Vylette in Jawbreaker and I'm not mad about it. Although I can't unsee her role in that iconic film, this look would have been much easier to the eyes if it were a little more fitted to body. I know it's not supposed to be a skinny suit but it's a tad heavy on the bottom and loose in the arm area. – Jerico Villamonte, fashion and grooming editor
Janelle Monáe
Decked like an Egyptian queen in Chanel, Janelle Monáe continued her streak as the woman to watch out for on the red carpet, because not only does she bring fashion, she also brings loads of imagination. – SGM
Janelle has always been a show stopper when it comes to the red carpet but with this one, I'm not sure if it's for the right reasons. I feel as if I'm looking at a costume competition entry put together by a bunch of students, especially with that school pageant headpiece. – JV
Rosamund Pike
She'll always be Amazing Amy to me, and Rosamund Pike in this cut-out outfit was killer. – SGM
I can't decide whether I would love the look without the bedazzled bolero draped on her or not, although sans jacket, I'm pretty sure she would have looked more…proper or formal. I'll always see Rosamund as the devious and calculating woman who had staged her own disappearance and framed her husband for it, so the bondage-like feel of this gown seems fitting.
Lady Gaga
Given her Best Actress campaign hustle, I had thought Lady Gaga would arrive at the Golden Globes in something show-stopping. Well I thought wrong, because this sprawling blue piece didn't really bring any drama. It didn't bring anything but the snooze, in fact, because I feel as if I've seen this gown way too many times before. There could be a hundred people in a room and 99 of them have worn a similar outfit…Anyway, the color isn't helping, either. – SGM
I feel like I've seen more creative looks than this so this one is a little "Shallow" for me. I see a colored version of Gaga's white Oscars 2015 look, especially with that hair. Like, why is her dye job unevenly spread out? Did the salon run out of product? I don't know. Congrats on winning Best Original Song, though. – JV
Rami Malek
I'm happy he won Best Actor for a Musical/Comedy, but I wish Rami Malek had worn something more exciting. We all know what he's capable of when it comes to fashion, and it sucks that maybe his campaigning for an Oscar nomination has him and his stylist playing the safer game. – SGM
The last time I saw Rami was onscreen, playing Freddie Mercury, and I feel that seeing him in that role contributed to my being underwhelmed with what he wore to the awards night. I can't deny that he looked good in the custom-made suit and tie, but a little sparkle would have helped. But with Bohemian Rhapsody winning, he's still a winner (even without the hug from Nicole Kidman LOL). – JV
Troye Sivan
Oversized suits will be big this season, and Troye Sivan is one of the few celebrities to test-drive this trend on the red carpet. I'd have to say, he pulled off the waifish look, though the creases on his pants took the ragamuffin aesthetic into the next uncomfortable level. – SGM
I would like to congratulate Troye on three things: First, for looking good in that navy suit; second, for the Golden Globe Best Original Song nomination for "Revelation"; and third, for sneaking in those white nail polish-coated nails. He will always be the perfect sample of improper to me, and I adore him for that. – JV
Michelle Yeoh
The shiny upper half of Michelle Yeoh's gown reminded me of banana leaves (love the straps and décolletage, by the way) but the difference in tone of the bottom half along with the fusty, lacy texture irks me. The Crazy Rich Asians actress has a regal aura that even a failure in design can't shake, though. Plus, it's hard to miss the glorious ring on her finger, which Yeoh had so generously loaned from her personal collection to the film so that Nick could propose to Rachel with something that's appropriately luxurious. – SGM
Make-up, check! Hair, check! Dress, check! Wait, what kind of watch was she wearing? That black bulky watch is poking my eyes out, it was such a distraction from all the diamonds around her neck and fingers. Please take it off. – JV
Gemma Chan
At the 1989 Oscars, Demi Moore wore a pair of cycling shorts with a corset and metallic skirt. I don't know why Gemma Chan's outfit reminded me of that fact; I just know that the British actress looked fantastic from the neck up. – SGM
This petrol blue Valentino number belongs to the set of Crazy China Girlfriend because it looks expensive, beautiful, and like something that belongs in Astrid's closet. I like that this halter gown matched her shoes while contrasting with her lip color. It's the right kind of fun for the red carpet. – JV
Idris Elba
Breaking news: Sexiest Man Alive still looks like a snack in a suit, even sans tie. (He put one on before going onstage, though.) It's not so obvious in this picture, but Idris Elba's jewel-toned suit camewith a subtle print that added textural interest to his outfit. – SGM
Isan is truly her father's daughter, judging by her dress. I'm pretty sure she and Sabrina talked about what they'd be wearing, but it's a little too obvious that the look that the 17-year-old Miss Golden Globes went for was a mix of Idris' three-piece suit and Sabrina's gown in terms of color and design. But kudos to Idris: He looked good, and I'm looking forward to seeing him as 007, if the rumors were true. – JV
Cody Fern
American Horror Story actor Cody Fern wore a look that ladies would also love to wear, from the freshly tousled hair and the dramatic eyes, to the sheer panel top and high-waisted trousers. The Maison Margiela Tabi heel boots are also cool, I guess. – SGM
Millie Bobby Brown is growing up too fast! Kidding. I love Cody, and although it seems like he's not yet over as American Horror Story's male supreme, what with his makeup and vibe, I'm living for his sheer top and the high-waisted trousers. – JV
Sara Gilbert and Linda Perry
The youths may go hooting, "Who?" at the mention of this rock 'n' roll couple, but actress Sara Gilbert and singer/songwriter Linda Perry hit couple twinning gold with their suits. Sara went dark with a velvet two-piece that she wore with a graphic tee underneath, while Linda went with a a metallic ensemble, spiced up with black lapels and accessorized with an OTT hat. – SGM
It's so nice to see these women rocking hers and hers suits. Complementing the golds and blacks of their outfits, and the play of traditional suiting vs. bold details, the couple's '70s vibe was truly award-winning. – JV
Jodie Comer
The feathery duster gown has become a red carpet staple, but I welcome the almost lingerie/dressing gown-like feel of Jodie Comer's outfit. Maybe it's the loose fit and the heavier shirring of the tulle at the bottom of the sleeves and the hem, but overall, I like this look. – SGM
I have a love-hate relationship with Villanelle on Killing Eve so I might be biased with my fashion opinion, but Jodie's Ralph & Russo tulle gown was a smart contrast to co-star Sandra Oh's white Versace gown on the red carpet. It was unconventional and dark, just like her character, but I can't say anything more about it. Maybe I was hoping for a little more attitude on the carpet from her. – JV
Sandra Oh
As the co-host of the awards ceremony, the Killing Eve star sported multiple looks throughout the evening, and they all looked glam. My fave, though, is what she wore when she went onstage to receive her Best Actress in a TV Drama award. Sandra Oh's white-gown fit her like a dream, but the puffy, billowy metallic sleeves really took me to the heavens. – SGM
I feel so proud because I feel like Eve herself won the award.  This look is giving me life! The neck line, the shoulders, the hair…I think it's a perfect look to receive an award with. Congrats, Eve! I hope to see you soon. – JV
Fiji Water girl
Visible corseting has been a recurring fashion detail for a while, thanks to Dior, and it looked great on If Beale Street Could Talk star Kiki Layne…but fuck if I'm not distracted by the "Look at me" eyes of that girl hawking bottled water at the back. P.S. Learn about how Fiji Water (and all brands of bottled water, actually) have fucked up the world with this episode of The Dollop podcast. – SGM
I just wanna give credit to this girl who was not only serving Fiji Water during the Globes red carpet but also serving a look. You go girl, you made it! Oh hey, Kiki Layne and Richard Madden, I almost didn't see you there. – JV
Billy Porter
A fitting conclusion to this fashion recap is a nod to Pose star Billy Porter's amazing look. The Best Performance by an Actor in a Television Series – Drama nominee stunned everyone with the extravaganza that his Randy Rahm outfit brought, especially whenever he served pose after pose on the red carpet and revealed the hot pink lining of his cape. In a sea of actors and actresses who had fasted and purged to fit into their sample size gowns, only to give stiff posturing and close-lipped smiles in front of the cameras, Billy was the evening's savior. – SGM
From the teasers I've seen, Pose is an OTT Show, and this look is, too. The Gucci shoes are cute, but I'm not sure about Billy's embroidered suit and cape. – JV