Gone camping: Our Met Gala 2019 red carpet takes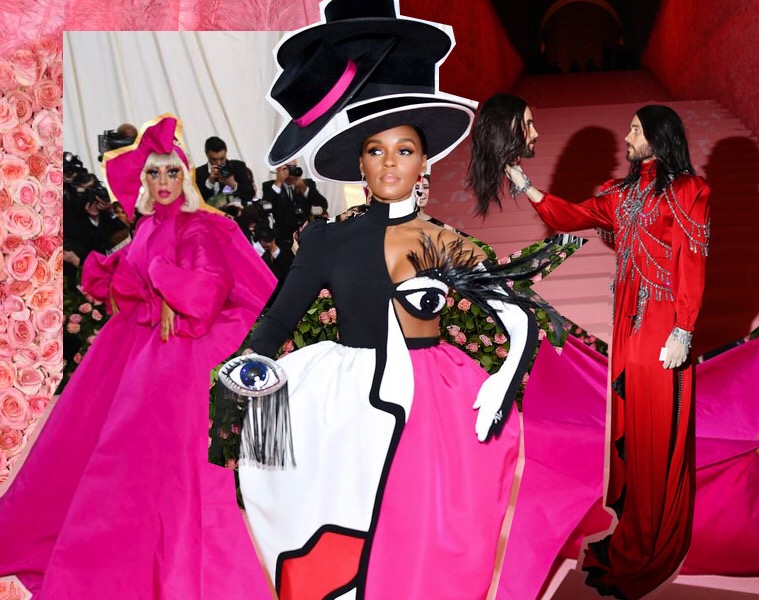 It's that time of the year: The first Monday of May, when celebrities, designers, fashion bigwigs, and rubberneckers come together for a fundraising event held at the Metropolitan Museum of Art's Costume Institute. An invite-only gathering, the Met Gala is one of the biggest nights in fashion every year, with a theme for attendees to follow.
This year, it was all about "Camp: Notes on Fashion," with Vogue editor-in-chief Anna Wintour co-chairing with Serena Williams, Harry Styles, Lady Gaga, and Gucci's Alessandro Michele (Gucci is also a sponsor). But much like how past Met Galas went, a lot of guests weren't able to follow this theme. If Gwyneth Paltrow went with a slinky but ill-fitting gown to a night when avant-garde designer Rei Kawakubo was being celebrated, then the bar for people understanding what camp was already low from the get-go. That's because on a night when people are given the carte blanche to go all out, even within a set parameter, celebrities (and their stylists) tend to still want to cater to the pedestrian tastes of the Best Dressed List-makers.
Besides, what is camp, even? According to Susan Sontag's "Notes on Camp," "Camp is art that proposes itself seriously, but cannot be taken altogether seriously because it is 'too much.'" So it's a sensibility that is very much Extra and is all about Effort.
It's also quite queer—or, like RuPaul's Drag Race, started within a very specific circle that was seen more as a fringe community but has since attracted mainstream attention. "[Camp] was developed as a secret language in order to identify oneself to like-minded or similarly closeted homosexuals, a shorthand of arcane and coded, almost kabbalistic references and practices developed in order to operate safely apart and without fear of detection from a conservative and conventional world that could be aggressively hostile towards homosexuals, particularly effeminate males and masculine females," wrote artist and filmmaker Bruce LaBruce. "…Camp has, historically, grounded queer culture and bridged its isolated communities," Billy McEntee and Cam Cronin also wrote for an essay for the Observer.
For an easier reference, watch the seminal documentary Paris is Burning and you will immediately grasp the essence of camp: A community that has always been treated as an "other" created an event, i.e. a ball, that was totally their own, and it was an event that was taken very seriously; just watch how the drag queens and the judges argued about the subtle differences between a men's coat and a women's coat. The humor and fun were still there, though, because at the end of the day, they were all playing dress up. As for the effort, you could see and taste it in all that eleganza. Writer/actress Lena Waithe couldn't have said it better with her jacket:
https://www.instagram.com/p/BxJDZOtgkK_/
As tribute to the culture that has defined camp for contemporary entertainment, here's our run-down of our red carpet picks, announced like a runway show on the Drag Race main stage.  
Category is: Stay Golden, Girl, Billy Porter
Hallelu, he arrived on the shoulders of six men! All praise to Pose's Billy Porter because he brought wings, and as always, he did not disappoint. Porter is literally shining in this "Sun God" ensemble created by design duo The Blonds, and I wouldn't have it any other way, since this is what his hit TV show is all about: high fashun and high performance art. This look is 10s, 10s, 10s, across the board! —Jerico Villamonte, style and grooming editor
Category is: Eyes on the prize, Ezra Miller
Aside from the doble-cara/deconstructed and corseted Burberry suit he had on and his choice of accessory (a mask on a stick), I was gagging because of Ezra Miller's seven-eyed mug. It was trippy, it was theatrical, it was everything a Club Kid would wear to the ball. Miller may have had the extra eyes, but I'm sure all eyes were on him the moment he stepped on that carpet.
Category is: Sheer perfection, Cody Fern 
The hair in ringlets, the cowboy boots, the gloves, the sheer…The sheer of it all! Aussie actor Cody Fern rocking this Maison Margiela look was another reason why I am not surprised he became a breakout star after his American Horror Story stint. — JV
Category is: Stoned to death, Darren Criss
Yes, he went for all-black ensemble under that embellished Balmain jacket, but have you not noticed Darren Cris's big-ass bow, lip, cobalt eye makeup (to match his nails), and attitude? Harley Quinn would be so jealous of how fierce this look was, she'd wish she were dead.  —JV
Category is: Red for filth, Cardi B 
Although this reminded me of Rihanna's omelette dress, this time dipped in ketchup, at least this not-so-favorite rapper of mine didn't go for a conventional dress (a side-eye to those "Victoria's Secret angels"). Cardi B.'s outfit was from Thom Browne, it was huge, it was as if she wore the red carpet that was meant to be used at the gala. Yas, give us something to walk and talk about! — JV
Category is: Mad Hatter, Janelle Monáe
While Ezra Miller had all eyes on him (literally), Janelle Monáe just needed two big ones to slay the night. The actress/singer/songwriter took inspiration from the works of her favorite surrealist artists Pablo Picasso and Salvador Dalí to complete this look with designer Christian Siriano, and the result hit the target.  "I am camp," Monáe said to Vanity Fair. "It's embedded in my DNA." Well, we can't argue with that. Four hats off to you, Madame Monáe! — Yzza Hablado, style associate
Category is: Revelations, Lady Gaga
If people think camp is just about looks, Lady Gaga showed that it's about performance, too. The Met Gala co-host proved that she still lives for the applause when she changed into four different looks before even stepping inside the Costume Institute. First was a pink Brandon Maxwell gown with a train that can sneak in maybe 10 other people with her to the gala, with umbrella-carrying men in tow dancing and performing alongside her. Underneath that were two more Brandon Maxwell silks, and finally, crystal-embellished lingerie, fishnet stockings, and platform boots. She even had her glam team retouching her makeup in front of the photographers, while she was on that bulky '90s mobile phone. Did someone telephone the old Gags? — YH
Category is: Mega Watts, Katy Perry
Sia got one less option for this year's Met Gala because Katy Perry arrived as a Moschino-made chandelier! It looked uncomfortable (as I'm sure most of the outfits were), but heck was it on theme. It's such a waste to get invited to the Met Gala and show up in something mediocre (hey, Karlie Kloss), and Perry enlightened that kind of gala-goers on how to take themes seriously, but not themselves. She also had a costume change in the middle of the program: A hamburger costume that called back to when a The Cut writer called her a "nothingburger."  In this clip, you could even spot JLo walking past her in the bathroom while she was switching outfits.— YH
Katy Perry (E Jennifer Lopez) nos bastidores do #MetGala pic.twitter.com/kI9vfB86yx

— Portal Katy Perry (@portalkatyperry) May 7, 2019
Category is: Living Art, Tracee Ellis Ross
Here is a proof that you don't need too much material to pull off camp but just the right frame of mind. That's exactly what Tracee Ellis Ross had when she and her stylist Karla Welch thought of this look: Ellis Ross becoming a piece of art herself, hence the golden frame and the black Moschino dress. You see, in order to achieve camp, you need to step out of the usual borders. I'm sure photographers on the pink carpet didn't have a hard time taking photos of the Black-ish star because they already got the perfect framing. — YH
Category is: Straight Out Of A Fairy Tale, Zendaya and stylist Law Roach
Move over: Zenderella has stepped out of her pumpkin coach (that she then turned into a pouch) to upstage everyone at the ball with her fairy godbrother and stylist Law Roach. Zendaya's custom Tommy Hilfiger gown (an easy choice, given her close ties with the brand) was every young girl's dream as it lit from the bottom up after a few waves from the smoke-emitting wand that Roach was holding. As Zendaya climbed up the stairs, her glass slipper slipped off, completing the spectacle that was a performance on the pink carpet. — YH
Category is: Drip, Wet, Gorgeous, Kim Kardashian
The first original design from Manfred Thierry Mugler after 20 years, and what do you get? Something that makes you wet… or rather, the illusion of it. Kim Kardashian has been enjoying wearing Mugler's archival pieces, so this partnership between her and the designer was kind of expected. Is it campy? It's not going to get 10s across the board, but the technique and skill it took for the outfit to achieve the dripping illusion definitely falls within camp. — YH
Category is: Two-Faced, Jared Leto
Forget about gold chains and Swarovski choker necklaces; the best accessory for this year's Met Gala was a severed head. Your very own severed head, in fact, as Jared Leto showed. The slightly macabre piece first appeared in Gucci's fall/winter 2018 show, but while it turned heads and (figuratively) made people lose their heads at the same time, the rest of Leto's garb already gave him a head start over all the other guests that night: A blood red turtleneck Gucci dress and a diamond body chain on top of it. Now we really understand why two heads are better than one. — YH
Category is: Living Doll, Kacey Musgraves
Country singer Kacey Musgraves eerily looked like Barbie, from the hot pink leather and fur ensemble (courtesy of Moschino) to the bleached blond hair and unnatural, plastic-like sheen on her skin. And that blow dryer purse and the pleasantly vapid expression on her face—her total commitment to bring the iconic plastic lady to life has me snapping my fingers and popping my tongue. – September Grace Mahino, executive editor
All images from Getty Images