Grooming products with soul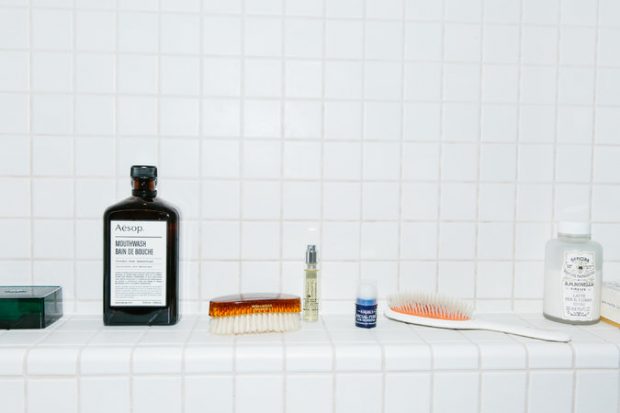 "I don't believe in the miracle of product," the Belgian fashion designer Tim Coppens said. When it comes to grooming, he takes a pragmatic approach.
Coppens, 40, who won the Council of Fashion Designers of America's Swarovski Award for Menswear in 2014, was recently named executive creative director of Under Armour Sportswear, a line that officially launched in September during New York Fashion Week. He discussed his personal care regimen.

SKIN CARE
"I have a lot of Kiehl's stuff. I don't want to, like, promote a brand or something, but I think they're good because they're not too overly cosmetic. It's not too scented and it's a quality product. And it works. It does the job. I love this stuff that you put under your eyes, Eye Alert. It's like caffeine. It's good for when you have a bit of jet lag. You rub it on underneath your eye, and it refreshes you."
COLOGNE
"The one I use now is Byredo. It's called Oud Immortel. I even have a bottle for travel. I have this other one from Byredo called Sunday. It's kind of genius, because the scent is really fresh and reminds me of the weekend. I love their whole concept: the store, the way everything is treated and designed. For cologne, I think the nice thing is that you don't use a lot, like one or two spritzes. That way it's like, 'Hmm, what is that smell?' I mean, sometimes you see a person, the way they dress, the way they move, and their scent completes the picture. Then sometimes you see somebody and they pass by, you think, 'That's not right.'"
HAIR CARE
"I go to Chelsea Barbers every two or three weeks. When I'm in Belgium, there's a shop in Antwerp I like to go to, and there's another one when I really have to make a haircut happen. I think I had every hairstyle under the sun when I was younger. Now I just like to keep it short. I don't like haircuts that are too sharp. When I go to the barber, it's always pretty natural. I used to have longer-than-shoulder-length-hair dreadlocks, but my mom cut my hair with a razor when I was 15 or 16. I've tried to grow it out again, but I can't. I go through the awkward phase, and I'm like, forget about it."
BRANDS WITH SOUL
"I think Aesop is amazing. It's a complete story. It has a clear point of view, it's really well put-together, and their products smell great and look great. With Aesop, they're good at looking for innovation in the product, but they're not making it look futuristic. There's a soul there. I think that's very important.
"I think it's important to take care of yourself, and I like the product side of things. Like there's this Italian company that makes these horn toothbrushes and toothpaste in silver tubes. It's not just like going to Duane Reade to get a toothbrush. I don't know, it makes your bathroom look better than a tube of Crest."  NYT