EXCLUSIVE: Artist Jomari Concepcion on how he wears his art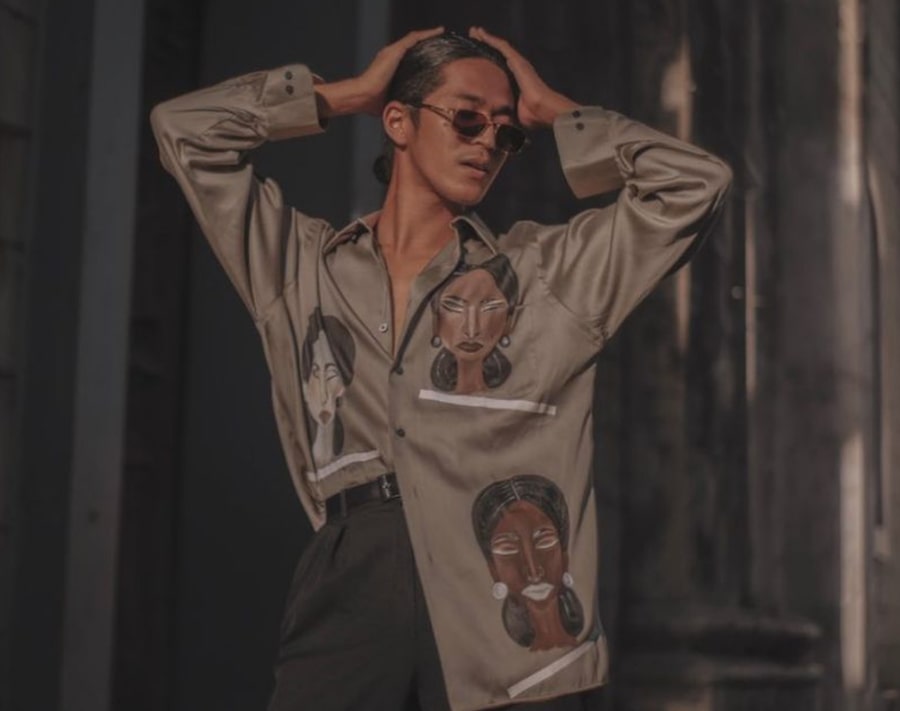 The self-taught creative talks about his wearable art business
Creativity shines through only when one is not afraid of expressing it. For artist Jomari Gutierrez Concepcion, the dream was pretty clear at an early age. "Back when I was young, I really admired people who really loved and were passionate when it came to art. Before, I've wished that someday I'm going to be like them. Luckily, it happened," shares the artist.
"When I was a kid, I really loved to draw. I always played with colors and sketched dresses when I was in elementary and high school. I didn't see myself doing this as my regular work or routine, I thought it was just a simple hobby until it happened, it turned into a life," shares Jomari.
With the love for painting, Jomari started accepting makeup gigs at the age of 17 honing his artistic skills, but it wasn't until May of last year when the artist went back to what he desired the most, creating artwork. Jomari first sold art on canvas until he picked up the idea of painting on clothes as wearable art.
"Honestly, it was just a trial run until I started this small business, wearyourart.ph," says the self-taught artist. "Oct. 21, 2020, I painted on one of my polos and sent it to my close friends to gain some insights about my work. I got a lot of compliments from different people, friends, and family. I used these to be motivated and start producing new designs. I've used thrift polos as my canvas with the intention of selling at affordable and reasonable prices. I want the whole world to wear my art creations without spending so much money. I want to see them in public wearing our art. With that, it feels like they're always with me and I'm always with them every time they wear my pieces."
In this Garage exclusive, we had a chat with the 26-year-old artist about his brand Wear Your Art. Jomari shared insights about his muse, his motivation for his brand, as well as what young artists like him should prepare for if they're planning to start their own business.
Why women as your muses?
I am obsessed about putting on makeup. I love women's features, figures. I love seeing them with different skin tones. I love seeing beauty queens because they support each other, empowering each other, their races, their background, and stories. Women are strong, that is why I always choose them as my inspiration when it comes to art.
What is your motivation for Wear Your Art?
I have a lot of motivation for Wear Your Art. First thing that came to my mind is to have my own physical store. I want to see my customers checking my work on the clothing racks, and choosing the designs that they would love. It feels like they're all inside the museum and looking at the paintings. Yes, I consider my future store as my museum because it's one of the greatest dreams of every artist to have an exhibition. I always keep myself motivated for Wear Your Art by thinking of my future self. I want to see my future self being thankful to my old self for not quitting even once in an opportunity that God has given me.
In your opinion, what's the best way to hone one's artistry?
I am a self-taught artist. For me, the key to improving your talent is to always practice and create. The best teacher or mentor when it comes to art is yourself because you notice everything. You'll see your improvements from every artwork you complete and if we improve one percent every day within a year, we gain 365 percent of improvement which is great. Don't stop looking for improvements because there's always room for us to improve. Lastly, don't forget to put your heart in every single piece you create because if there's love and dedication, your work will never go wrong.
How would you describe your personal style?
I'm in love with the idea of vintage outfit and oversized button-down polos and trousers. Most of my clothes are like what I've mentioned. I really love styling myself, I am more into comfy clothes and being relatable to others. I'm not like the "dress to impress" type of person. I style myself based on the place and my mood.
What are your fashion essentials?
Since I came from a poor family, I don't buy clothes or any fashion essentials fresh from cold-aesthetic-pricey-branded stores or Boutiques. When I was in high school, I really loved thrift stores or ukay-ukay. As they say, "ukay-ukay is life" and I've used it as one of my mottos in life. They said, thrift stores can save your "outfit of the day" but for me it's not just for a day but for an entire lifetime. All my clothes came from ukay-ukay and I'm happy to buy more than 10 outfits without spending much money.
What's your message to young entrepreneurs who want to start their own business?
Honestly, my small business started without any investment. It started from scratch. It started with "Susubukan ko lang, wala namang mawawala." I just used my talent to have this, and I didn't see this before as a long term thing. I thought it's just another sideline or extra income for myself and my family, but now, I really believe that this is not just a business. This is my life. A representation of my life.
To my reader, if you're planning to start your own business, make sure that your heart is completely ready. Be prepared mentally, physically, and emotionally. This is not always about the business, it's about you and your business. I want you to remember that you'll not always be on top. You need to consider that there's always failure and there will be a time when you want to give up everything. And if this happens to you, just go back to your core, and remember why you started building and pursuing this.