EXCLUSIVE: Artist and producer Nobrvnd gets up close and personal with his music

Find us jamming to 'Sexbomb Girl'
After five years in the local band scene as vocalist of Caffeine and Taurine, and two years as a solo artist, Nobrvnd a.k.a. Brandon Garcia promises to give audiences a new twist on the local music scene with the release of his latest song.
Although he almost quit being a musician, it was hard work, patience, perseverance and his love for music which got him signed with a label. "I was slowly losing hope in my music during the pandemic; it almost felt like I needed a career change," shares Nobrvnd. "But I was discovered by Open Door Artists, which led to me signing with Warner Music Philippines. This inspired me to write 'Get This Bread' and to work harder: I have been given another chance to pursue my dreams and I am determined to make the most of it."
His latest release may be more relatable than you think as it talks about success and how one achieves it. "I'm sure you're familiar with 'Get This Bread' being used as motivational slang to mean 'get money'. To me, this means to achieve all the success we are pursuing. We all have different meanings of success," explains the 25-year-old artist.
One track that's currently making waves is his third song on the album titled "Sexbomb Girl," tackling the search for the perfect partner. "It talks about the disarming effect of the female form. As with any creative product, the other layers of meaning are very much open to interpretation," he says.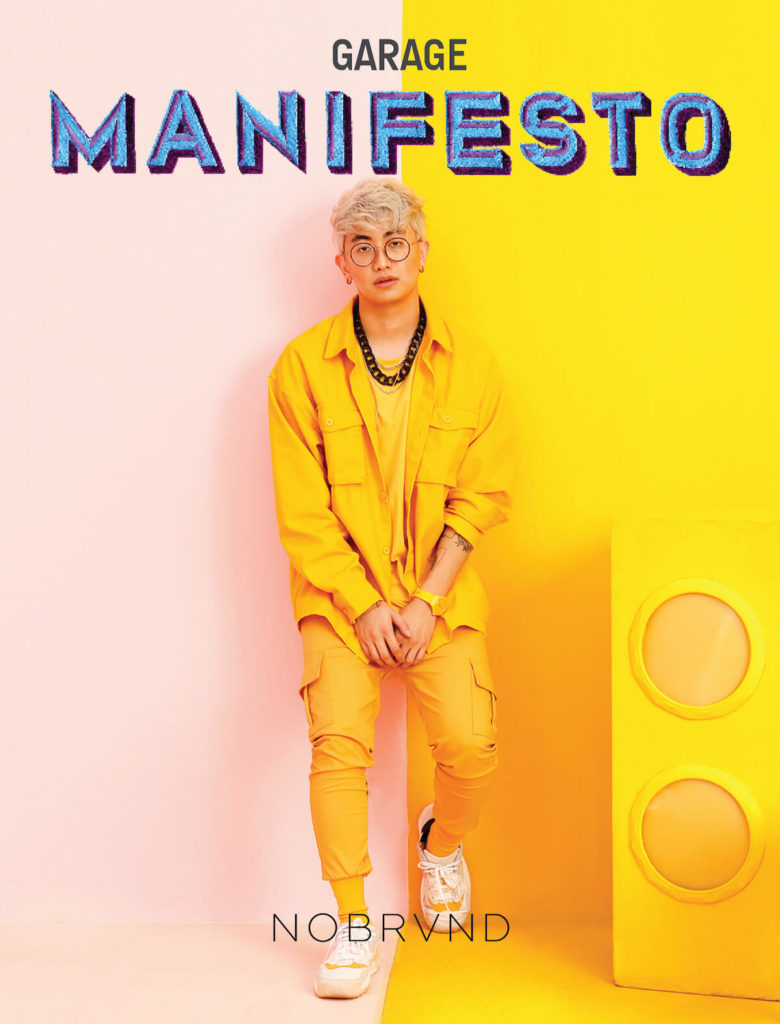 Nobrvnd may be known for his unbranded music but in this exclusive, we caught up with the genre-bending artist to talk about more of his signature style in fashion, grooming, and everything in between. Read through our conversation below: 
How do you want your brand to be perceived?
The visuals reflect the characteristics of each particular song. For example, "Sexbomb Girl" is upbeat and very playful so I curated uplifting and colorful themes. My music style is unbranded and ever-changing: my visual branding will vary accordingly. And this is how I would like to be known—as a well-rounded and versatile artist.
Do you have a favorite record?
My favorite would be "Get This Bread Pt. II." This is the final track of the EP and for good reason. I love this record because I was finally able to show off my lyricism and rap skill set. The lyrics explore my struggles and frustration within this career including the peaks and troughs of motivation. This is also my first "proper" trap song, which I expect will catch some listeners off guard.
There are a lot of aspiring musicians out there, what piece of advice would you give them?
To be honest, I am lost too. Don't let this discourage you because you just have to keep swimming. There's no way but up.
What are your top three recommended songs for your new listeners?
I would recommend "Get This Bread Pt. II," "Sabihin Mo," and '"Sexbomb Girl." I'm just like anyone else. I can be serious, sometimes I feel sad, and I like to have fun. This trio captures this range of emotion and showcases my diverse skill set.
Do you have a musical icon?
My musical icons would include Childish Gambino and Kanye West. They may have opposing musical styles, but are alike in being highly versatile polymaths that do a lot of things such as directing, music production, fashion design, and acting. I aspire to become a modern renaissance man like them.
How would you describe your personal style?
I like to emanate Korea's oversized fashion and its bold colors. Sometimes I opt for monochromatic clothing (black on black) depending on my mood.
What are your style essentials?
You can never go wrong with an oversized shirt, slim pants, and some old-school Vans. And a mask and face shield, of course!
Can you share your grooming essentials and grooming routine?
This is embarrassing… I don't have a routine. I use soap to wash my face and that's it!
How do you take care of your hair?
I don't do much to take care of my hair. I condition it and use a leave-on serum afterwards to keep it soft and shiny. Since it's currently platinum, I also use purple toner to offset any yellow tones as needed.
What can we look forward to in the near future?
No concrete plans as of the moment but I look forward to more collaborations and to experimenting with new sounds.
Here's a look at "Sexbomb Girl" music video:
Stream Nobrvnd's latest EP "Get This Bread" on your digital platform of choice now.