Space Encounters' Thor Balanon recently made his first trip to Iceland, and has even shared his reading list as he traveled through the country. After this experience, he confides to Garage, "I [used to] snicker at 'take me back' hashtags. Now I know what it means." Here, he shares his experiences in the foreign land's strange, almost alien-like beauty.


The first thing that welcomed me at the Keflavik Airport in Iceland was Bjork's lyrics on a window: "Emotional landscapes, they puzzle me."

It was a fitting introduction to Iceland because the vast emptiness of the landscape is at once breathtaking and unsettling. Here, there are no trees. Instead, there are jagged black rocks that seem to force their way from the earth, graceful yet violent. Getting here feels more like time travel: it felt as if I had traveled back in time to when the mountains were still being shaped by earthquakes.

Our first few days were spent in the countryside. Álftanes is located in the Eastern part of Reykjanes, with a population of around 2,000—a quiet expanse of rolling land covered in moss, low grass, and Lupine flowers.

We walked to the Bessastaðir, the President's residence, on the first day. The white mansion and the church have been around since the 1800s, with the land itself since 1000 AD. There were no guards; only ropes mark where visitors can explore. I later on found out from one of the locals that Iceland has no army, only a rarely seen police and a very efficient rescue unit.

Reykjavik is 30 minutes away from Álftanes. A small city, the best way to explore it is to get lost on foot. Even in summer, the weather is still unpredictable, changing almost every five minutes, going from sunny to chilly to rainy in an instant. You'll never see anyone carrying an umbrella in Iceland; people here wear sturdy waterproof jackets and pants, and if possible, waterproof trail sneaker hiking shoes.

One of our first stops there was the Sun Voyager, a stainless steel ship sculpture by Jón Gunnar Árnason. Situated by a coastline, it brought to mind the Sagas of Iceland, of Vikings travelling to new land and (barely) surviving in the unpredictable weather and landscape of Iceland.

In Iceland, though, the cities are the stopovers. The real attractions are its ancient mountains and waterfalls, and active volcanoes and glaciers (and their respective ecosystems) thrive side by side.

Intense hike
I found the hike to the Svinafellsjokull glacier's tip especially daunting. Tour guides had fit everyone first with crampons, handed out ice axes, and briefed everyone on the safety guidelines before proceeding, as the glacier was very wet; when we were there, it constantly rained for two hours. The tour guides would also tell us when to take photos so we could waterproof our phones or cameras first.

The initial ascent was challenging, as I had to get used to walking in crampons (hot tip: get a good grip as you climb) and then leaning on the ice axe whenever the trail got a bit steep. The bottom of the glacier was covered with volcanic ash and melting ice, but whenever the volcanic ash cleared, the view of a vast open space was overwhelming. Instead of rolling moss, there was ice—miles and miles of ice.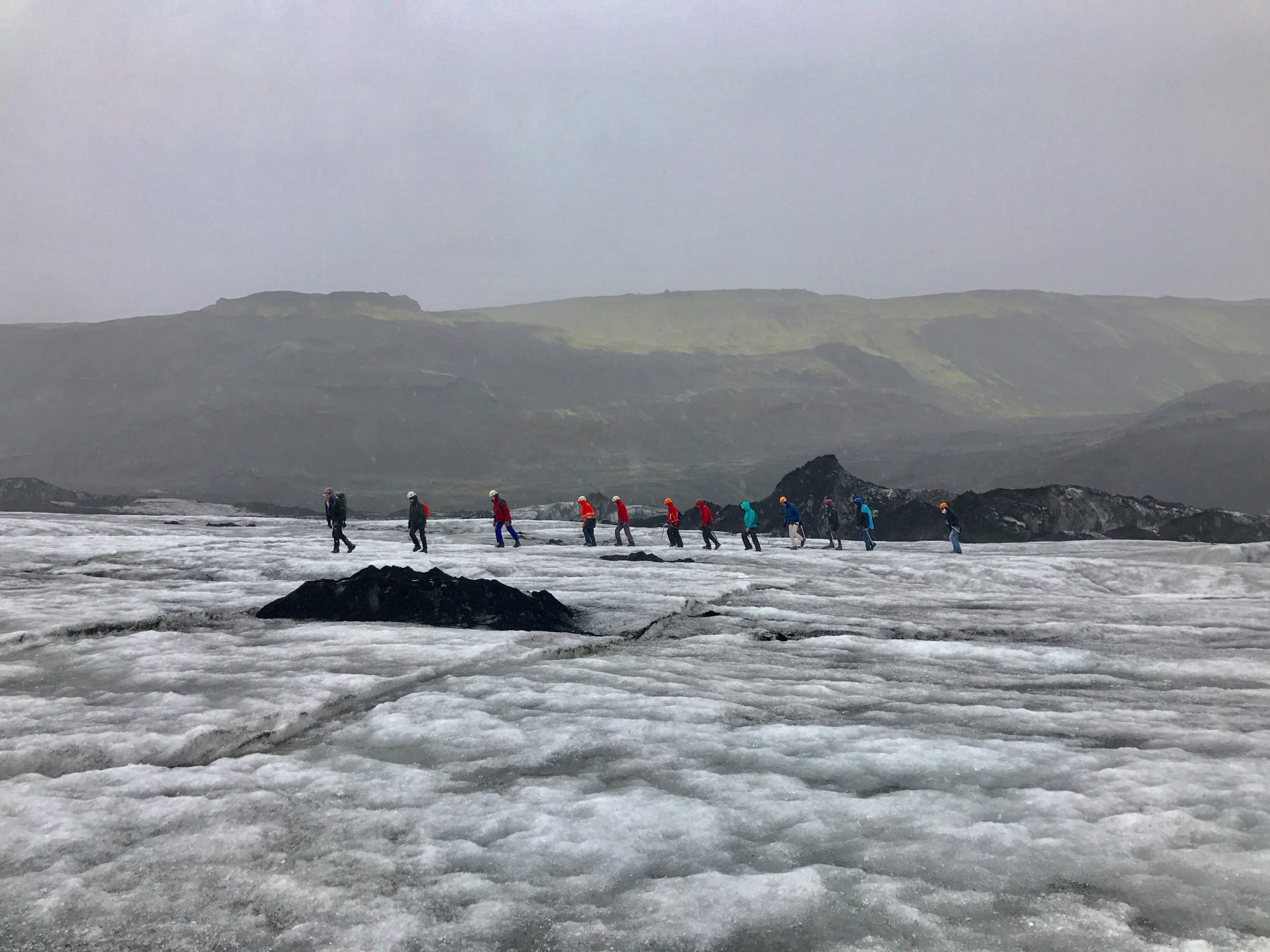 The trek was both a history and an environmental lesson. I was humbled by the age of the ice—and the land itself—but also distressed by how all this will inevitably disappear into thin air. We were shown holes in the iceberg that were slowly widening, but were advised not to get too close. Had we slipped, that would have been it; we would be seen next in a hundred years, when the ice melts.
Björk had put it best: emotional landscapes puzzle and beguile. She also said that when Icelanders feel the need to go to church, they take a walk. The waterfalls, the ice, the lava formations, the midnight sun, the fields of Lupine, the lakes—indeed, there is nothing short of spiritual in the land's wildest state. Iceland could very well be an entirely different planet.
Writer and Photographer: Thor Balanon
This story also appears in Garage Magazine's August/September 2017 issue, out in newsstands now.