Louis Vuitton fall-winter 2022 presents Virgil Abloh's concluding collection for the maison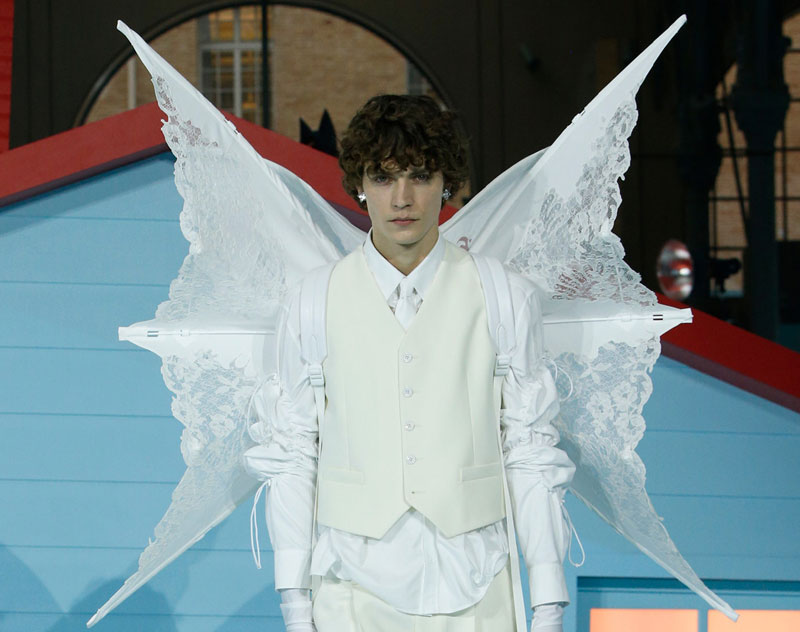 Welcome to the Louis Dreamhouse 
This collection for Louis Vuitton's fall-winter 2022 concludes Virgil Abloh's eight-season tenure for the luxury house. The presentation served as a medley of themes and messages the designer conveyed for his past collections. 
The Louis Dreamhouse hosted elements which played a major key to the presentation. On one side was a staircase, then there was a spot holding an empty bed alongside a roof and a chimney, a long table where an opera was seated, and a wall with a clock that specifically told 8 o'clock.
Notable looks from the presentation were all black and all white suits worn by models carrying bouquets. Pointy hats also appeared on the runway as well as visuals of the Grim Reaper. References to the "Wizard of Oz" materialized as well as striking colors of purple and brown taking form on outwear.
Toward the end of the presentation, a number of white winged looks emerged on the runway. The all-white silhouettes featured lacing details, crocheted elements, and veils almost like an apparition which perfectly harmonized the atmosphere of the dream house.
Watch the presentation below:
Photos from Vogue.com