Kristine Dee captivates with new jewelry collection

Unveiling the mesmerizing 'Beauty in Asymmetry'
Beauty often emerges from unexpected places, and Kristine Dee's latest jewelry collection is a testament to that notion. In "Beauty in Asymmetry," the designer skillfully redefines the boundaries of beauty by using everyday objects as her muse.
Kristine's unique pieces showcase the artistic potential found in ordinary items, introducing us to a world where off-kilter compositions ignite dynamic engagements.

The latest collection is a symphony of mesmerizing gemstones, meticulously chosen to enhance the asymmetrical narrative. Emeralds evoke nature's tranquility, blue sapphires mirror the depths of the ocean's mysteries, rubies offer a glimpse of passion and intensity, and pearls bring a touch of classic elegance.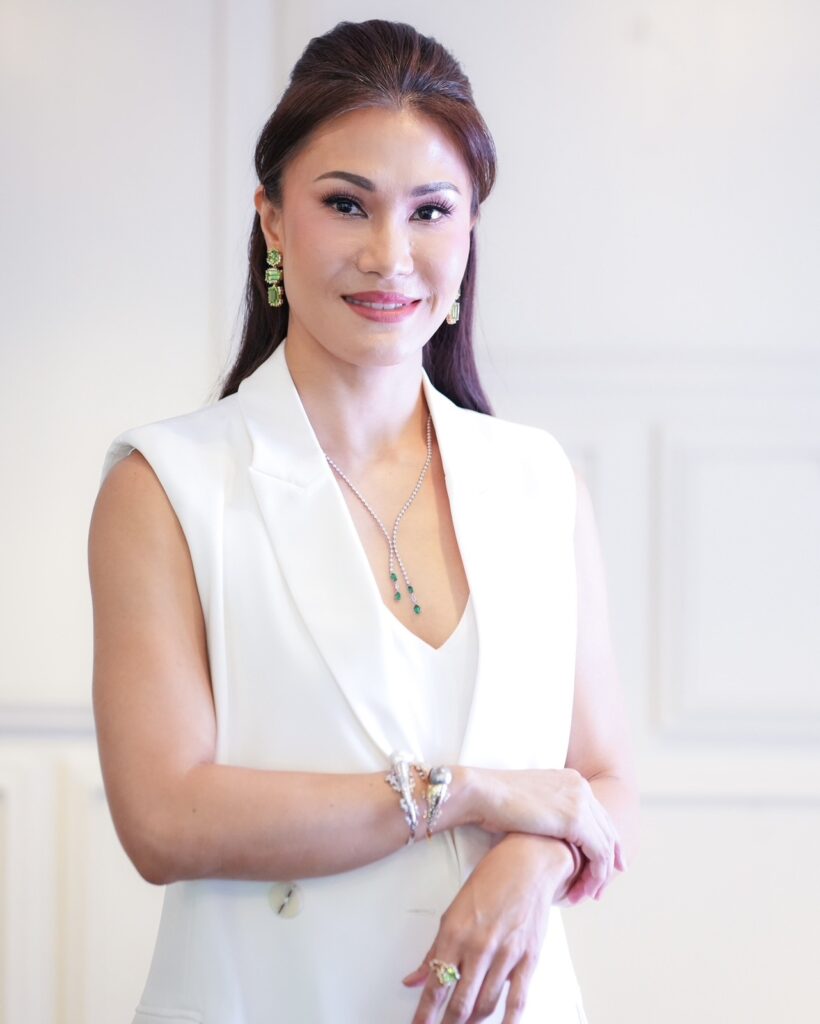 Diamonds, the ultimate symbol of sophistication, always take the spotlight. Special-cut peridots and aquamarines, significant to Dee as her birthstones and her son's, are also featured.
Each piece in Kristine's collection encapsulates the essence of asymmetry, sparking a unique connection between the unconventional and the timeless. Embracing asymmetry is an invitation to explore untamed artistic expression, encouraging wearers to appreciate the beauty of the unexpected.

"Notice that the stones and details are not symmetrical. Though when arranged in a certain way, such as how we did, the medley comes out beautiful, harmonious, and truly like no other. Hence, the name, 'Beauty in Asymmetry,'" says Kristine.
"On a deeper level, asymmetries are life's surprises and imperfections, because of the wisdom it imparts—that life doesn't have to be perfect. They bring out the best in each person, given their individual experiences and challenges, yet still making one beautiful and whole," she adds.

Kristine explains that asymmetry represents life's surprises and imperfections, emphasizing that life doesn't have to be perfect, and that individual experiences and challenges contribute to one's beauty and wholeness.
The "Beauty in Asymmetry" collection is a testament to the uncharted beauty of asymmetry, featuring mini collections such as the "Enchanted Book of Zodiacs," allowing wearers to engrave their own stories.

Each book pendant features stones like pink or black mother of pearl, malachite, lapis lazuli, and turquoise, turning every piece into a living story. It's a celebration of irregularity, individuality, and a call to engage with the extraordinary.
"Key pieces are the Meghan Necklace, Amity, Charlize, Dawn, Laurene, Mavi, and Era bangles, Ivonne, Fern, Maddie, and Eileen cuffs, and Azley, Celia, Devon, and Eunice asymmetric rings, as well as the Estrella, Demi, Jonna, and Carolina earrings inspired by objects like paper clips and staplers," Kristine concludes.
Kristine Dee Jewellery is located at One McKinley Place, Fort Bonifacio, Taguig City. For more details, call mobile no. 09178950816, email via kdeestudio@gmail.com, or follow her official Instagram at @kristinedeejewellery.