Ariana Grande channels Austin Powers fembot glamazon in new music video '34 + 35′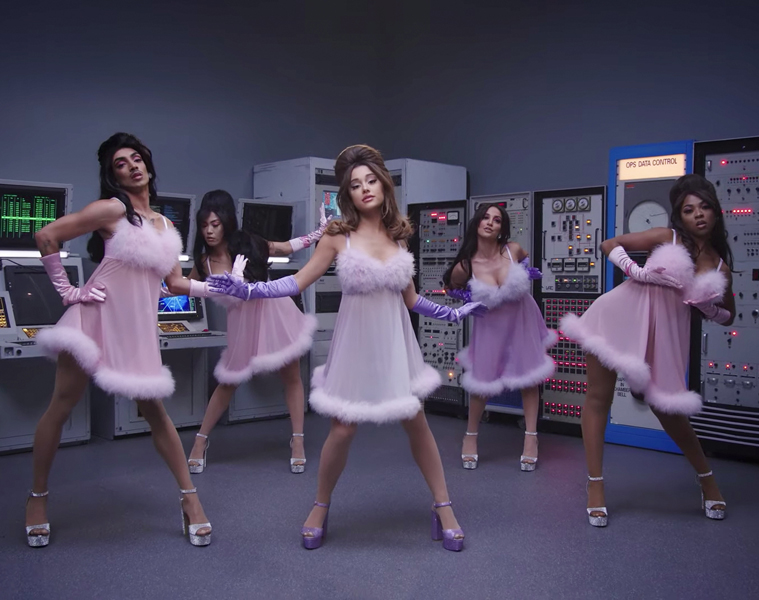 With sky-high shoes, gorgeous hair, and Chromatica-inspired makeup to match, living in a glamorous world with Ariana Grande in it doesn't sound so terrible if everything on Earth turns upside down.
The American singer just released "34+35," the second music video from her Positions album, which came as a surprise to fans who were still bopping to the Thank U, Next album. "34+35" is everything Arianators could ask for with its stunning visuals, sexy concept, and eargasmic rhythm.
The video, although some may find the lyrics explicit, serves unquestionable fashion choices. The video starts with Ari and a group of scientists styled in white lab gowns, platform boots, and big gorgeous hair as they try to fix a what seems to be a cyborg from Lady Gaga's Chromatica universe. Another impeccable look features the singer in a nude body suit by Oscar de la Renta as she did splits and gravity-defying choreography in a polka dot stage.
View this post on Instagram
The last look is an ode to Austin Powers' Fembot, all decked in a lilac marabou trimmed slip dress and paired with gloves, platform heels, and puffed hair.
View this post on Instagram
For the full looks, you can watch the music video here.
Featured image: Youtube