The MTV VMAs 2018: Our hot take on the pretty lukewarm pink carpet fashion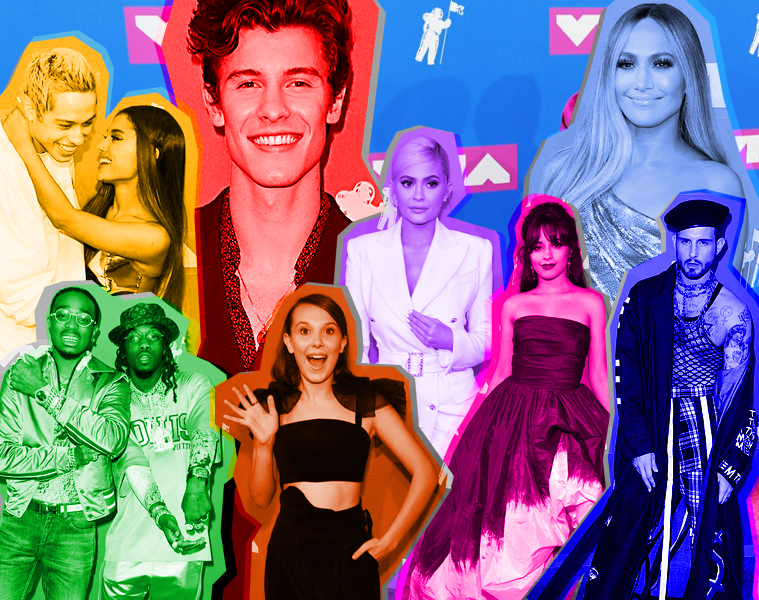 Is the MTV Video Music Awards still relevant? Pardon this xennial's misgiving, given that she had lived through the unforgettable performances from Britney Spears, *NSync, and Christina Aguilera on the cusp of turning 20.
So maybe it's still relevant as an event where drama is at its highest potential. But you can read up on the feuds and clapbacks somewhere else; what we have here are our piping hot (or room temperature) takes on the fashion foolery that happened at the 2018 MTV VMAs pink carpet.
September Grace Mahino, executive editor: Love is truly LIT, y'all! (Lit like a garbage fire.) So Ari is still into her thigh-high stiletto boots phase, but instead of the usual "lampshade" silhouette, she went for a tiny frock made of tinsel up top. Oh, and she let her hair and scalp breathe by ditching the ponytail for an evening. In conclusion, her look is a variation from her BabyThot style repertory. As for the dude she's so in love with, no effing comment.
Jerico Villamonte, style and grooming editor: Ariana, whatever you mixed with that Sweetener that you served the voting committee is working. But while "No Tears Left To Cry" is a winner, your look wasn't.
SGM: A reformed Ms. Minchin is here to watch over your shenanigans, kids! Seriously, wrong event, not enough steeze.
JV: A Simple Favor: Blake, rethink your choices.
SGM: Loving the concept of the shoes matching the sparkliness of his long jacket. Brendon Urie looked good, but too bad that this outfit was wasted on the VMAs.
JV: Oohh! Panic! At The Disco…ball. I like anything monochromatic (except Blake's look) and that smile made the whole effect even sparklier!
SGM: Google tells me Camila Cabello won the Artist of the Year Awards as well as the Video of the Year Award for "Havana." HER?! In this poufy, unimaginative, dip-dye gown?!
JV: Havana-ooh-NO-NO.
SGM: Best New Artist Cardi B. (government name: Belcalis Almanzar) looked great especially with that pixie cut, but her speech at the podium as she received her recognition was even greater: "All the love that my fans, that my friends, that everybody shows me is genuine, is beautiful, and that's something that god gives me, that you can't buy, b*tch!"
JV: Girl looked good but I just heard from the floor. It wants the carpet back.
SGM: A little more tailoring on the pants and I would have given this look a B+.
JV: I agree, although this look is a major "Who Wore It Better" moment, given that Sufjan Stevens wore this jacket on the 2018 Oscar's red carpet. Calling Fashion Police now.
SGM: "Lesbian Jesus" Hayley Kiyoko looked cute as heck even in this unimpressive dress. But to be honest, I'm not sure if I would rather she hitched the dress up higher or pulled the skirt lower. Something about the fit made it look as if whoever made her outfit had run out of fabric.
JV: It's probably the hem that was bothersome but Lesbian Jesus looked cute, fun, and flirty. I don't even know if that's appropriate to say, but high praises only! LOL
SGM: Just for LOLz. "Where's Ja?!"
JV: What's my mother effin name??!! LOL. The suit, the skin, the emblem—I like the look, but not the look on his face. Please lighten up. (I meant the mood, okay?)
SGM: Though I'm still very impatiently waiting for MTV to do right by Missy Elliott, this year's MTV Michael Jackson Video Vanguard awardee JLo would do. Her pink carpet gown left A WHOLE LOT to be desired, given how we all know she can bring it to any event—it meaning either tacky or glamorous—so let's talk music videos instead. What's your favorite from JLo? My hard-won pick would be "Get Right" and the multiple JLos it featured.
JV: J to the L-O, hello! OMG Yes! I loooove "Get Right" too! Please, can I be the one with the cane, dancing on the bar? Hahaha! Anyway, this is her best look to date for me. The way the draping of the gown hugged her body, the flawless make-up, the gorgeous hair—she looks like a GODDESS!
SGM: That pantless business power suit look would have worked better with a different pair of shoes. Also, an extra button would have left her hands free.
JV: If only Blake Lively gave Kylie some of her spare cloth, it would have been perfect. LOL. I mean, I don't get it. The VMAs was the time to be playful, and I've seen Kylie be playful with her choice of clothing, so this doesn't do it for me. A doctora could have put on a bedazzled belt on her surgical coat and I wouldn't be able to tell the difference between that and this.
SGM: Hai gurl! I like what MBB wore, even if I can't tell whether it's two separate pieces or is some modified jumpsuit. The clean lines are refreshing, given the beaten-to-death looks that some guests chose to came in. More on that below.
JV: Probably my favorite look at the awards! It's young and fresh even if it's in black, and Millie Bobby Brown is just so fun to look at.
SGM: When I said "beaten-to-death" looks, I meant Shay Mitchell's outfit. It's reminiscent of Kylie Jenner's business suit-inspired style, just unbelievably tackier.
JV: Did anybody order sushi??? LOL. Shay Mitchell looked as if she just left a Japanese restaurant after a waiter had spilled tobiko all over her, and still decided to go to the awards ceremony. Whoever told her this dress looked good on her was a Pretty Little Liar.
SGM: You are no Adam Rippon, Nico Tortorella. Sit down in the corner.
JV: Dear Nico: I know you wanna express yourself, but you have this big personality already, you look good, and your tattoos look great. So maybe you could turn it down a little bit, like a year or two ago? If only the other attendees borrowed some style spunk from you, it would have been a better-looking carpet.
SGM: Let Shawn Mendes cleanse our palates with this well-fitted two-tone suit. We've followed the Canadian sensation's style evolution, and it seems to be an ongoing survival of the best-fitting outfit that we're seeing. Great job, BB.
JV: And the Doble Kara singing contest goes to….. Kidding aside, Shawn's rise to the top is unstoppable. It's also good to see how his style is evolving, given the fact that he has now the guts to be playful like this. Go Shawn Mendes, illuminate!