Too short, too sweet, but I'll take it: *NSync's Coachella reunion, featuring Ariana Grande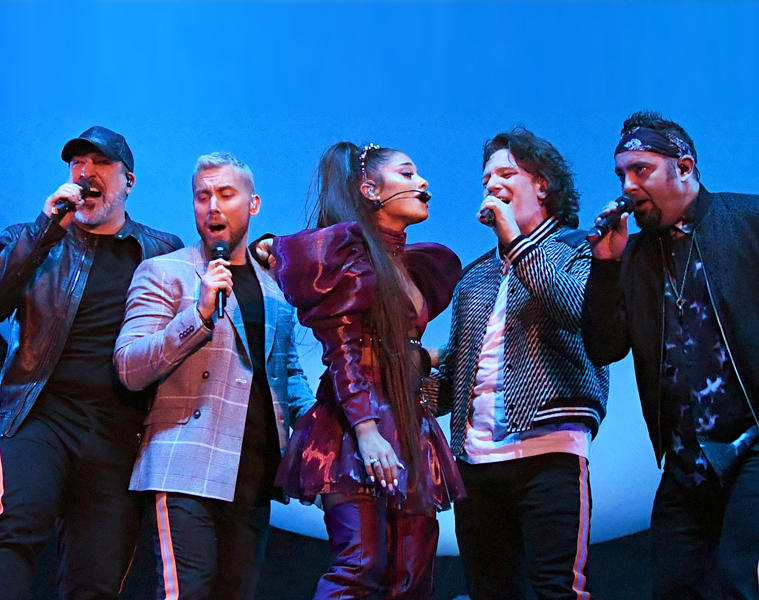 I know it should be the other way around, but please indulge someone who has been an *NSync fan for more than half her life (19 years, to be exact).
Ariana Grande is the headliner for Coachella 2019, and rumors were swirling a couple of days before the music festival premiered that the mumble chanteuse would be bringing *NSync onstage with her for a performance. The connection? Aside from being a self-proclaimed "'90s baby," the 25-year-old also sampled the boyband's No Strings Attached cut "It Makes Me Ill" in her recent single "break up with your girlfriend, i'm bored."
Arichella came through for *NSync fans, as JC Chasez, Joey Fatone, Lance Bass, and Christ Kirkpatrick joined Grande onstage very late last night (at least for us on this side of the world) to sing a slowed down version of "It Makes Me Ill." The quintet then went into a high-energy performance of the *NSync classic "Tearin' Up My Heart," and anyone who was alive in 1999 found themselves shout-singing along:
https://twitter.com/strippedjt/status/1117672698476417026
THE CHOREO. 💯@ArianaGrande x @NSYNC #coachella pic.twitter.com/bx0QSYPAwk

— billboard (@billboard) April 15, 2019
And yes, noticeably absent from this event was Justin Timberlake, who had recently wrapped up his world tour.
As an *NSync fan, I'm fine with him not being around. Really, who needs him when JC Chasez, the undeniably best singer (and even dancer) among them, was there? Plus the rest of the guys stepped right into their respective roles for their signature harmony: Chris Kirkpatrick for the high tenor, Joey Fatone for the baritone, and Lance Bass for the, well, bass. Timberlake and his ego weren't missed.
Since going on (permanent?) hiatus in 2002, the boyband has been pretty consistent with keeping their fans hungry for a reunion gig. Their brief number at the MTV Video Music Awards 2013 somewhat sated the public, though it strictly wasn't an *NSync gig; it was simply a very short part of the pomp surrounding Timberlake receiving the Michael Jackson Vanguard Award. Bitter fans like me have long speculated that it has been Timberlake himself who has blocked any solid reunion plans, because his boybander beginnings are now beneath him as a solo act. Hopefully, the way his last album Man of the Woods bombed would knock some sense into him to give the people what they really want.
The Coachella reception may have also changed certain other minds. As per Hollywood Life:
"A source [says] that they're considering a full-fledged reunion, with or without Justin. 'Everyone in the group has been waiting for Justin to be on board with new music and a tour, but now they're getting a little tired of waiting,' the source said. 'They loved their moment with Ariana at Coachella, and they know fans are still there for them. Would they love Justin to be a part of anything in their future? Absolutely! But, they're tired of waiting for him to make a decision.'"
(Is the source Lance?)
"'Lance [Bass], Joey [Fatone], Chris [Kirkpatrick], and JC [Chasez] all still have the bug to do what they love—and that's entertaining on stage. They're considering doing some shows, and recording an EP or an album together,' they dished. 'The guys want to show their kids and loved ones what made them famous, and they still got it. They are down to do it with or without Justin.'"
I'll be waiting here with my money, guys.
Header image via Just Jared Jr.