Yes, you can have a fine meal at Cibo with only P22 in your wallet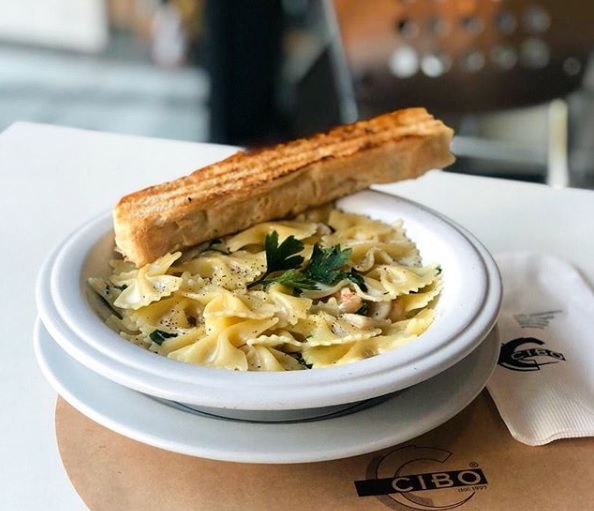 Back when I was 22 and working at my second job—as a grossly underpaid editorial assistant—I would ruin my monthly budget every once in a while with a meal at Cibo. A friend of mine, another editorial assistant, had introduced me to this little indulgence, and it did feel as if we were getting away with something whenever we'd troop to the Cibo at the ground floor of our office building to blow about a fifth of our payday take on a really nice meal.
Almost 15 years later, even with my budget considerably bigger than it used to be, that "Treat yo' self!" feeling still comes whenever I sit down to dine at Cibo. Memories of youthful folly play a big part, definitely, but the food remaining consistently delicious is at the core of it. And on its 22nd anniversary, Cibo continues to serve its brand of scrumptious Italian cuisine, served fresh from the kitchen, at a price that even 22-year-old me could afford.
https://www.instagram.com/p/B0QbVxEHffG/
Until September 31, Cibo is presenting its P22 Dining Seat Sale promotion, where diners can enjoy 10 featured dishes from the menu at the unbelievable price of Php22 only:
https://www.instagram.com/p/B0Iq6_tHrbQ/
Pizza 5 Formaggi (the classic Cibo five-cheese pizza with mozzarella, gorgonzola, gruyére, bel paese, and parmesan); Tramezzini Pollo (a Venetian chicken sandwich); Linguine alla Nettuno (a fresh Genova-inspired seafood pasta); and Penne al Telefono (penne pasta with tomato cream sauce, mozzarella, and white cheese).
https://www.instagram.com/p/B0TIw7GnpgA/
Panino Porchetta (a crisp-skinned roast pork sandwich); Panino Tonno (a classic tuna sandwich); Rigatoni di Bruto (a sausage, peppers, and tomato pasta); and Farfalle alla Veneziana (a seafood and parsley cream pasta).
https://www.instagram.com/p/B0npLCSn9FR/
Spaghettini alla Bolognese (a classic red sauce pasta made with ragù Bolognese); and Pizza Margherita (the classic Neapolitan pizza with basil, tomatoes, and cheese).
Enjoy any (or all) of these dishes at the promotional Php22 price by availing of a Cibo Boarding Pass, which is part of the limited Cibo Gift Card, a Php599 face-value gift certificate.
https://www.instagram.com/p/B0k82Z8HrFm/
Aside from an indulgent and affordable meal, the Cibo Boarding Pass will also give diners a chance to win two tickets to Rome, courtesy of Cathay Pacific, with Cibo's Fly to Rome promo. Simply present the Cibo Boarding Pass whenever you spend Php2,000 on a single dine-in purchase in any of Cibo's 13 branches to get one raffle entry.
For more information, follow Cibo on Instagram.