Blue Ivy Carter, 5, freestyles in Jay Z's album 4:44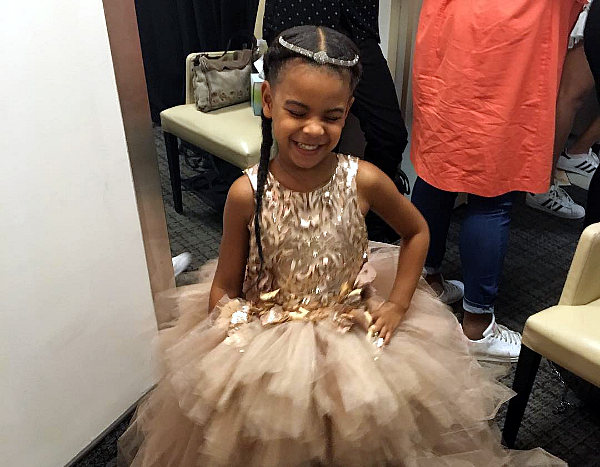 Just like that, ladies and gentlemen, we have the youngest, baddest rapper in the game.
https://twitter.com/Bey_Diva_/status/883288986248245248?ref_src=twsrc%5Etfw&ref_url=http%3A%2F%2Fwww.laineygossip.com%2Fblue-ivy-carter-raps-on-jay-zs-4-44%2F47394
We didn't quite catch everything Blue Ivy said, but among the bars she dropped in the 4:44 track "Blue's Freestyle/We Family," we caught "Boomshakalaka, boomshakalaka" and "Never seen a ceiling in my whole life"–and that latter one is quite possibly the most badass line we've heard. Blue Ivy won't just be breaking ceilings, as we've already seen her do; to her, they don't. Even. Exist.
Blue Ivy is her mother's daughter so the sky's the limit for this chosen child. We can't wait for what else she can and will do.
Me listening to Blue Ivy's freestyle while looking for this ceiling. #BlueIvy pic.twitter.com/0TNrQtj3tJ

— childish alvino (@champagnealvin_) July 7, 2017
Blue Ivy needs to come out with a mixtape next year and Asahd needs to produce it. Bout to be LIT pic.twitter.com/3VV84YOIxV

— 🌨🤍 (@blksapphiresun) July 7, 2017
Young #BlueIvy already out here getting it 🙏🏽👏🏽🙌🏽 she's destined to be a musical genius pic.twitter.com/wh3qZuTiBT

— Power 105.1 (@Power1051) July 7, 2017