As much as Filipinos have become more open about discussing mental health issues, especially online, there remains a stigma about the topic. Not every public forum is a safe space for people to open up about their daily struggles, from the constant low to mid-level anxiety that accompanies them the whole day to the more serious sense of despair that compels them to self-soothe in the most harmful ways.
Every Brilliant Thing, the critically acclaimed play by Duncan MacMillan, not only creates a safe space for audiences to give more thoughtful consideration to mental health, it also encourages dialogue with its unique format that breaks the fourth wall to invite interaction from the viewers. It has been staged in locations across the UK, Ireland, USA, Canada, Australia, New Zealand, France, and South Korea, and was even filmed for an HBO documentary in 2016. And come February, Manila theater-goers can experience this as The Sandbox Collective and 9 Works Theatrical will stage Every Brilliant Thing's first Philippine production.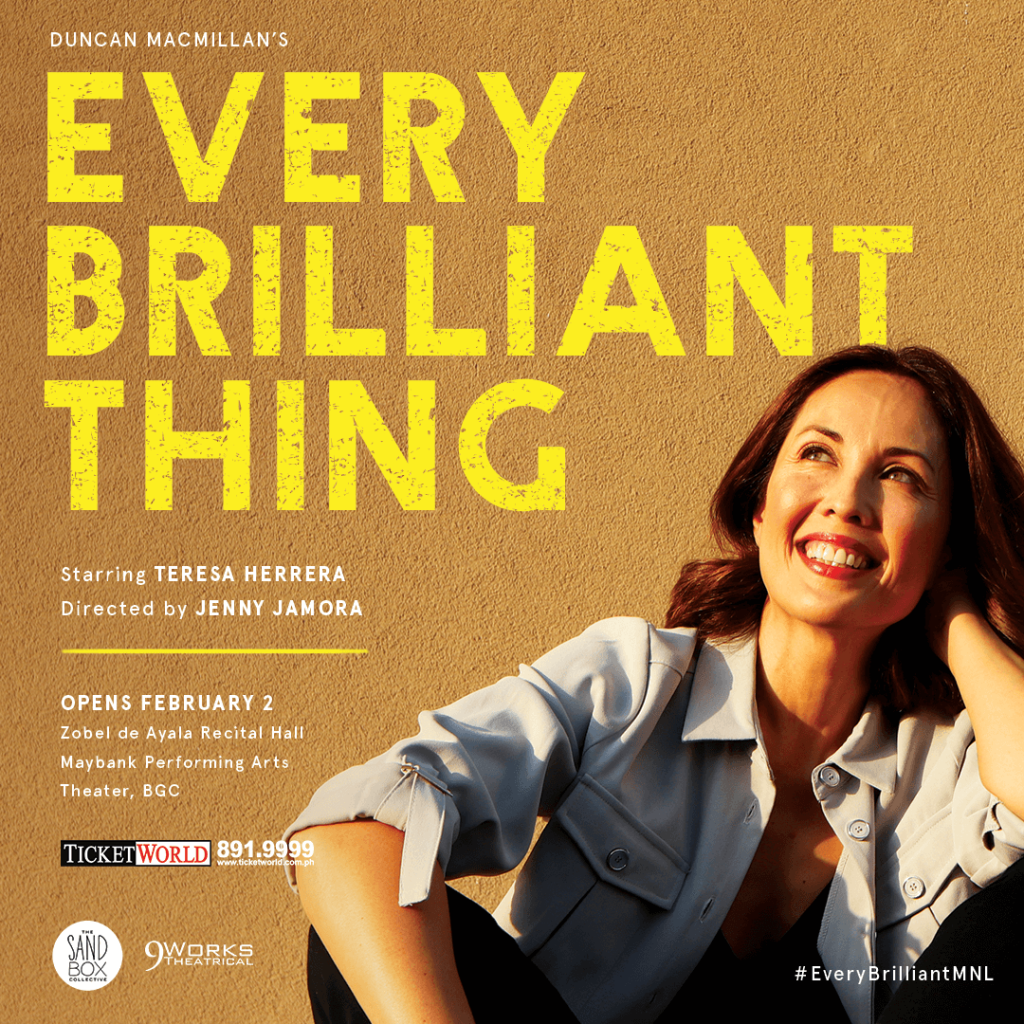 Directed by Jenny Jamora and starring Teresa Herrera, Every Brilliant Thing is a one-woman, one-act show that tells the story and perspectives of a child who reflects on and writes a list of things in the world that make life worth living, in the wake of their mother's attempt to take her own life. Told through a mix of heartfelt monologues and comedic audience dynamics, Every Brilliant Thing is an honest look not just at the experience of mental and emotional distress but also the capacity of the human spirit to find happiness in even the smallest of things.
"I want people to have a collective live experience of going through the same emotions," Herrera shares. "We have the tools for empathy. I would like this play to be that for audiences. Is there a way to recreate this safe circle in the theater, at every show? I want to start a discussion. Mental health affects everyone to some point to some degree and we should take responsibility for our actions. We have to respect this story. It's about life."
Beyond the play, The Sandbox Collective will hold post-show discussions, with mental health experts holding conversations with the audience in a space of openness, acceptance, and healing. Information on support groups, suicide hotlines, mental health consultations, and various coping mechanisms will also be shared. The production team will also be extending their work outside of the theater and into the community by exploring the different facets of mental health in art and pop culture, and through featured organizations and advocates.
"I want people to have an encounter, to find their way through this issue," says Toff de Venecia, The Sandbox Collective artistic director. "Suicide and mental health [are] one big other that needs to be understood."
Every Brilliant Thing will premiere on February 2 at the Zobel de Ayala RecitalHall, Maybank Performing Arts Theater, 26th Street, cor. 9th Avenue, Bonifacio Global City. For more information on the production, follow The Sandbox Collective on Instagram and the hashtag #EveryBrilliantMNL on social media.