"This is what happens when you're driving in real life: Another car cuts you off, you get mad and beep your horn—wala, mag-aaway na kayo sa kalsada. What's the point? 'Wag tularan." 
This was perhaps the closest that actor Diego Loyzaga would get to addressing an alleged altercation he had with a Grab driver back in June, but it's a statement that's full of practical wisdom. It's also a mindset that he says was borne from his experience with the History racing competition/reality show Celebrity Car Wars, which is now on its third season.
"This show is definitely not for the faint of heart," Loyzaga said in an exclusive interview with Garage. "My mom [actress Teresa Loyzaga] was very iffy about my joining a race in general, but it helped that she had already allowed me to join the Vios Cup." He joined the fifth season of the popular racing competition in late July and went on to win its first leg, clocking in at one hour and 20 minutes for 14 laps.
"For that race, we had very strict clauses when it came to safety and insurance, so she saw that I was well taken care of," Loyzaga continued. "And with Car Wars, she saw the same level of concern that the production team had for my safety, and that's why she agreed to let me join."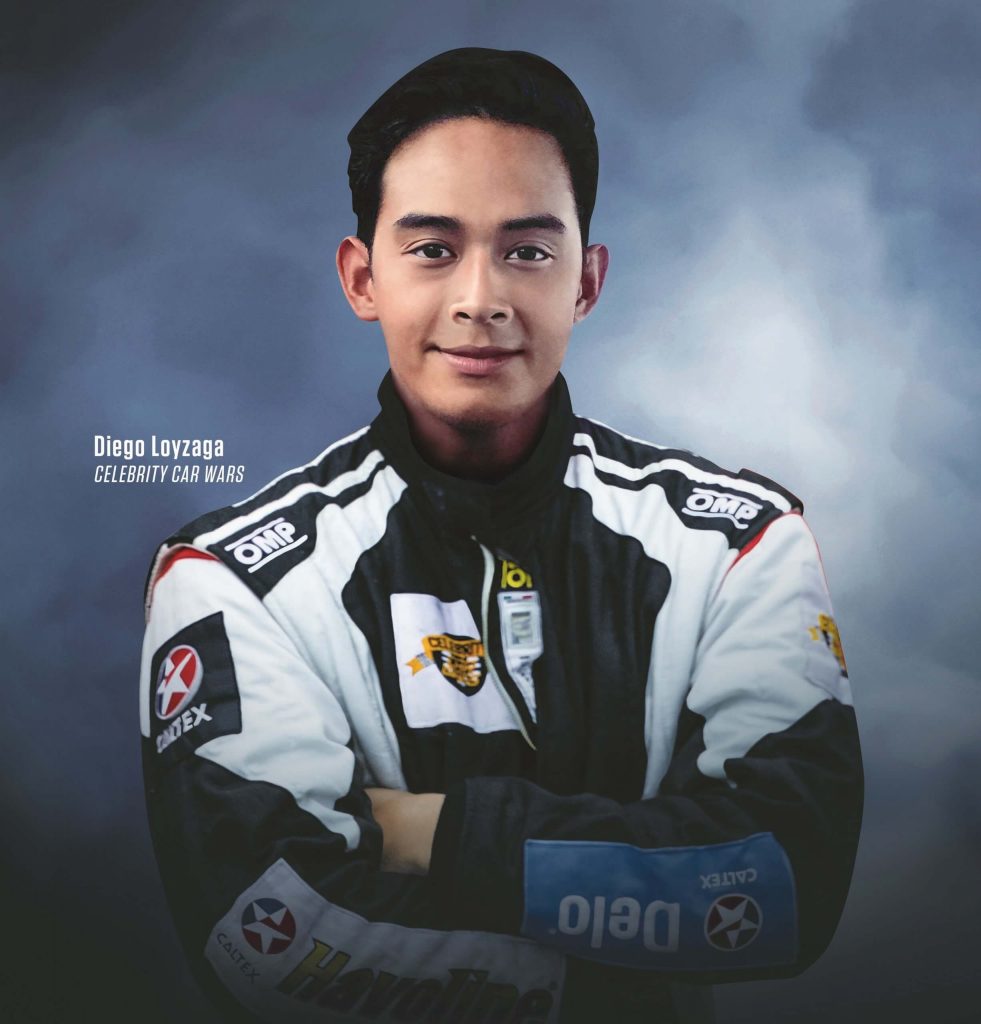 Shot within two weeks in Subic Bay, Celebrity Car Wars put together six of Asia's hottest celebrities and pitted them against each other by putting them behind the wheel: Matthew Deane and Lydia Sarunrat from Thailand, Munah Bagharib from Singapore, Hans Isaac from Malaysia, and Loyzaga and Xian Lim from the Philippines. The show is hosted by Bobby Tonelli and has Filipina racers Gaby dela Merced and Michele Bumgarner as the resident experts.
"I talk a good game," Loyzaga said about his racing tactic. "I just have a big ego. Give me a sport that I've never played before and I'll tell you I'm good at it. Ganoon lang talaga ako, haha!" He revealed that during the second leg of the Vios Cup, when fellow actor Sam Milby was leaving him in the dust, he got into what he called a "mamba" mentality and started trash-talking his competitor. "I kept telling him, 'Bro, I'm younger than you, I'm less experienced than you, but you'll get your ass handed to you today.' But I don't really mean it when I say those things, of course. And sometimes, it works, haha! So you'll see that in Car Wars too."
"Racing is racing, though," he acknowledged. "A single mistake could have you hitting a wall or hitting another car, and it could put you at the back of the pack."
Celebrity Car Wars isn't all about racing, though: Contestants are put through different kinds of wringers, from fixing and cleaning their cars to parallel parking in the tightest of spaces. Loyzaga admits that as adrenaline-pumping as his experience on the show was, it also taught him more about the right way to approach real life. "Through the progression of the show, you'll see how this egotistic kid who's pure yabang makes mistakes and learns along the way, and how the whole process resulted to something good."
And that "something good" is patience, even though ironically, the show title is about aggression and speed. "It's not always about being the fastest on the road; it's also about taking the time to learn from your mistakes, studying them, thinking them through, and getting better," Loyzaga reflected. "A race can have 10 laps, 15 laps—you can't just go zooming right out of the gate and expect that lead to last. No, that big push to get ahead happens in the sixth, eighth lap. You just keep making sure you're not making mistakes—and then you take that opportunity to get ahead when someone does make a mistake. That's how it is with racing, and it's the same thing when being on the road and in real life."
So did all this learning help him win the season? Loyzaga told us who won, but it's off-the-record, of course. "People must tune in to Celebrity Car Wars. It's a fun and exciting show, and they need to watch every week to find out who finishes first."
Celebrity Car Wars season three airs on History every Sunday at 9:55 p.m.