Here's how Ayala Malls welcomes everyone this holiday season

Last Christmas season, we celebrated away from our loved ones while stuck in our respective homes. But now, we are finally seeing the light at the end of the tunnel. We can now go out, have fun, and celebrate this season with our friends and families.
As preparation to welcome us all to the outside world, especially at the malls, Ayala Malls carefully planned out programs and surprises for everyone. This holiday season, Ayala Malls reframes the sentiment of what it means "to gather" with an inspiring Christmas message that heralds unity, generosity, and positivity.
Helping businesses to bounce back
The company is extending its facilities to support local businesses and community vendors through Bayanihan Bazaars, a series of curated fairs in collaboration with home, food, and fashion vendors from November 2021 until the year end.
Aiming to bring smiles this season, Ayala Malls welcomes shoppers to discover local goods that spark thoughtfulness and care for groups affected by the pandemic. One of these is the Christmas Décor Producers and Exporters Association of the Philippines (CDPEAP), which is composed of seasoned Filipino decor exporters who are currently facing the challenges caused by the pandemic and the influx of imported machine-made decors sold in the market.
"Gathering takes on a new meaning in Ayala Malls. Proximity and physical presence are not the only ways to gather. We can be together, if only through common values, shared hopes, and a collective purpose," says Ayala Malls Marketing Director Eunice Velasco. "The malls are where we can shop and dine for the season, yes. They're also the venues that offer a sense of community where inclusivity and safety of our patrons are among our priorities."
Another is Weekenders PH, a specialty gifting association made up of mompreneurs who used to make a living through live events. Now making waves through passion hubs, the group infused Oscar Mejia's bespoke fragrance specially made for Ayala Malls onto the booths. The signature scent is anchored on the feeling of a warm embrace, with clean and familiar notes that exude a sense of nostalgia and comfort.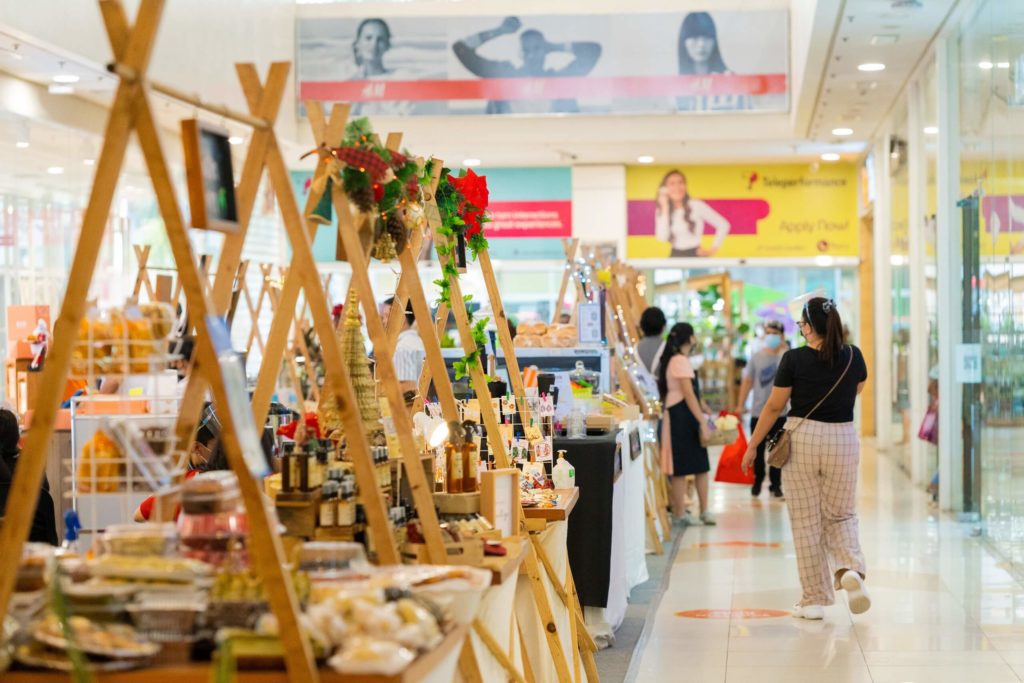 Next is a group of food vendors and restaurateurs including Expofairs Management Corp., Mercato, and RestoPH initially affected by multiple restrictions. Their partnership brings back flavorful options and gastronomic night markets for mall-goers to enjoy. Additionally, the Department of Tourism (DOT) is launching Kain Na! in Ayala Malls once again to support local culinary from Region IV-A, including CALABARZON, this festive season.
Of course, Christmas in Ayala Malls is not complete without the annual Designer's Holiday Bazaar (DHB) founded and curated by Bea Zobel Jr. and Sofia Zobel-Elizalde. An event with a cause, 20 percent of DHB's sales is donated to Steps Scholarship Foundation and Ayala Foundation for APEC Scholarships to benefit children from CENTEX schools. Through DHB's partner charities, shoppers are able to help children realize their dreams by contributing to their education fund. What's more, DHB collaborates with NGOs and the Ayala Foundation to bring local communities to the spotlight such as the Iraya-Mangyan tribe.
Gather memories
The spirit of the holidays is clearly seen as adults and children alike watch entertaining displays which are a nod to Filipino culture. Ayala Malls is hosting parol installations and exhibits to dazzle the young and old during the holiday season. These will be held until the end of 2021 in multiple malls.
Meanwhile, community choirs will fill the air with heartwarming music that stir the soul as one shops or dines. End the night by celebrating each other's achievements in front of the festive visual fireworks display and LED show.
As we bid goodbye to 2021, let's fill ourselves with memories and experiences with the people who matter to us.
Text by: Jessica Pag-iwayan