Sexy Summer: Antonio Stevens turns the heat higher

Come and take part on this body party
The heat this summer is scorching and we're even taking it further with this roster of personalities who are not only the definition of sexy but are fitness goals as well. Our roster for this year's Sexy Summer consists of entrepreneurs, athletes, and models, whose bodies of work go beyond aesthetics. Celebrate summer with this group of fitness enthusiasts who believe that health is central to one's lifestyle.
First on our list is Antonio Stevens: His buzz-cut, beard, bushy-brows, well-defined body, and over-all cool guy feel gives us the perfect summer vibe. You may have come across his Insta feed filled with glorious beach pics, TikTok videos that include dance challenges, and livestreams that talk about everything under the sun.
Practically, he's a beach bum who likes to challenge himself physically, may it be fitness-wise or in terms of talent. "I enjoy working out, to be honest, because it became like a habitual challenge for me to improve each and every session," he says. "Also, not a day goes by without me writing in my journal because it soothes me and keeps my mental state sane. I also like singing and playing my ukulele, but I'm really not that good. Haha!"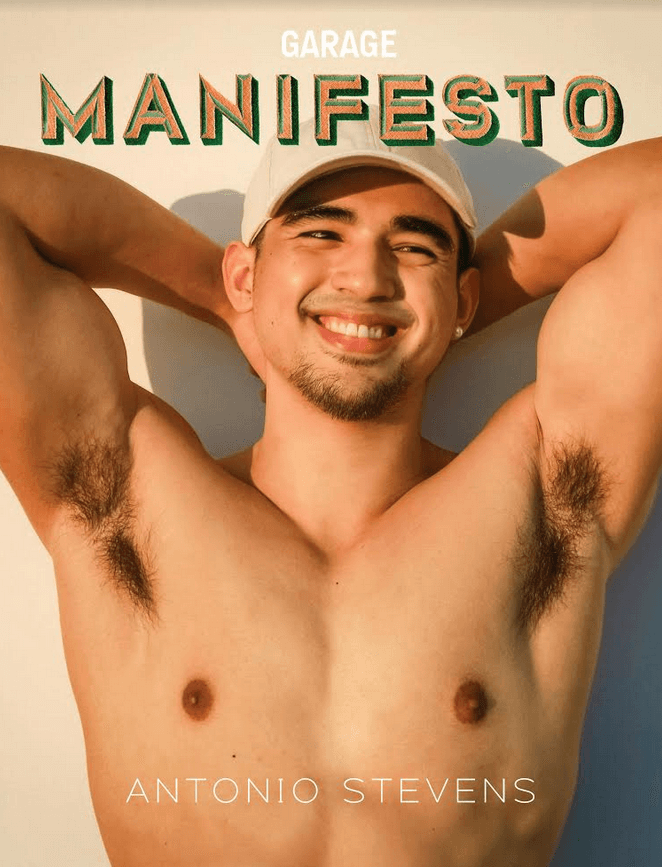 Aside from going to the beach, the 20-year-old also likes to connect to his audience through streaming. "Over the hour that I go live, it's really just like a friendly conversation with the audience," he continues. "Most of my topics are generally just an exchange of ideas, about how our days go, the occasional singing when we run out of stuff to talk about, the personal and relationship-related advice I give them."
Learn more as Garage talks with summer's happy-go-lucky guy about fashion, fitness, and everything in between.
What do you like the most about summer? 
I don't know if I can give you my favorite thing about summer because it's literally the best time to go out for adventures and stuff. But, I can give you one thing I hate most—this equatorial heat that melts my face off.
How about your summer style?
No more black and dark clothing. Since light colors don't absorb that much heat, those are what I'm wearing, and bright outfits are my style. Sunglasses, sando, shorts, and slippers. Anything loose that could let my body breathe from this unnerving heat. I'd bring an umbrella, but bags really aren't my thing.
Who is your style icon?
Chumason Njigha! I kinda follow his fashion tip: When your top is long sleeved, wear shorts; when your top is short sleeved, wear some pants.
View this post on Instagram
Favorite summer destination?
Catch me in Cebu canyoneering, spelunking, and getting into every adrenaline-filled adventure!
Dream summer destination?
Australia, because it's winter there when it's summer here in the Philippines and I could escape the heat. Haha!
Do you follow a diet and exercise program?
Just calorie-counting! I eat whatever I want, as long as it's within my daily calorie limit. Playing a sport is an exercise, right? I'd prefer that over the gym any day. Haha! For the sport, I love playing ultimate frisbee and badminton.
I do a push-pull-legs split and workout six times a week. I try to squeeze in HIIT workouts after my resistance training if I still have the time, but usually it only happens once a week. On my rest days (the 7th day), I try to have an active and productive day if possible. 
Where do you think the love for fitness comes from?
I've been an athlete ever since I was a kid. My love for fitness came along when I decided that I want to become an asset to any sport I'd put my heart and soul in. So, when I work out, I do exercises and movements that would improve my skills and attributes to the sport I'm planning on becoming good at.
How do you define sexy?  
Confidence is the sexiest personality to me. There's a fine line between that and being cocky, though. But being comfortable in one's own skin is stunning.
When do you feel the sexiest?
After I've taken my coffee in the morning and that caffeine kicks in. Haha! Or when I bathe in the golden hour. Not really sure, the similarity of feeling from both eludes me.
What do you think is the sexiest part of your body? 
My higad-like bushy eyebrows that seem to catch every person's attention when they see me. I don't know if this is TMI, but sometimes people ask if they could touch, even graze it with their fingers because they say it looks soft, which apparently it is.
Catch Antonio's streams at 10 to 11p.m. daily on the Kumu app.
Image source: Antonio Stevens' Instagram account