We're Obsessing Over: The King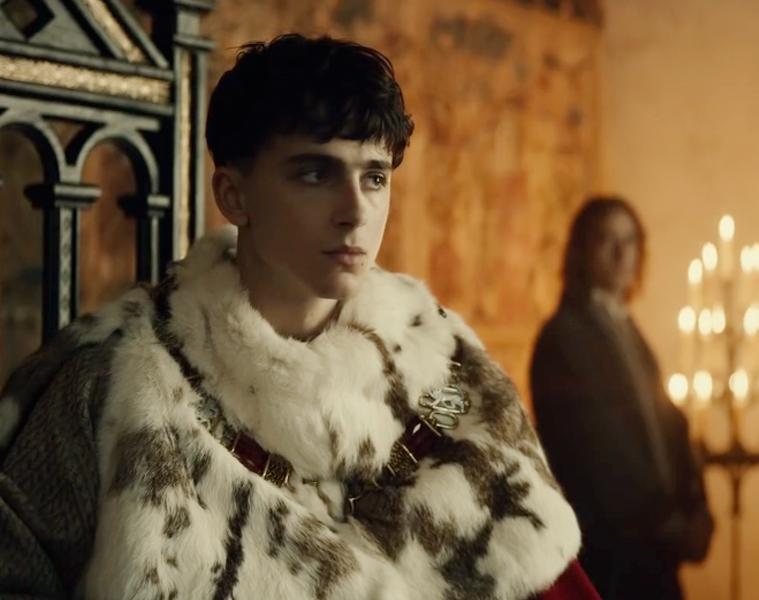 "All hail the king."
I got the chills as these words flashed in the final seconds of the official trailer for The King, a Shakespearean film that premiered earlier this week at the Venice Film Festival (and will be available on Netflix this fall).
The King focuses on the story of Henry V and how he ascended to the crown through political games and by maneuvering the people around him, and of course, the war he had waged against France. Based on the trailer, it looks to be an adaptation of not only the William Shakespeare play Henry V, but also of Henry IV, Part 1 and 2.
But what should we really expect from the film? Let me give you a brief background on the play.
Henry the Fifth—played by Timothée Chalamet—is different from the Henry that was in Henry IV, Part 1 and 2. When he was still a prince, the future king formerly known as Hal lived more like a low-life than a royal stature, spending most of his time drinking in taverns and thieving with fellow low-life friends such as Sir John Falstaff. (Yes, Falstaff eventually becomes a knight. He is played by Joel Edgerton, who also co-wrote The King.) 
Hal's riotous way of living had people questioning his capabilities to be the future king—which was a responsibility he had to step up to when he joined his father's war against a rebellion in the Battle of Shrewsbury. In this battle, Hal killed his father's enemy, Henry "Harry Hotspur" Percy, the initiator of the rebellion.
With King Henry IV's health declining, Hal knew he had to prepare to fill his father's shoes sooner or later, and so turned his back to his old ways and began to focus on royal affairs. This character development is one of the two things I am excited to see Chalamet convey in The King; the other is his being a king in the midst of a war. On top of those, I am also excited to see the production design for a drama set in the 15th century, and how Falstaff's character grows from being a corrupt drunkard to a supportive confidante to the king. (In Shakespeare's play, Henry V rejected Falstaff as soon as he became king.)
In the play's prologue, the narrator specifically stated how they wished to have the play not be limited to Renaissance theater, to have a bigger stage, complete with real princes and a kingdom, to give justice to Henry V's story. Some 420 years later, that wish materializes in a film that will show us rather than just help us picture the epic.
It's also great to see Chalamet continue building his body of work by getting bigger and bolder roles along the way. In fact, he has another period film coming up: Little Women, where he stars beside Saoirse Ronan and Meryl Streep (no big deal). Then there's Dune with Zendaya and Jason Mamoa, due in November of next year. All hail Timothée!
But back to The King: Chalamet's Henry V will stand against Robert Pattinson's Louis, heir to the French throne and owner of a blond man-bob. (It's a different look to when Pattinson finally suits up as Batman in 2020.)
Not only is The King a top-rate stage for its male actors to flex their acting chops before taking on headliner roles in more mainstream flicks for next year, but it is also a Shakespearean epic about a prince who grew into being a king. As it is one of the most-awaited indie film releases this season, I'm sold on it already.
Header image from Netflix