It's an exploration of "The Spaces Between Us" for this 10-year-old design brand's latest exhibits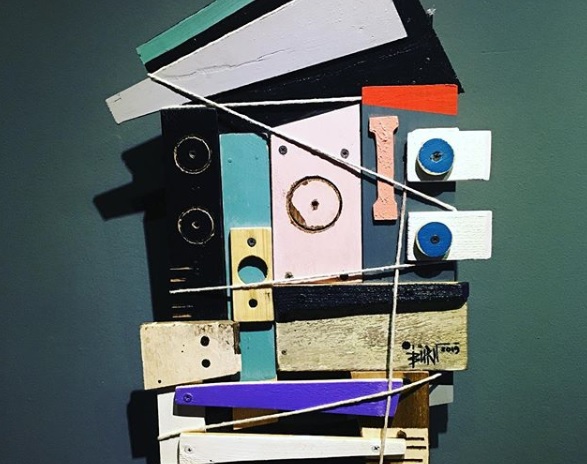 To create spaces that are not just pretty or trendy but are functional, inclusive, and experiential: This was the vision upon which Space Encounters was founded 10 years ago. A decade later, with an almost two-year-old art gallery under its wing, the interior design brand continues to explore the possibilities that can be contained within a space and how design and visual arts intersect within those possibilities. "The Space Encounters Gallery has become a creative outlet for the entire firm," said Space Encounters founders Thor Balanon and Wilmer Lopez in a statement. "More than just creating furniture collections, we are now able to play around with a space: interiors, furniture, art, lighting, mood."
This is reflected in the gallery's two new exhibits, which open today, June 27.
Half of The Spaces Between Us features artist Melbourne "Burn" Aquino, who represented the country at the XIth Florence Biennale in Florence, Italy in October of 2017. For his second solo show at Space Encounters Gallery, Aquino, who is also the gallery's resident artist, employed the signature style "lettering abstraction," which uses bold, deliberate strokes and hidden letters done in mixed media. While he has used art to express his views on socio-political issues, for The Spaces Between Us, Aquino presents something homier and more familiar, "hindi 'yung usual na mabigat at political," he described. His letter abstraction takes on different forms as pops of colors peek through textual images and easily recognizable faces.
https://www.instagram.com/p/BzKVcrZn4ZG/
As for the other half of the exhibit, Space Encounters presents playful pieces done in scraps of wood painted in bright hues, a reflection of the company's passion for creating beautiful and functional homes and spaces without sacrificing imagination. The Spaces Between Us also showcases artworks by the Space Encounters team, done in various media and interpretations to express the values and artistic ideas that are integral to the brand's identity.
Each piece— ultimately, the entire exhibit—is testament to that original vision that brought the firm to life 10 years ago, the same one that propels it forward to its next 10 years.
The Spaces Between Us runs from June 27 to July 19, 2019. Still on display are Paco Pili x Space Encounters' Fear of Flying, launched last May. Space Encounters Gallery is located at Unit 7D, 7/F Padilla Building, F. Ortigas Jr. Road, Ortigas Center, Pasig City. The gallery is open from 10 a.m. to 6 p.m. on weekdays, and 11 a.m. to 5 p.m. on Saturdays by appointment. These exhibits are in partnership with Heineken and Don Papa Rum.