Can't have enough milk tea? Here's a new sweet brew for you to taste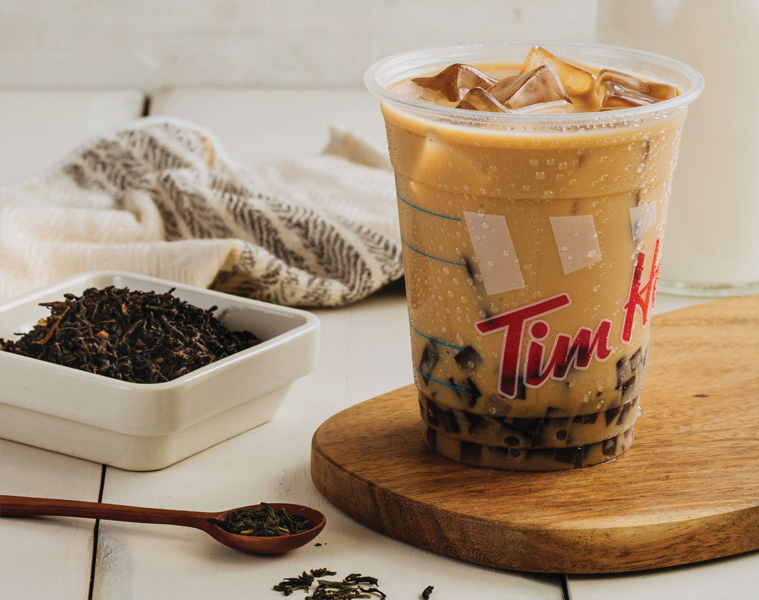 For a market that's just obsessed with milk teas, there can never be too much of this sweet and creamy drink. And the latest company to throw its hat into the milk tea craze has already proven that it knows a thing or two (or 10) about addictive drinks.
Tim Hortons introduces its own take on the milk tea, made with the Canadian coffee chain's signature brewed black tea sweetened with a vanilla base and sugar, and served with coffee jelly. Available for now for a limited time, the Tim Hortons Milk Tea can be flavored with a shot of caramel, hazelnut, or chocolate, with the sweetness level adjusted to your preference.
The Tim Hortons Milk Tea is priced at Php110 (small), Php125 (medium), and Php135 (large), with an additional Php20 for the flavor shots.
Even more good news: You can enjoy this thirst-quencher with their deliciously filling sandwiches and wraps as part of an upgraded combo. Have it with an artisanal grilled cheese or a bagel, which you can also customize according to your craving: with bacon, ham, pepperoni, steak or grilled/crispy chicken strips (simply add Php35 for ham and Php50 for any other protein); with cream cheese, mozzarella, American cheese, or cheddar cheese (add Php25 for cream cheese and Php15 for any other cheese slice); lettuce, tomato, or onions (add Php15 for any vegetable); and garlic mayo, chipotle, ranch, and honey (add Php10 for honey and Php25 for any other sauce).
Tim Hortons Milk Tea is available at the following select Tim Hortons branches: Net Quad, SM City San Lazaro, CEU, U.N. Square Mall, SLC Building, L'Ermitage, Uptown Mall, Greenhills Shopping Center, Pearl Plaza, and San Lorenzo Place.