2018 was the year of raiding our dad's closets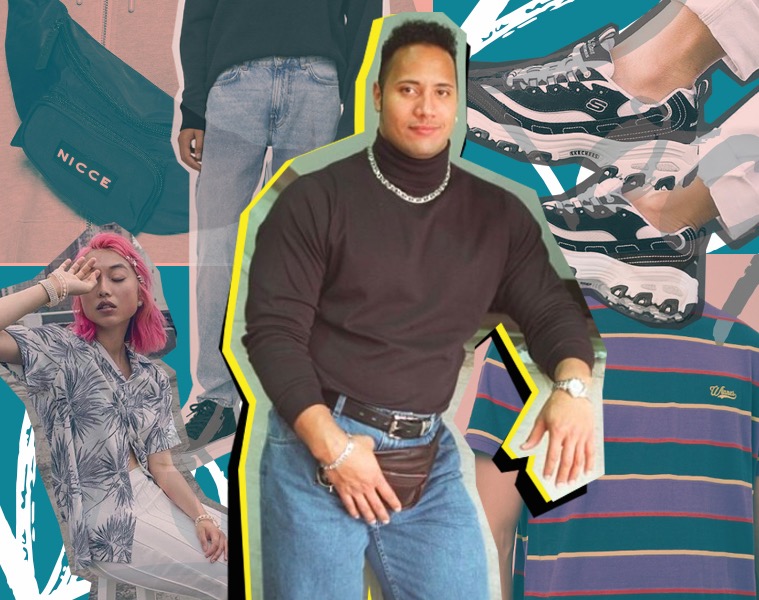 In 2015, we saw the rise of the "appreciation" for the dad bod. Whether you found it as an empowering take or simply an additional excuse for men's laziness, what we probably didn't think of then was how it was just a prequel for 2018's dad wardrobe.
The dad look was definitely big this year. Aside from the floral printed shirts you've found while rummaging through your father's closet, there have been other pieces worthy of swiping, such as that souvenir t-shirt or those baggy pants.Trends come in cycles, and this year's batch serves as the perfect example.
Take the dad pants: How many OOTDs this year featured ill-fitting faded jeans and pleated trousers, worn with a tucked in? When it came to shirts, the bigger the better, whether plain or printed, worn tucked or layered; going one size smaller was definitely passé. The '90s aesthetic was also part of the mix, with color-blocked tops and overalls very visible this year. And who could ever forget—and forgive—the comeback of those white, chunky, deliberately ugly dad sneakers? Once upon a time, we might have found the outfits our parents used to wear way back when as we looked through their pictures from decades ago. This year showed, though, that the joke's on us.
The dad jeans
The rise of these jeans had its prequel with the mom jeans, those high-waisted, ill-fitting denims that took the bagginess of the boyfriend jeans to the next level and have completely kicked out the skinny denims from many women's closets. Men probably wanted their own version of this comfortable piece of clothing and called it—of course, how original—dad jeans. Relaxed, washed, and non-constricting, they're soft and a little retro, just like how the typical dad likes it.
https://www.instagram.com/p/Bo9R0RBA16A/
https://www.instagram.com/p/BmXxcsJByyU/
The color-blocked top
A piece that goes well with the dad jeans are block-striped tops, and they sure got very popular this year, with everyone seemingly gagging to have one. Even celebrities collaborated with brands to get their dad moods out there.
https://www.instagram.com/p/Bl-9V-NhPlV/
https://www.instagram.com/p/BZy4BzBA5Lq/
The fanny pack
Although it never really went out of style, especially for the street vendors who use it more for function rather than style, the fanny pack made a big return to the fashion scene; even Dwayne Johnson joined in by posting a throwback photo of himself sporting one. Whether you wear it around the waist or across the body, this fashion-meets-function item was the accessory of the year for every hypebeast.
https://www.instagram.com/p/qhWAXpohyU/?utm_source=ig_embed
https://www.instagram.com/p/BfqoY27jHz5/
The Hawaiian printed top
How many spontaneously Hawaiian-inspired parties have you been to this year? Countless folks have been wearing the same floral-print top because the trend has just been so popular, even among girls. The "Lito Atienza" jokes of old no longer landed because the ones who used to do the teasing become the print's defenders themselves. Whether you got yours from your dad's closet or from the mall, you can't say you never wore one this year.
https://www.instagram.com/p/Bmj_EmQhLnM/
https://www.instagram.com/p/BlljdK4BBhT/
The dad sneakers
Am I the only one who questions this trend? It's bulky, chunky, and even looks smelly, but these white sneakers are definitely back, with almost everyone wearing a pair. Your dad's old trainers have been modified to fit Balenciaga's taste level, which makes it,um, not so ugly anymore? A lot of shoe brands have released their own version of these shoes, though I don't know for how long will its reign last.
https://www.instagram.com/p/BpjbIndFVfn/
https://www.instagram.com/p/Bp6MIhnnGeA/
https://www.instagram.com/p/BoOpHDeg3AS/