Holy sh*t, we're heading into August already?!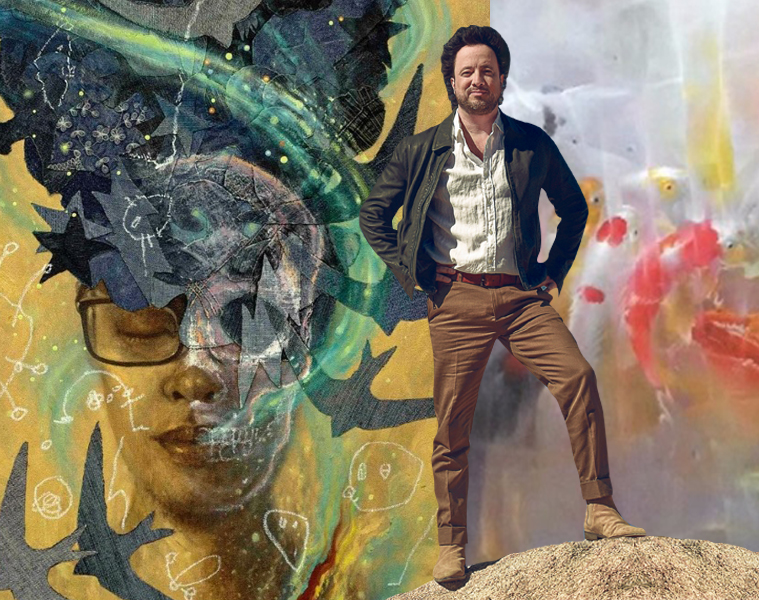 Time flies even when we're not having fun, so with August almost upon us, why not make the decision to have a bit more fun if we can? We can keep on working on the revolution, without forgetting to enjoy ourselves once in a while. Here are our suggestions on what you can pencil into your August agenda:
Realism and impressionism at Ayala Museum's Hybrid Interplay
Tomorrow, August 1st, Ayala Museum ArtistSpace presents the 12th solo exhibit of visual artist Ricky Montilla. Hybrid Interplay is inspired by the beauty of natural elements—something that resonates deeply with the artist.
Montilla had spent plenty of time and thought in selecting his subjects, taking numerous photographs of them, and rendering them in his unique "realistic impressionism" style. The interplay of art styles results in a hybrid that calls to mind Amorsolo and Monet, the combination of vivid light and soft brush strokes conveying emotion and movement without sacrificing the details.
Hybrid Interplay runs from August 1 to 14 at ArtistSpace in Ayala Museum.
Back-to-back exhibits at Space Encounters Gallery
It's all about what is abstract, surreal, and palpable this month with Space Encounters Gallery's upcoming shows, all of which simultaneously open on August 2, Thursday.
There is Hersley Casero's solo show Impermanence, where the exploration of the universe's vastness happens within ephemeral moments. Casero's surreal imagery, created with acrylic, oil, and denim cut-outs, is tempered by childlike doodles that were inspired by his two-year-old nephew's drawings. "They're a hint towards the regression back to a pure, raw, and organic beginning of our self-expression through art," the artist explains.
 A Little Room in Your Heart, meanwhile, is Jay Ragma's one-man exhibit that showcases a more personal take on his meticulously painted lines and geometry. "This exhibit is a tribute to the process of forgiveness and healing amongst family, finding closure, and moving on," he says. A Little Room in Your Heart is Ragma's first show after winning first place in the Non-Representational category in the recent GSIS Art Competition.
The gallery's third exhibit will be staged by Amos Malayao and Teofilo Alagao. Hatak is their joint undertaking of studying different perspectives and how these differences shape people, and while a figurative style connects both artists' works, there are starker differences: The degree of darkness to Malayao's visceral images contrast with the vivid colors in Alagao's paintings, compelling the viewer to take a closer look despite their discomfort.
All three shows open this Thursday, August 2, at 6 pm at Space Encounters Gallery.
Space Encounters Gallery is located at Unit 7D, 7th Floor Padilla Building, F. Ortigas Jr. Road, Ortigas Center, Pasig City. It is open from 10am to 6pm on weekdays, and 11am to 5pm on Saturdays by appointment.
History CON returns to Manila
Mark August 10 to 12 as the days when you can find like-minded fellows who share even your most outré interests.  The super popular entertainment convention History Con will be held for the third time in Manila, and it is sure to attract a huge crowd once again: From 50,000 attendees in 2016, last year's History Con welcomed 68,800 people into the halls of the World Trade Center.
Why the confidence in an even bigger draw for this year's instalment? Consider the two special guests who would be flying in to attend the convention: Vikings actress Katheryn Winnick and Ancient Aliens' Giorgio A. Tsoukalos (and his wild mane).
Other guests include Ride N' Seek's Jamie Dempsey, Who Runs the World's Mongchin Yeoh, History Hustle and Hidden Cities Extreme's Simon Yin, and Celebrity Car Wars Xian Lim and Diego Loyzaga.
Tsoukalos, who was part of the first History Con in Manila, will be holding an exclusive talk about—surprise!—aliens and some of the world's greatest mysteries about extra-terrestrial existence throughout history, something that will surely be popular among the convention attendees.
Fans can attend the live session of "Mysteries of the Past with Giorgio A. Tsoukalos" by availing of the History Maker VIP Pass or the History Maker Pass and requesting for slots. But they have to buy these passes ASAP, as the History Maker VIP pass (P10,000) has only 100 tickets available.
Meanwhile, the History Maker Pass (P2,500) is good for a three-day admission to the convention, while the General Admission Pass (P350) allows bearers one-day access to History Con.
History Con tickets are available for sale exclusively on SM Tickets. Visit the History website for more information.