Found objects, mathematical precision, and Brutalism in Space Encounters Gallery's newest shows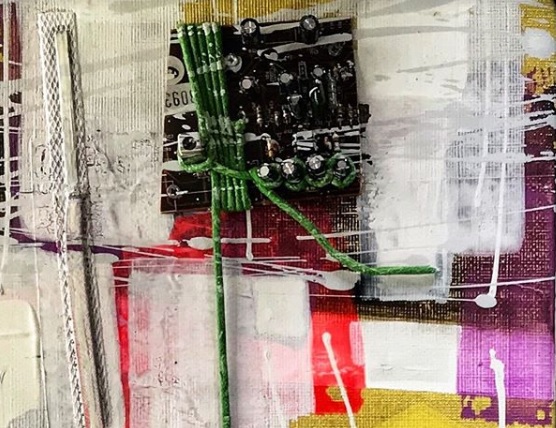 Space Encounters Gallery explores the multi-dimensionality of art with three solo exhibits opening on Wednesday, July 24, featuring artists Richard Buxani, Aaron Pormarejo, and Jay Ragma.
Richard Buxani's Brut Force is both a show of the artist's mastery of metal sculptures and a throwback to his beginnings in architecture. Bold geometric shapes dominate his sculptural works that are normally rendered with a raw and gritty finish, but Brut Force is a complete departure for Buxani, with his use of bold colors instead of the muted ones that he usually goes with. "The challenge is to keep my identity in the artworks while being able to explore," he relates. The amalgamation of three different design movements—mid-century modern, the Bauhaus, and Brutalist—results in striking pieces whose beauty lies not just in the medium but also in their execution.
https://www.instagram.com/p/Bz75Rn7gqje/
3D is Aaron Pormarejo's study on the less-is-more philosophy. Pormarejo, an interior designer by profession, recycles and repurposes found objects into art installations: Discarded wallpaper and wood laminates find new life as the canvas on which abstract lines meet and congregate, and scraps of electrical components, otherwise rendered useless, serve as accents and punctuation in Pormarejo's creations. "3D [features] a collection of works when I still had my studio in Hong Kong and when I got back here in Manila two years ago."
https://www.instagram.com/p/BzgHSlehWs6/
Rounding up these back-to-back solo exhibits is Jay Ragma's Memory of Arrival and Departure, a visual account of losing connections and struggling to find the reason behind the loss. Ragma's intersecting lines, rendered with an almost mathematical precision, are interjected with striking hues—like a disruptive force that throws the status quo in disarray.
Brut Force, 3D, and Memory of Arrival and Departure open on July 24 and will run until August 14. Still on display is Paco Pili x Space Encounters' Fear of Flying, which was launched last May. These exhibits are staged in partnership with Heineken and Don Papa Rum. Space Encounters Gallery is located at Unit 7D, 7/F Padilla Building, F. Ortigas Jr. Road, Ortigas Center, Pasig City. The gallery is open from 10 a.m. to 6 p.m. on weekdays, and 11 a.m. to 5 p.m. on Saturdays by appointment.