What titles have your bookworm celebs been reading?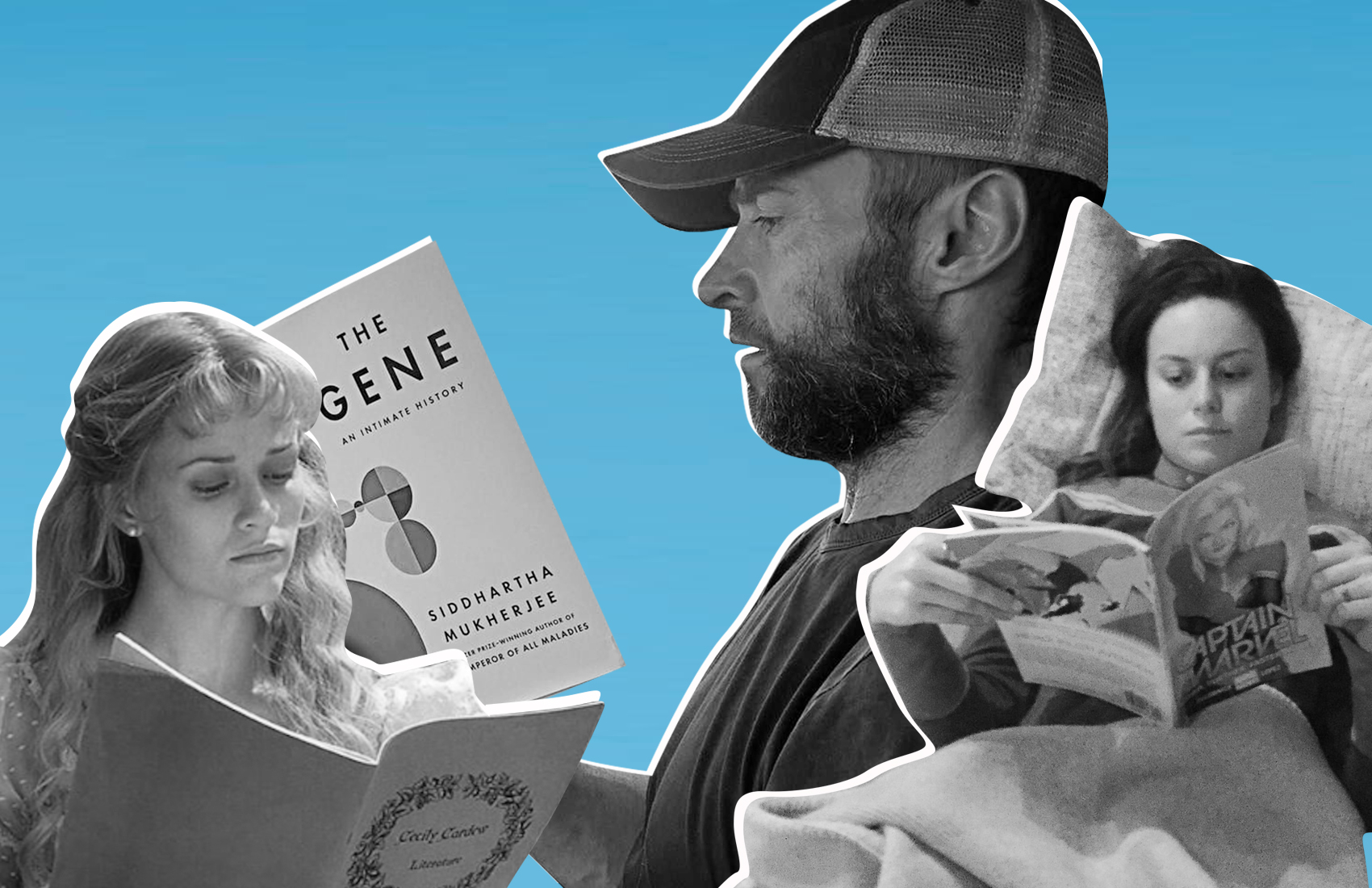 https://www.instagram.com/p/BXNShVpDzSQ/?taken-by=brielarson
Brie Larson
Between gearing up for her turn at playing Captain Marvel and promoting her latest flick The Glass Castle, Oscar winner Brie Larson gives a ringing endorsement of blogger and comedienne Samantha Irby's latest collection of essays We Are Never Meeting In Real Life–and with good reason. If you think Girls' Lena Dunham is the poster child of the overshare, then you have to read Irby; you might just give the TMI-style of writing another chance. With her serio-comic essays, she mines her past to zero in on some powerful emotional truths, written with acerbic wit and more than a pinch of meanness. The best part? Irby's funny. Really, really funny. To get a preliminary taste of her brand of scathing humor, visit her blog bitches gotta eat, where she posts about her beauty product finds and the reasons why she'll block someone on social media, among many, many other things. Afterwards, head on to your friendly neighborhood bookstore to buy a copy of her book.
https://www.instagram.com/p/BWTGyslgAM5/?taken-by=abbijacobson
Abbi Jacobson
Broad City season four won't be premiering until September 13, but Abbi Jacobson, one if its creators and stars, isn't not busy. There's her A Piece of Work podcast, post-production work on the The Lego Ninjago Movie (in which she voices a character), and the upcoming film 6 Balloons. Jacobson also snuck in some Susan Sontag reading, particularly her 1966 essay collection Against Interpretation and Other Essays. It contains one of Sontag's best-known works, "Against Interpretation," in which she ruminates on how contemporary culture's habit of commercialized and reactionary interpretation to issues, text, and especially art could be dangerous–especially as "interpretation" is often more similar to translation. Jacobson, an arts school graduate and an illustrator herself, highlights in her post Sontag's advice/admonition on how to suspend interpretation and "actively surrender" to art.
https://www.instagram.com/p/BXTNkgXB81L/?taken-by=reesewitherspoon
Reese Witherspoon
Leave it to Reese Witherspoon to get a scoop on whatever new sensational title hits bookstores. For her book club, she picked Ruth Wait's The Lying Game, a thriller about a dark secret rising from the past to haunt a group of friends who thought they had buried it deep enough to disappear. Published just last July 25, the book could have its own movie version produced soon; Wait's previous novel In A Dark, Dark Wood is currently in film development, with–no surprise here–Witherspoon at the helm.
https://www.instagram.com/p/BWaLOOCDE7X/?taken-by=thehughjackman
See Also
Hugh Jackman
Hugh Jackman's book rec is also getting the film treatment, with Amy Pascal (of the infamous hacked Sony emails) and her husband Josh Singer (who was part of Spotlight's writing team) at the helm. It's also very topical: Sunshine Mackenzie is a popular lifestyle guru who trades on lifestyle expertise and "authenticity." Yet when her social media account gets hacked, her carefully constructed life falls apart fast. Amid the ruins of her destroyed reputation, Mackenzie realizes that first, she has to reckon with parts of her true identity that she has tried so hard and so long to leave behind and forget, before she could rebuild anything.
https://www.instagram.com/p/BOvD2CVAdLq/?taken-by=issarae
Issa Rae
Insecure just got greenlit for a third season, and its second season is currently on–Issa Rae is living her best life, y'all. While the actress/writer/director/producer/Insecure creator last made a book post back in January, her literary choice could not have been more prescient. The late Michael Crichton may be known more for his sci-fi (Jurassic Park, The Andromeda Strain) and thriller (Disclosure, Twister) novels and for creating the '90s hit medical show ER, but his 1988 nonfiction release Travels also packs in a punch. Here, Crichton detailed his attempt to leave Harvard Medical School by traveling and pursuing a professional writing career. After his novel The Great Train Robbery was turned into a movie, he then made forays into mysticism, astral-projection, fortune-telling, and other adventures as he continued to make his way around the globe. If there's one white man to emulate when it comes to staking one's claim in the world, Crichton is it–and Rae knows it.