David Beckham collaborates with British brand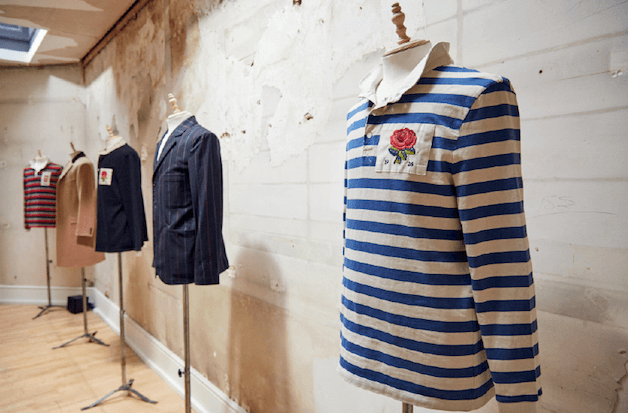 David Beckham strode into the Kent & Curwen showroom here, just one block from the menswear mecca of Jermyn Street. He smiled amiably at the small gathering of fashion reporters; posed for a picture with Suzy Menkes, the Vogue International editor, who would soon post on Instagram, and briefly rubbed his close-cropped beard before announcing that he wanted to make one thing perfectly clear.
"I am definitely not the designer," he said, looking in the direction of Daniel Kearns, who stood to the side, basking slightly sheepishly in the soccer superstar's glow. "I wish that I had the time that Daniel has, and that my wife has, even though she tells me every day that she doesn't have much time. But I don't."
With that, Kearns, an Irish designer who had previously worked at Alexander McQueen, Yves Saint Laurent, Louis Vuitton and Façonnable before being hired a year ago by Beckham and his new business partners to revitalize the venerable British fashion house, talked about how he planned to update the many staples — like the cricket sweater, rugby shirt and hunting jacket — that went back to the company's founding in 1926.
Kent & Curwen wanted a designer who would keep that heritage but give it a modern twist, Kearns said. "We did a lot of digging in the archives," he said, "asking ourselves things like, 'How you make the Fair Isle sweater contemporary?'"
For instance, he took the classic cricket sweater (the same one worn by the British film stars Douglas Fairbanks Jr. and Errol Flynn when they played for the Hollywood Cricket Club in the 1930s) and updated it by adding a contrasting trim to its cable stitch and making it in soft lamb's wool.
And the body-hugging, midnight-blue peacoat Beckham wore that afternoon was "modernized in color and sizing," Kearns said.
"To keep that history was very important to me," Beckham said. "Going through the archives was pretty incredible."
At Kent & Curwen, Kearns succeeds the British designer Simon Spurr, who left last year to take what turned out to be a short-lived stint at Gieves & Hawkes.
Hiring Kearns was the first big move that Beckham — who had collaborated with Belstaff and modeled in his underwear for H&M and Emporio Armani — made after he and his partner, Simon Fuller (the creator of "American Idol"), signed a deal with Trinity International Brands, the owner of Kent & Curwen, to take a management role with the brand.
The five-year contract stipulates that Kent & Curwen would be Beckham's only apparel line and that Beckham would be "directly involved in product development, market expansion, advertising and store aesthetic." NYT