Get moving with tailored fitness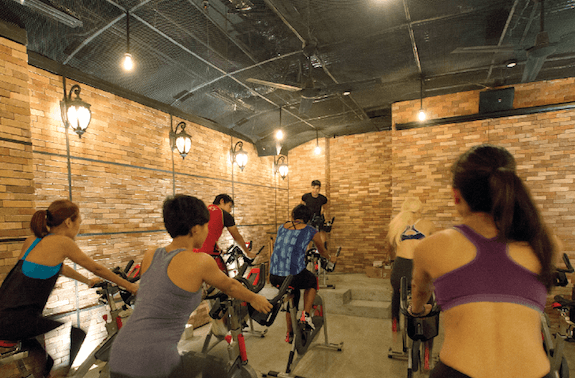 Nestled at the second-floor alcove in Serendra is the self-styled anti-gym Saddle Row. Named after London's one-stop shop for bespoke suits, it aims to give clients an exercise experience that's as rare as it is effective.
The attention paid to ambiance makes grueling workouts go down a bit easier, the spoonful of sugar in the form of eye candy. Rough brick, polished wood, and concrete accents adorn the lobby and the warm staff invites visitors to sign-in, inquiring if they'd like to borrow cleats before ushering them into small yet well-appointed men's and women's locker rooms. A side holding room has leather chairs, sofas, and various accoutrements found in a proper gentlemen's den.
The main cycling area feels like the 1800s London Underground, the soft warm glow of wrought iron lamps reflecting off the opposite wall's colonial-design mirrors. Gone are the staple folding screens meant to separate areas. In their place are heavy velvet curtains, drawn closed to fully envelope guests as they embark either to ride or row.
Saddle Row's indoor spinning class uses a fleet of 15 Schwinn bikes. These top-of-the-line cycles, which feature displays that show distance traveled, calories burned, and time spent exercising are electronically linked. Top performers can have their achievements projected onto the front wall, serving as inspiration for their peers. Alternatively, programs can be set for class goals, where a collective objective is set for everyone to work towards.
Theatre actor and director Topper Fabregas is a spinning instructor here. He explains that classes are tailored for all fitness levels. Saddle Row's current class selections are labeled "Exchange," "Underground," and "Resistance." Each focuses on a certain aspect of fitness, with some shifting away from lower body stamina to core and upper-body strength. Outside class hours, private open training is also available. Athletes can opt to bring their own bikes, attaching them to specially designed mounts, which simulate resistance while logging in ride information. As part of its corporate social responsibility initiatives, Saddle Row often plays host to members of Team Philippines. These seasoned triathletes join classes, boosting morale and perhaps, more than a few heart rates.
National cycling team captain Christopher Allison serves as Saddle Row's lead program director. His overarching philosophy focuses on sustainable fitness, one that combines effective, low-impact cardio with scalable progression, and overall conditioning. Tabata Workouts fulfill these requirements into an intense exercise within a compressed time frame. To carry out this directive, Allison counts on his hand-picked instructors who are expected to be keen on exercise physiology, as well as sports anatomy and CPR. The introduction of body scanners that measure body fat, resting metabolic rate, and other parameters mean Saddle Row clients have their workouts tailored to a closer fit to their fitness goals, and Allison believes the market for exercise at a good place, with good people, for a good price, has never been broader.
Saddle Row's rowers are not yet installed as of writing, but it will use Indo-Water Rowers. Unlike mass market mechanicals, these sturdy, wooden rowers use real water to mimic the feel of gliding down the Thames, the civilized experience of a gentle swoosh instead of an abrupt jerk.
Saddle Row. Second floor, Serendra, Bonifacio Global City. (02) 966 3610. www.saddlerowph.com.
Text by Reg Tolentino. Photos by Ronan Capili.