Discover ideas on how to make art a seamless part of your living space with Space Encounters Gallery's new show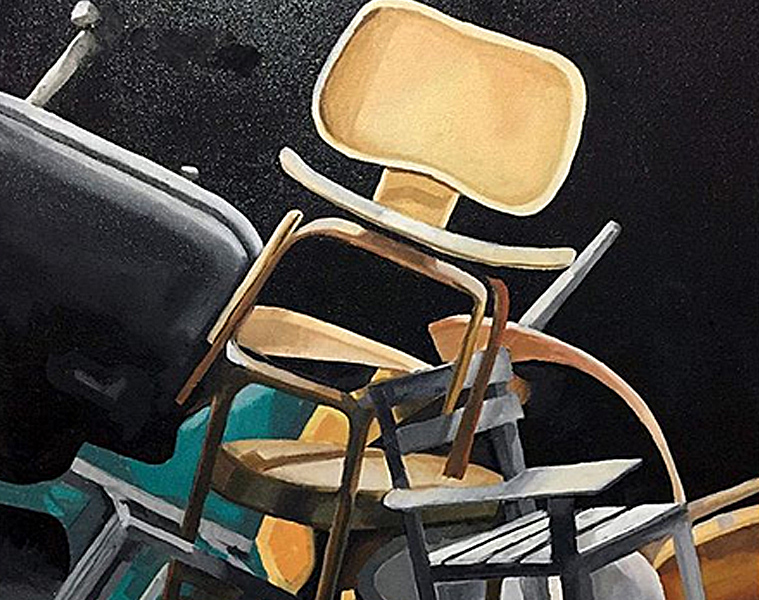 Framed movie and concert posters are well and good as pieces to hang on the walls of your room—if you're a high schooler or a college student. But if you're a proper grown-up who has taken the first few steps into fully independent living, don't you think it's high time to start investing in artworks for the home?
If you're stumped about how to even get started on finding the perfect artwork that would fit right in with your personal space, Space Encounters Gallery's first group show for the year is a great place to take notes.
Curated by Space Encounters' Wilmer Lopez and Thor Balanon, No Assembly Required explores the subjective beauty of abstract art through the works of eight young Filipino artists: Michael Cu Fua, Bayani Galera, Fitz Herrera, Rick Hernandez, Ritche Yee, Buen Abrigo, Hersley Casero, and Jay Ragma.
https://www.instagram.com/p/BgDrJVylG1T/?taken-by=spaceencountersgallery
Why the focus on abstract art?
"Abstract art is very subjective, and these artists that we selected create art that connects with us," says Lopez. "It can't be put to words what the actual connection is: Color? Architectural form? Contrast of textures? It's a lot of things, but also one thing: evocative art," adds Balanon.
No Assembly Required isn't Space Encounters' first foray into presenting art and furniture seamlessly within one space; they recently staged the exhibit PornOGraphic, featuring the work of artist Burn Aquino. "We always aim to match the furniture with art," Balanon explains. "In a sense, that's what we're trying to say [with this new show]: No assembly required. We have prepared a space that you can take home with you (minus the gallery wall)."
The integration of interior design and furniture—both very well-trod territories for Space Encounters—with fine art can be a tricky balancing act, with the latter not as restricted by the necessity of practicality that marks the discipline of design.
Balanon admits, "I know we're making our lives quite difficult by changing the entire space with every show—from the color of the gallery walls to the furniture and accessories—but that's really where the fun lies." Each of their shows take around two months to plan and produce, with Lopez and Balanon brainstorming and working closely with their selected artists. "[But] there's a particular high when everything falls in to place."
Unlike the work Space Encounters usually does, which is using interior and furniture design to serve and strengthen their clients' branding, their gallery serves as more of a playground, where the discipline of design gets temporarily pushed to the sidelines. "This is where we try concepts, color combinations, and design brain-farts that we couldn't otherwise execute in real-life with our brand-disciplined clients," Balanon says. "It's like a design incubator for the team where we also get to refine concepts and ideas."
In creating livable vignettes where the furniture matches and even converses with art, Space Encounters Gallery hopes to broaden its visitors' ideas on what makes an artwork "displayable." And so far, they've done well: Despite the highly political statements featured in Aquino's radical creations for PornOGraphic, such as a piece that read "Bawal magtapon ng bangkay dito," the featured art found people who got compelled to buy and bring them back to their own living spaces. "We realized that if we can help a client imagine how an artwork can be displayed in a space, then all types of art have a chance to find homes."
Who knows, it might be your own home welcoming these artworks soon.
No Assembly Required opens today, March 9, at Space Encounters Gallery on Unit 7D, 7th Floor Padilla Building, F. Ortigas Jr. Road, Ortigas Center, Pasig City.
The gallery is open to the public from 10 am to 6 pm on weekdays, and 11 am to 5 pm on Saturdays by appointment.
Email [email protected] or call 0917-7956739 for inquiries.
All images courtesy of Space Encounters Gallery.