Tomorrow, June 17, will be the first day of Fête de la Musique 2017. Do you know which stage you'll be watching?
This year marks the 23rd edition of the popular music event that is marked by simultaneous musical shows held in 30 pocket venues all over the metro, each showcasing the best of the local music scene in a specific genre.
And for the first time since it started, Fête will also hold celebrations outside of Manila: Puerto Princesa, Palawan at the Cory Park Provincial Capitol Complex, and Baguio City, both on June 24. If you wish to vacay and have a jamming good time as well, better book your tickets and check the Fête de la Musique Facebook page for more information.
But back here in the city: from acoustic to hiphop to rock to spoken word, there's a stage for your favorite genre, each with amazing lineups.
Our suggestion? Check out the Indie Stage at the Century City Mall, produced by Vandals On The Wall, Docdef Productions, Gabi Na Naman Productions, and Ndfy.me. "From folksie singer-songwriters to obscure indie-rock acts, expect a minefield of sonic diversity," Vandals On The Wall's Ian Urrutia tells Garage of the 19 acts that will perform at #FêteIndie2017. "It's gonna be rad for sure."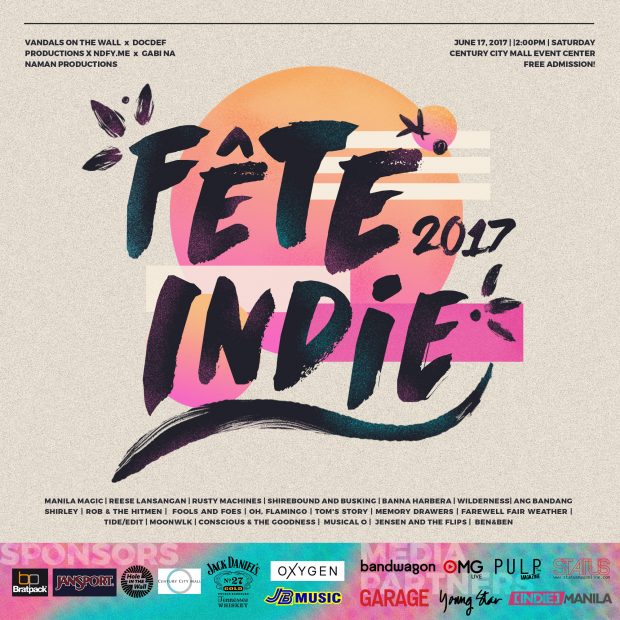 As this is the fourth collaboration between the four production teams, they promise an evening of unique sounds, eclectic personas, and the best that the independent Filipino music scene has to offer:
Manila Magic
Rob & The Hitmen
Wilderness
Shirebound and Busking
Rusty Machines
Tide/edit
Memory Drawers
Moonwlk
Ang Bandang Shirley
Oh, Flamingo
Musical O
Reese Lansangan
Ben&Ben
Banna Harbera
Fools and Foes
Farewell Fair Weather
Tom's Story
Conscious and the Goodness
Jensen and the Flips
Of course, if you have the energy to stay out all night long and go stage-hopping, check out the other pocket venues for more excellent music:
Acoustic Stage at A Space
Basement Stage at Finders Keepers
Bedroom Beats Stage at The Belle & Dragon
Blues-Soul-Funk Stage at H&J
Brazilian Stage at Woodman's Head
Circus Stage at XX XX
Disco Stage at Bar Mathilde
Eclectic + Art Stage at I'm Hotel
Electronica Stage at Time
End Stage at Dulo MNL
Grundge Stage at Mang Rudy's
Hard Rock / Crossover Stage at 121 Alegro
Hiphop Stage at The Studio
House Party stage at Black Market
Island Music Stage at Aloha
Jardin de Fleurs Stage at Red Rabbit
Jazz Stage at Monk's Dream
Mod Stage at Alchemy
Mount Zion stage at Pura Vida
New Wave Stage at Acceler8
OPM Stage at 1018 Bar
Post Music Stage at Boiler Room
Punk Stage at Kahuna Bar
Reggae Stage at B-Side
RnB Stage at Z Hostel
Rock Stage at Saguijo
Spoken Word Stage at Café Libertad
Unknwn Stage at The Social on Ebro
World Stage at Cabin
Manila Pocket Stage
Rock and Roll Stage at The Roadhouse
Come next weekend, Fête will hold its main stages in Manila, Palawan, and Baguio. Watch this space for updates.
Header image from DocDef Productions.
Save