Take a sip of modern artistry with Perrier x Murakami

Perrier, the French carbonated mineral water company, has been known to collaborate with the world's biggest icons in the art world including Andy Warhol, Salvador Dali, Raymond Savignac, Jean Carlu, Jean-Gabriel Domergue, and Bernard Villemont.
This year, in line with its investment in creativity to bring out a distinguished brand spirit, Perrier inspires anew with the release of limited-edition bottles by Japanese contemporary artist Takashi Murakami.
The drink's iconic green bottle gets a fun makeover with Murakami's signature flowers and characters Kaikai and Kiki. "Takashi Murakami is the latest artist to have fun restyling the iconic and vibrant Perrier brand," the brand says in a statement. "In order to reconnect with this part of its heritage, Perrier decides to launch a new collaboration with one of the most prominent contemporary artists of this century at the international level."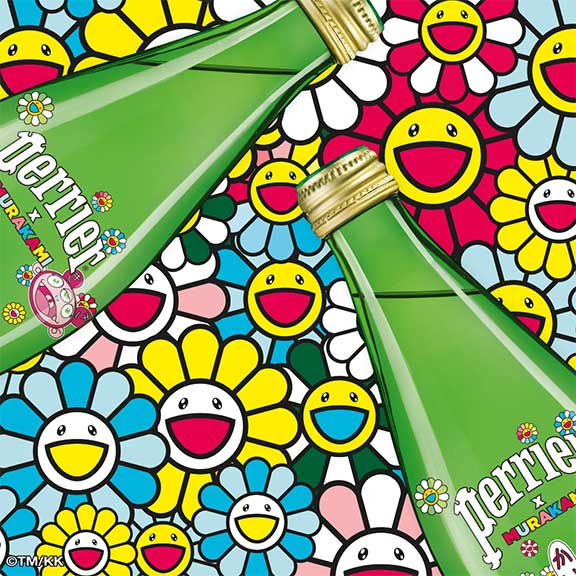 The Perrier x Murakami collaboration was announced last year, and now it's available in the Philippines. "We hope that this collaboration, inspired by the pop and colorful universe of Takashi Murakami and the creative spirit of Perrier, will increase the accessibility of art for an even broader audience," says Ale Vargas, brand manager of Perrier Philippines.
Currently available in two product variants, Perrier x Murakami comes in the 330 ml screen printed and 750 ml standard bottles. For the smaller variety, Murakami's artwork is printed directly on the bottle's surface while the other is on a sticker label.
The Perrier x Murakami limited-edition bottles are available at Lazada, Boozy, Booze Shop, and Clink. By next month, expect to find the bottles at S&R stores as well. In the Philippines, Perrier is distributed by Premier Wines & Spirits.
This article first appeared in Manila Bulletin