Celebs Andre Brouillette, Maxine Medina, and Anjo Damiles sport designer face mask that actively kills viruses. Here's where to shop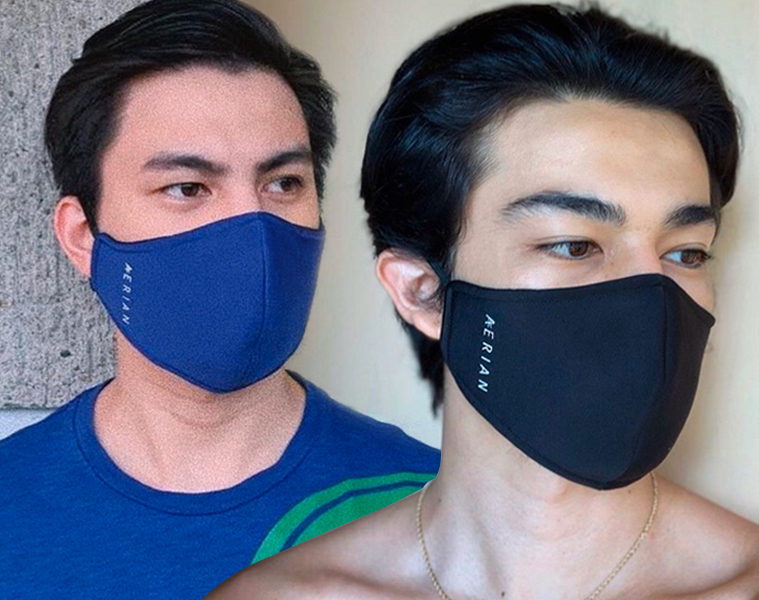 Designed and developed by a team led by renowned designer Albert Andrada, Aerian Essentials launches three design variants of breathable, comfortable, and functional face masks – Aerian Premium, Aerian Luxewear, and Aerian Classic.
While most masks simply filter and block particles, Aerian Essentials' protective wearables include a layer of nCamM nanosilver that kills viruses. nCamM nanosilver particles are extremely small, measuring 5 nanometers in size, smaller than the average virus.
Each Aerian protective wearable has three (3) layers: an exterior layer that blocks particles, the nCamM middle layer that kills viruses upon contact, and a protective inner layer that enhances the item's longevity. The microcidal effectiveness of nCamM has been tested with over 650 viruses and bacteria species ,including the H3N2 virus and other flu viruses. This patented technology was created by Singaporean chemist Dr. Liu Hongjun, who first began his work with nanosilver by purifying contaminated water into safe drinking water for disaster-stricken areas. To date, he has 20 high-impact published research papers and 31 international patents to his name.
https://www.instagram.com/p/CDVnck2n5eY
Aerian Essentials is committed to providing products that are stylish yet accessible and budget-friendly. The Aerian Classic, which incorporates indigenous prints from The Kadama Collective, is available for PhP299. On the other hand, the Aerian Premium, an everyday mask, is available at PhP 799 and has five colorways at the moment – black, blue, hunter, bronze, and stone. Finally, the Aerian Luxewear, designed in Albert Andrada's signature opulent colors and prints, is available for P1999.
Several celebrities and beauty queens have been spotted sporting Aerian Essential face mask. Check them out here:
https://www.instagram.com/p/CEAjXlsHxA8/
https://www.instagram.com/p/CDyaHKTJF7c/
https://www.instagram.com/p/CD5hYNXDTb4/
https://www.instagram.com/p/CD1FwCgJd3j/
https://www.instagram.com/p/CD-h0svHKps/
Check out the Aerian Essentials website here.