The night that was: Garage Magazine's 10th Anniversary Ball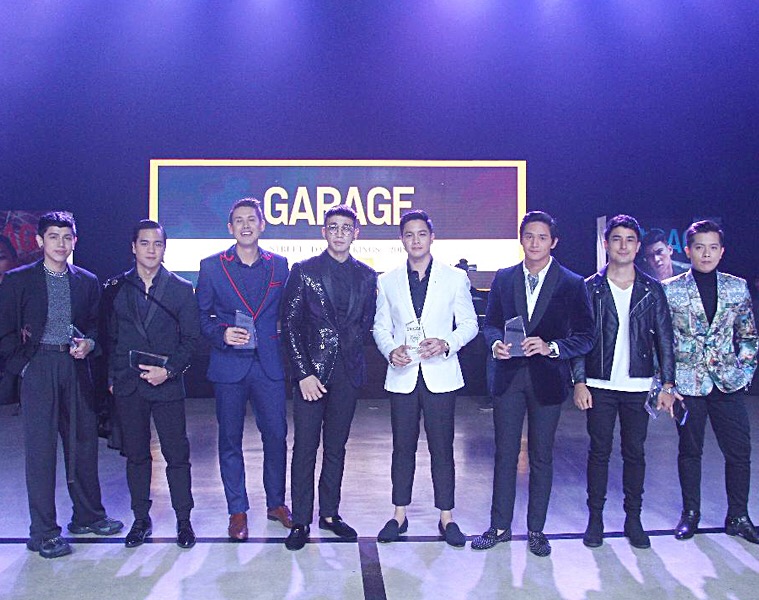 Good things come to those who wait—and while the surprise Sunday night traffic had everyone play the waiting game for a bit, Garage Magazine's Street Dapper Kings 2018: The 10th Anniversary Ball delivered.
The Tent City of the Manila Hotel was transformed into a black box that welcomed guests with life-sized panels of past Garage covers: Dingdong Dantes, August/September 2011; Richard and Raymond Gutierrez, August 2017; Piolo Pascual, August/September 2009. As people arrived, decked in suits and gowns—there seemed to be some loose Medieval theme that a number of folks followed—drinks continued to get poured over at the Chivas Regal bar. Buffet lines stationed at both sides of the tent kept guests full with some of the best of Manila Hotel's hors d'œuvres and bite-sized desserts; there were even lechon carving stations for the extra hungry, truffle rice on the side. When not chowing down or taking pictures at an elaborate Gothic set-up, people mingled and greeted both old and new faces, DJs Mark Thompson's and Julian Estrada's tunes serving as the backdrop music.
It was finally showtime at 9 p.m. After host Nicole Cordoves welcomed everyone and introduced Manila Hotel's resident manager Chris Orta, Garage editor-in-chief Rey Ilagan gave a brief speech on how the past 10 years have flown by and how the 10th-year mark is a momentous occasion for the magazine. There was also a short video that documented all the covers that Garage has produced through the years.
The first major presentation of the night came with the announcement of this year's Street Dapper Kings. The best-dressed men of 2018 come from different industries, and their diverse styles spoke of their distinct personalities and passions.
Photographer BJ Pascual
Director Gino Santos
Food blogger and pastry chef Christian Jacobs
Actor Ruru Madrid
Singer Jason Dy
Racer Marlon Stockinger
Actor Alden Richards
The other names in the list are surfer Luke Landrigan, basketball player Kiefer Ravena, actor Edward Barber, and model Tommy Esguerra.
The second highlight of the ball was the menswear fashion show that featured the latest collections from designers Jerome Lorico, Francis Libiran, and Michael Cinco and was directed by SAGA Events' Robbie Carmona.
The runway became a scene out of a Tudor court with Lorico's English-inspired long coats, with some rock 'n' roll motocross-inspired looks thrown in to create a sensation of time-space warp.
Libiran's collection is a play on logomania, albeit a subtle and classy one, with the FL emblem displayed either as stripes or as an overall print. It appeared on luxe casual pieces and on pretty decadent lounge wear, though a few coveralls balanced the whole presentation with a proletariat appeal.
The Dubai-based Cinco knows all about the travelling life, and the looks he sent down the runway made the Tent briefly look like an airport terminal for the most fashionable men around the globe. From slouchy streetwear to smart suits, the looks presented meticulous fit and tailoring, made more cosmopolitan by a mostly dark palette that was relieved by some sparkle and the colors of fall.
It's been 10 years of championing men's fashion and lifestyle, culminating with an evening that may have started a couple of hours late but ended on a very high note. Ilagan, who was wearing a sparkly jacket, toasted everyone, "Cheers to the last 10 years; may the next 10 be just as fun!"
Garage Magazine's Street Dapper Kings 2018: The 10th Anniversary Ball was made possible with The Manila Hotel as the official event venue sponsor and Chivas as the official liquor sponsor. Together with Saga Events, Garage's 10th Anniversary Ball was directed by Robby Carmona. Other sponsors included Amante Fleurs Flowers and Styling, Empire Studios, ODV, Make Up For Ever, Vivere Salon, All Scope Cinema, and Red Cross.
Photographer: Noel Pabalate