Our picks for the best- (and some worst-) dressed men at the 2018 Oscars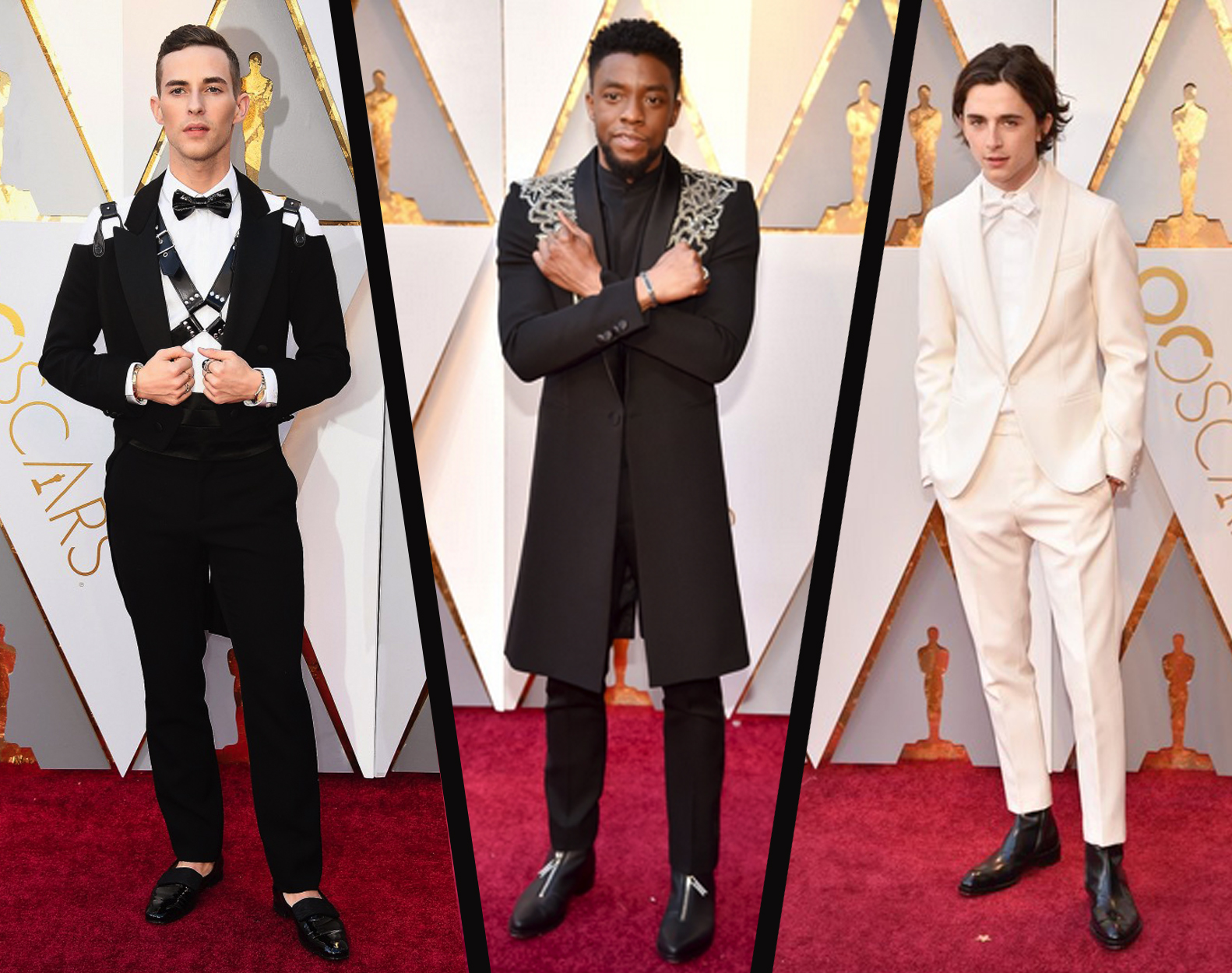 Welcome to Garage's first ever red carpet style roundup, where we present our knee-jerk opinions on what celebrities wear to major events. On the panel are Garage's editor-in-chief Rey R. Ilagan, executive editor September Grace Mahino, and fashion and grooming editor Jerico Villamonte.
RRI: In a sea of black on the red carpet, Timothée Chalamet, enveloped in a white Berluti dream, emerges as the best dressed of the night.
SGM: When I saw this picture of him with Armie Hammer, no lie, my first thought was, "Hindi ba siya nag-fitting?" Turns out Timmy C. was caught mid-motion by the camera or something, because this ivory Berluti tuxedo actually fits him like a dream.
JV: Basically, he probably wore all-white to deflect his dirty deeds on Call Me By Your Name. LOL. Too bad he didn't win Best Actor, but this suit is a winner. He is my winner.
RRI: It may not be the most flattering of silhouettes and fabrications but Daniel Kaluuya carries this style well.
SGM: This is velvety caramel goodness on my Best Actor pick. The warmth of his jacket's color is a visual balm from the usual choices of black and white.
JV: This jacket makes him look so soft and gentle, kinda balances what he did to his tribe on Black Panther. P.S. Please help me from getting confused about which character in the movie is whom.
RRI: When a style king is in attendance, you better take down notes.
SGM: Even outside of Wakanda, Chadwick looks like royalty. May he start the trend of more men wearing long coats.
JV: I love how this embellished coat and the accent of rings softly whisper "tribal." I say he wins Best in Staying in Character because I saw a photo or two of him with his arms across his chest Wakanda-style.
RRI: On and off the rink, I'm such a fan of Adam Rippon, but this bondage tuxedo style comes off a little too much.
SGM: Adam can wear whatever the hell he wants—including bondage formal—'cause he a glamazon bitch who's always ready for the runway.
JV: I'm starting to wonder if he's the Christian Grey of the Olympics.
RRI: There are actors and then there's Armie Hammer. Done.
SGM: Ugh. His man-baby antics on Twitter keep me from appreciating this red velvet thing he has going on.
JV: Thumbs up for not showing up in a tracksuit and for not blending in with the carpet. Armie, how's your peach?
RRI: This is exactly how I pictured young Hollywood dressed in Tom Ford: classic and luxurious, with just a little room for sexy.
SMG: I like the green velvet jacket, I don't like his face (never have).
JV: They are probably fit for each other, but clearly, those clothes aren't.
RRI: Tom Holland is such a wonderful young actor. I just feel sad seeing him in this dated suit. Even his bow tie feels the disappointment.
SGM: Tom is too petite a guy to have those wide lapels closed so high up his chest.
JV: I agree. Looking at the lapel makes me uneasy.
RRI: For a moment, I thought this was the Grammy Awards.
SGM: It's a look not everyone would appreciate, but there's something effortlessly cool in this guy's stance. Like he could stroll into a place and just bust a move.
JV: I'm all in for the pink jacket and everything, but probably get a correct shoe size. If you've fired your stylist, give us a call, Darrell.
RRI: Want to know why clothes maketh the man? Exhibit A: Common.
SGM: Common always looks like a snack, and those darker colored lapels that match his bow tie and shoes are nice subtle touches.
JV: I think I'm seeing piping down the side of his trousers. Nice! Not so "common" on the red carpet.
RRI: When you want your lady to standout yet still look fine AF.
SGM: I wonder what the real temperature was at the Dolby Theater, because Miguel seemed cold while his companion was showing skin. Anyway, the coat-over-a-textured-blazer idea is interesting, but the effect here is a little too bulky.
JV: I love Miguel's music, but this look kinda seem like he's thrown a coat over his shoulders just to match Nazanin's number. Kinda looked a little forced to me.
RRI: I've always believed that in menswear, it's all about fit and the details. But sometimes, it's easy to get lost with too much going on. Maybe next year, Mr. Ali.
SGM: Honestly, last year's Best Supporting Actor winner deserved a better outfit.
JV: Green blazer and…is that a blue scarf? Interesting.
RRI: Again, Grammy's.
SGM: Is CLJ still in creepy, douchey character from his nominated movie? Because he looks like death warmed over.
JV: Lose the shades, maybe.
RRI: One look at Lakeith Stanfield and you know he means business.
SGM: Mr. Stanfield looks like a tall drink of water.
JV: Looks like he's about to eat something (or someone).
RRI: Sam Rockwell drowns in this Prada number.
SGM: Sam was long-overdue for an Oscar, though I wish his win came from starring in a different movie. Maybe after nabbing his first Academy Award, he'll finally have his pick of a better stylist?
JV: Whatever is bulging on his pants? Not cute. Also, the length of his pants, please! A lot of stylists are getting fired after this evening.