Why watching Ballet & Ballads would be like attending a fun music festival (only more comfortable, and with a more classical line-up)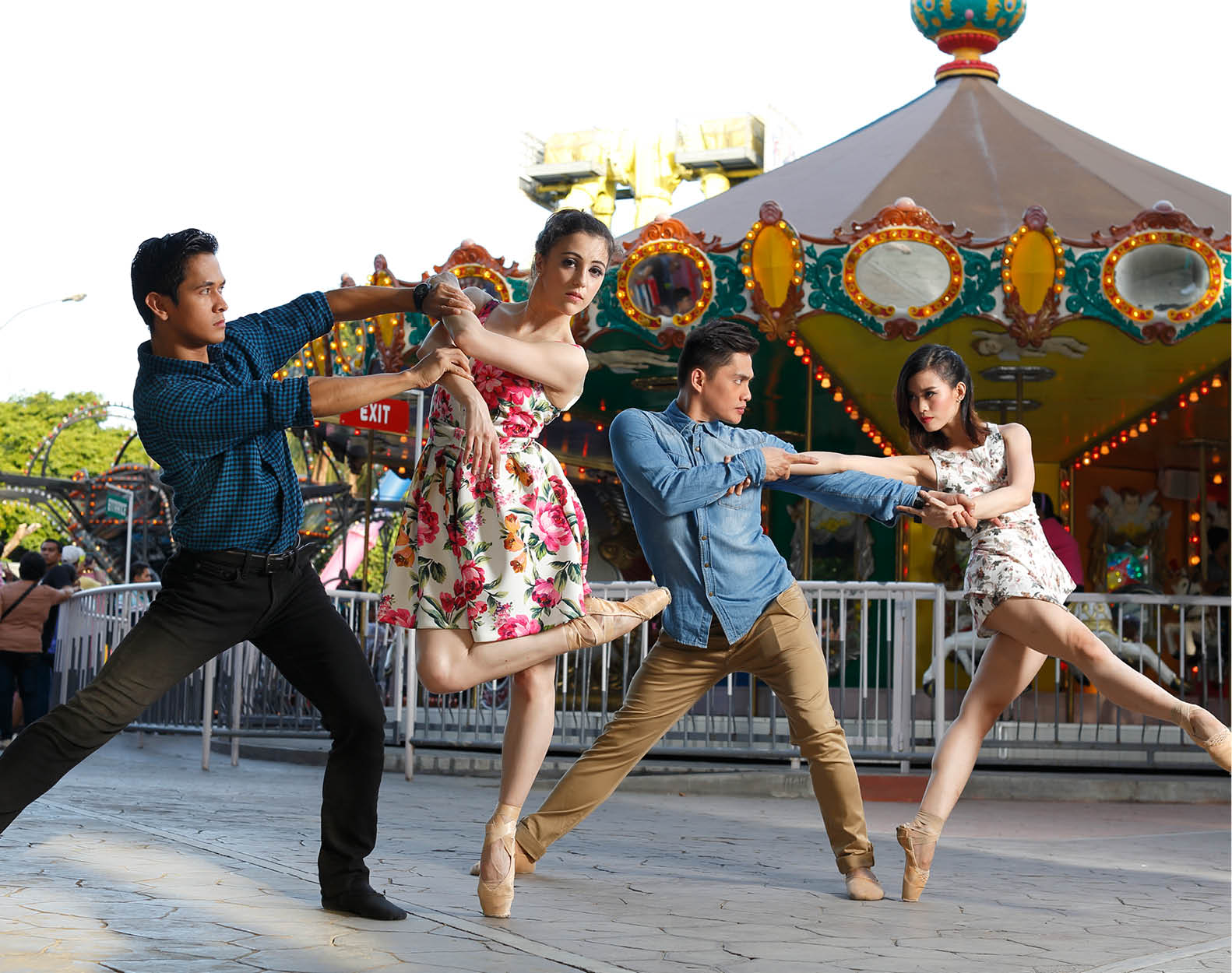 A mash-up, a crossover, a hybrid—whatever the term you choose to call it, the upcoming Ballet & Ballads by Ballet Manila promises to be all kinds of wonderful.
The show has been a tradition for the Lisa Macuja-Elizalde-founded dance company; as the prima ballerina puts it, "Ballet & Ballads is as old as my marriage." (She and her husband, business tycoon Fred Elizalde, have been married for almost 21 years.)
She disclosed the show's beginnings during a round table discussion last week, where she was joined by balladeer (and multiple-time Garage cover star) Christian Bautista and Klassikal Music Foundation artistic director Andrew Fernando to talk about Ballet Manila's concluding show for its 22nd performance season "Flights of Fantasy": "The original idea came from my husband, who had wanted to merge the capabilities of his radio network (Manila Broadcasting Company) and my ballet company. Our first show happened soon after we got married, when he told me he wanted to produce a Ballet & Ballads show, and the format would be exactly that: a ballet, a ballad, a ballet, and then a ballad. In the end, the singer sings and we, the dancers, dance, and it produces a product that is appealing to everyone. It's quite light and entertaining, and it also proves that classical ballet can be performed to any kind of music in any venue."
Early press releases about the latest Ballet & Ballads speak of its appeal to Filipino sentimentality. With Bautista as a featured singer to serenade the audience with his greatest hits, and with the ABS-CBN Philharmonic Orchestra performing a very special "teleserye suite" that will feature theme songs from ABS-CBN's most iconic soap operas, the M.O. seems to be to lure in Pinoy pop culture fans through music—then stun them with the beauty of classical ballet. (Ballet Manila fans already know that the show is not to be missed.)
But it won't just be a high-low/classical-contemporary mix. This year's Ballet & Ballads will have the dance company collaborating with the Klassikal Music Foundation to bring not just ballet but also opera closer to the Filipino audience. "Classical arts suffer the most whenever a country goes through a financial crisis, because a classical artist's job is to entertain," Fernando observed. "Some people would think, 'Oh, we don't have money to go to the opera,' and operas aren't cheap to stage. That's why I'm thankful to Ballet Manila for making us part of this show. There are very few opportunities for classical singers to perform, even though there are a lot of beautiful operatic voices in the country."
Hearing the three artists talk excitedly about the show, we get the gist that watching Ballet & Ballads would be, as Fernando aptly described it, like attending a music festival (minus the heat and the discomfort): you get to enjoy ballet, the opera, musical theater, and good old OPM, performed by world-class talents, all in one evening. What could be better than that?
Christian, how did you become part of the show?
Christian Bautista: Ms. Lisa contacted me a few months ago to be part of this. They've been doing this show for a long time already, so I was very honored to be invited—not to dance, okay, but to sing. I leave the dancing to the very talented artists of Ballet Manila.
Andrew Fernando: Oh, but they didn't tell you there'll be some dancing for you to do. (Laughter)
CB: Oh yes, I've heard I'll be doing some lifting?
Lisa Macuja-Elizalde: He'll have some several blockings.
CB: I had my first meeting with Ballet Manila the other day, and we did our stage blocking. It makes me giddy again to be onstage because I love the rehearsal process. I cannot wait to rehearse again with the ABS-CBN Philharmonic Orchestra and the dancers. That's what separates every other concert from this one: Concerts now, whether a major or a small one, will have only two or three small rehearsals with the band in a studio, then you rehearse onstage that same day. With theater and with ballet, you rehearse so much and constantly, that when you get to the stage, you know exactly what to do and where to go. That's what I love about this process.
This is one of the first concerts I've done of this kind. I was part of (Ballet Philippines' 2012 production) Rama Hari, but that was more of a play, while this is a story ballet. Now, by the end of the four shows, I expect to be able to do a pirouette. (Laughter).
In planning the show, did the songs come first? And what was the selection process for that like?
LME: In the very beginning, when I was still planning the current season back in February of 2017, the original idea was to merge musical theater with ballet. I'm not going to say what musical I had wanted, but it became an impossible dream. The music was just so expensive, and we weren't given permission [to perform to them]. It's understandable, though, because [musical theater production houses] would rather produce a musical the way a musical is produced, instead of the music being used to create a ballet—which has been done, by the way, with opera; an instrumental score with no singing has been created for a ballet in the case of La Traviata. That's an example of what can be done when you merge two different genres. So what ended happening was the combination of classical singing with Martin Lawrence's choreography in the number called "Aria."
But I also thought that if we're going to do Ballet & Ballads, there has to be a popular singer too. Our singers in the past included Basil Valdez, Lani Misalucha, Jaya, Rea Valle, Ariel Rivera, Luke Mijares…I thought it was perfect that given Christian's musical theater background, we could do a show with both classical singing and musical theater.
The beauty of the show is that there are more numbers where everything comes together. Usually, the music is pre-recorded; now, there'll be live music from the ABS-CBN Philharmonic Orchestra and there will be dancing while Christian and the classical singers sing. It's a high budget show! (Laughter.) I think it'll be really appealing to everyone. It's also going to show the appeal of different kinds of music to our audience, not just to musical theater fans but also opera or classical music fans and ballet fans. We're just trying to fill this arena with people who may want a mixture of everything presented on stage. There'll never be a dull moment, for sure.
Could you tell us more about the Martin Lawrence-choreographed "Aria"?
LME: Andrew actually recommended some of the arias that Martin eventually chose to create choreography to. That's how way back this project has started; "Aria" was choreographed last year, around April or May.
AF: A couple of years ago, I went to Lisa with an idea for a show.
LME: I remember that.
AF: The composer of Madame Butterfly, Giacomo Puccini, has a set of beautiful art songs played on the piano that could be danced in the form of a pas de deux or a solo. It played in my mind over and over again, and I thought it would be great to have that performed in public. When Lisa called me to ask for any arias that the Ballet Manila dancers can dance to, I immediately said, "Yes!" The arias are popular and very lyrical.
LME: Martin started with the idea of pearl fishers. The idea is to have different couples dancing to arias that show the different sides of love, from unrequited love to a love that has started passionately but has mellowed down. There's the super passionate and euphoric love, then there's the love that ends in resentment and even disgust. It's very dramatic how these couples are going on top of a sofa and then swinging chairs around, confronting each other by going up a table—the way he choreographed it is really amazing because you see all the different stories of the three main couples.
https://www.instagram.com/p/BeZoGwmj6Qa/?taken-by=lisamacuja
And what about the ballads part?
LME: It also went through an evolution. When I first met with Carlo Orosa, Christian's manager, his first questions were, "How many songs [will he perform], and which ones?" At Ballet Manila, we have a beautiful number set to seven Josh Groban songs, with the choreography done by Manuel Molina. It's called "Love Beyond Good-bye." But when Carlo learned of it, he said, "Oh, that's all-new material. It's going to be a lot of work." So I said, "Okay, what does Christian want to sing?" His repertoire has to be something he'd be comfortable singing, because he'll be singing seven to eight songs in the show. Basically, I just wanted everyone to feel comfortable with the show.
We also asked what music is available, as far as arrangements go for the ABS-CBN Philharmonic Orchestra. When you're organizing a whole gala concert and you're putting together numbers, it's more expensive when the orchestra doesn't have an existing arrangement already. That means you'd have to commission one for the show, so that had to be considered.
Christian: It's a mix of the choices of the orchestra, the existing dances of Ballet Manila, the existing material that I have, and putting them all together.
Andrew, we heard that Ballet & Ballads marks the first partnership between Klassikal Music Foundation and Ballet Manila. How did the partnership come about?
AF: Officially, it is, but last October, we had a showcase called "One With the Stars," where we invited Ballet Manila dancers and choreographers to do the dancing and choreographing. Ever since, I've already pictured a partnership between the two companies, because one of Klassikal Music Foundation's objectives is to promote young artists in the classical field to a greater audience. Ballet & Ballads is an opportunity for us to fulfill that.
Every collaboration between different genres is very uplifting, because there are always new things to discover. Something beautiful will always come out; it'll never be a disaster. These are all art forms that have stood the test of time and can stand on their own, but the beauty of bringing them together is how each can enhance the other. Collaborations like this happen only once in a while, and it's always a joy to have.
People who come to see the opera are so used to just watching singers. They've never watched an aria being interpreted through dance. I think this show will make classical music accessible, because we classical singers do sing in a foreign language. Often, the only window for interpretation of this music is how we sing it; now, with dancing, the meaning will be enhanced. It's good to build an audience that will like both genres.
Aside from you, Lisa, and Martin Lawrence, are there other choreographers who are part of Ballet & Ballads?
LME: Yes. We'll have the world premieres of two numbers by Augustus "Bam" Damian III. He was a dancer in Europe, then when he came back, he became a prolific choreographer for Ballet Manila and Ballet Philippines. He's done many pieces for our company: the first Rebel, The Last Poem, M.A.Z.N., "Ilsa-Dyur," and so much more. Bam is an amazing choreographer. I especially love the way he choreographs these lifts in pas de deux work, when a guy is manipulating a girl all over the place. In the number "El Adua," there's this one lift where the guy flips the woman and she ends up sitting on his shoulder. How did he make that happen?!
We also have "What A Wonderful World," to be sung by Christian, and choreographed by my co-artistic director Osias Barroso for my Project Ballet Futures students. (Ballet Manila rehearsal master) Jonathan Janolo is doing the choreography for the teleserye suite that features a Rey Valera medley and several songs, like "Pinoy Ako." There's also the classical pas de deux; you can't have a ballet concert without a classical pas de deux, and the one we'll have is from Swan Lake and Giselle. There will also be the world premiere of the pieces choreographed by our resident choreographer, Gerardo Francisco, to "Magsimula Ka" and "Umagang Kay Ganda."
https://www.instagram.com/p/BepRuN_jUhn/?taken-by=lisamacuja
Given the many creative forces working on this show, what is the overarching theme for Ballet & Ballads?
LME: There can only be one: love. Well, love and hope. You'll have to watch the show to see how these connect all of the numbers.
Remember how, when you get married, you have to wear something old, something new, something borrowed, and something blue? Something old and something new is "Aria," because you have new choreography set to old music. Something borrowed is "Ilsa-Dyur," which is a pas de deux choreographed [for] me and (Ballet Manila principal dancer) Rudy De Dios when I was still Ballet Manila's principal ballerina; the name is a play on the letters of our first names. These dancers are now "borrowing" the piece from us. As for something blue, "El Adua" is about the men's decision to leave their women and families behind to go to war—it's a very sad theme, very blue. That's an example of how we've connected the numbers in the show.
Christian will also be singing "Maria," and I did the choreography to the song, which involves the four principal characters of The West Side Story: Maria, Tony, Riff, and Bernardo.
CB: That's exciting.
AF: Watching Ballet & Ballads is like going to a festival and watching all of these shows: musical theater, the opera, a ballet…
LME: And it's all new choreography. The challenge, really, was finding the right mix, then finding the right sequence. In fact, I just decided to change the order of the program. (Laughter)
CB: Today?
LME: Yesterday! (Laughter)
CB: I'll have to check my email. (Laughter)
LME: After the run-through, I decided that the first part was too dance heavy, so I wanted to change the order to make the second part balanced. So now we're beginning the second part with "Aria."
CB: That's part of the beauty of rehearsals: you never really know what will happen. Up to the last day, there might be some things that would get changed, just to make the show better for everybody.
The newest installment of Ballet & Ballads premieres on February 10, 6 p.m., the Aliw Theater. There will be three other shows: February 11, (3 p.m.), February 17 (6 p.m.), and February 18 (3 p.m.). Tickets are available through TicketWorld. For more information, visit the Ballet Manila website.