Frank Ocean's 2017 visual diary could inspire you to say "Yes" more often (plus other art world news)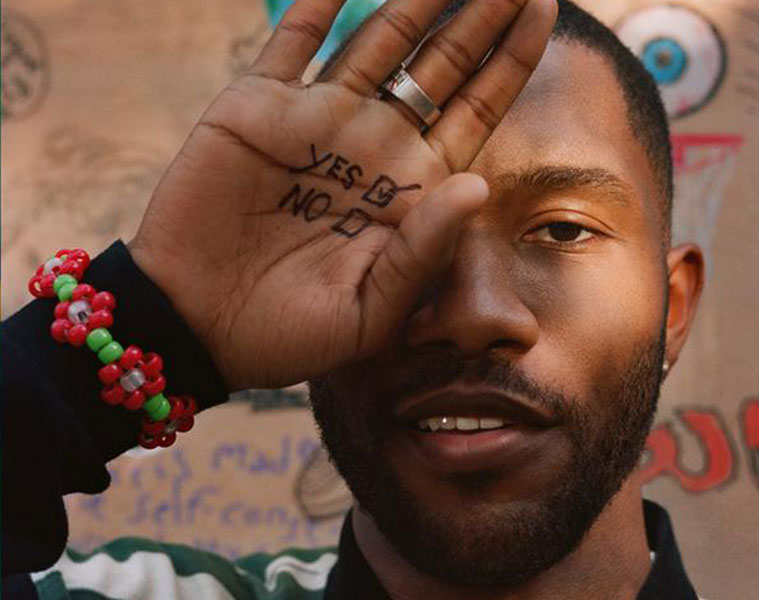 FRANK OCEAN'S VISUAL DIARY
October 24
We thought 2016 would be the worst, but 2017 definitely stumped us, both for bad and good reasons. As the year winds down to its last two months, singer and songwriter Frank Ocean gives us something to chew on: "If you liked two thousand and seventeen then you'll love two thousand and eighteen."
It's the last line of Ocean's letter, which accompanies a 32-page spread of photos, shot during the course of his summer tour, which feature him and different parts of Los Angeles. The visual document was produced and released exclusively at the magazine i-D's website, where it is described as an "homage to the team who help realise [sic] his creative dreams… [and is] about creativity and collaboration and the power of saying yes."
Also featured in the photos are director Spike Jonze, plus members from Ocean's touring band.
The visual diary comes with a personal letter from Ocean, and its optimism about the future is quite touching:
"You can answer a lot of questions with 'Yes.' But you can answer many more with 'No.' No is run of the mill. Yes is a gem. Whenever I feel alone I watch live television, something about it being okay on their end makes it okay on mine. Onstage one in-ear is my mic feed and the other one is a Tim Ferriss podcast. I go long periods without talking but I raise my voice when the people on the phone are in loud places. I've never given my fans nicknames because the ones I think of are embarrassing. I'm world famous. I had peace in my twenties. Big Pharrell praying hands those weren't mutually exclusive. If you want to make your 30s sound appealing just mention 'sexual prime.' Re: the photos… as Karl Lagerfeld would say they 'came to me in a dream.' Summer two thousand and seventeen. We leaned into it. Bananaberry flavored candies at the bottom of the cup. I'll never know why or what's with campouts for Szechuan sauce at McDonalds. But I'm way into it. Issa Dreamworld. If you liked two thousand and seventeen then you'll love two thousand and eighteen."
See the rest of his visual diary at the i-D website.
Screengrabs from i-D.
LEONARDO DA VINCI'S "SALVATOR MUNDI" ON TOUR
October to November 2017
If you have the passport, the visa, and the funds to make it happen, you too can see for yourself the artwork that has been billed by auction house Christie's as "the biggest discovery of the 21st century." Leonardo da Vinci's last painting, Salvator Mundi, which dates from around the 1500, was once believed to be a lost masterpiece until it resurfaced in 2005 and was unveiled at London's National Gallery in 2011. Once owned by the English king Charles I, da Vinci's portrait of Jesus Christ had been painted over and moved around through various private collections until 2005, when its then owner decided to have it studied by New York art dealer and da Vinci expert Robert Simon of Robert Simon Fine Art.
Now valued at $100 million dollars, Salvator Mundi will be sold to the highest bidder at a New York auction on November 15. Before the bidding starts and the hammer falls, however, Christie's will tour the masterpiece through London (October 24 to 26) and New York (October 28 to November 15). The public exhibition has had it stops in Hong Kong (October 13 to 16) and San Francisco, California (October 18 to 20).
https://www.instagram.com/p/BaE1pMWDH5w/?taken-by=christiesinc