Where to enjoy your favorite Pinoy street food, five-star style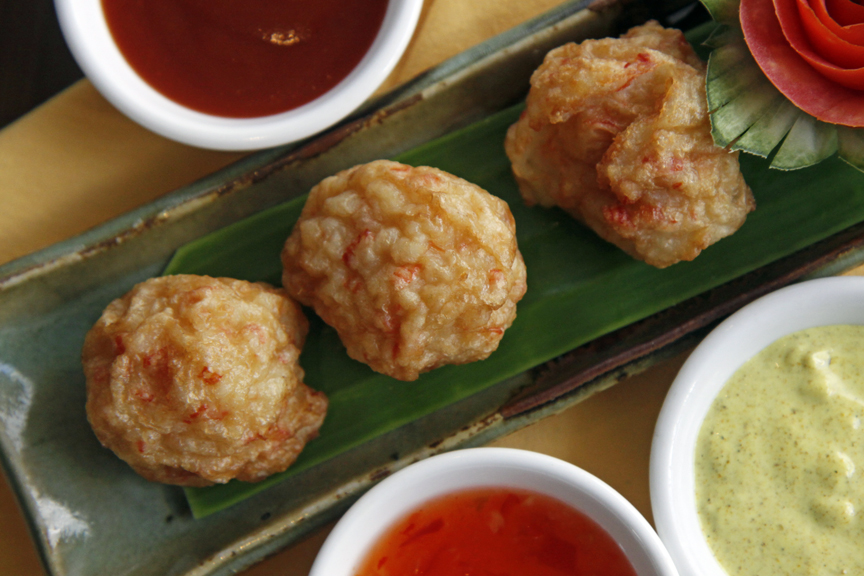 Nothing beats chowing down on a paper plate full of kikiam, sliced with scissors and covered in sweet sauce flecked with red chili pepper bits and viscous with the dubious way it was prepared. Actually, the risk of contracting food poisoning has become part of the thrill of eating street food, like playing a round of Russian roulette with your stomach. Will this batch of fish balls give me diarrhea? Let's see!
Now, Manila Hotel has created a dining experience that's a facsimile of this favorite Pinoy pleasure, though a lot more luxurious and totally sanitary. Served at the Sun Deck, Manila Hotel's Bar Bites buffet presents the best of Filipino street food prepared under the expertise of executive chef Konrad Walter. The press release describes the buffet offering as a "sexified and Frenchified Filipino street food"—a bit strange and unnecessary because the last thing a hungry person looks for in their food is sexiness, but it's definitely a dining experience that's a must-try this season.
The Deep-Fried Halo-Halo alone should be enough enticement, with the usual components of the all-time favorite treat encased in crunchy and lightly sugared lumpia wrapper and served with chocolate chili, vanilla, and coco jam dips.
Indulge in the familiar flavors of kwek-kwek, kikiam, okoy, lumpiang ubod, cheese rolls, fish balls, banana cue, and more (plus the all-important spicy, sweet-and-sour, and vinegary dips), and savor delightful details like the light crunch of the kwek-kwek's orange batter and the juicy chewiness of freshly fried kikiam. To complete the street food experience, Bar Bites also presents drinks that have marked plenty of childhood memories, from the frothy ice skrambol to the refreshing sago't gulaman. Those who are up to it can even pair their food with the Sun Deck's signature Manila Hotel Daiquiri, which uses as base lambanog that has been distilled seven times. Further elevating the experience is the view of Manila Bay, with its world-famous sunset creating a golden glow over the whole scenery.
Enjoy Bar Bites from 3 to 5 p.m. daily for only Php395 per person. Drinks are charged separately. Visit Manila Hotel for more details.