To fashion savvy and tech-obsessed millennials: These designer collaborations from Philippine Fashion Week are for you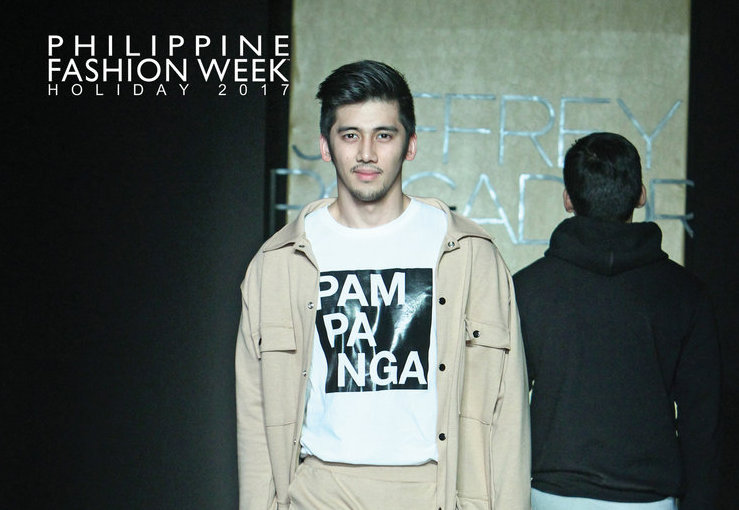 To say that fashion and tech make the ultimate lifestyle combo is an understatement in today's age of Instagram and Snapchat. Gadgets need to be more than just functional, they also have to make us look stylishly on-point.
That is why it was only natural for Power Mac Center to join the Philippine Fashion Week Holiday 2017 runway last May 27-28 at Discovery Primea, Makati. Local designers Mixy Dy, Kaye Morales, Jerome Salaya-Ang, Jeffrey Rogador, EsAc, and Pat Santos were teamed up with Power Mac Center partners Sonic, Moshi, Wraps, Jabra, Hoco, and Sennheiser to each create a collection of fashion-forward pieces that can be complemented by designer tech accessories.
Now keep your eyes glued to your screens (just like how you always do, because let's be honest, how many hours have you been browsing through Instagram and Facebook by now?) as we run you through the menswear collections that integrated function with form in both fashion and tech.
Kaye Morales' Vomit Art
"I don't want to just be regarded as a fashion designer," Kaye Morales stated. "I want to be known as an artist." Her collection Vomit Art is her self-image in a tangible art form, relaying the impression of perfection through a derelict point of view. While her pop art-and-punk aesthetic is still evident in the pieces, Morales was also inspired by contemporary and avant-garde art, which was a key factor in how she named her collection.
Morales collaborated with Jabra to complete the looks. Bluetooth headsets were unobtrusive accessories to her streetwear pieces of fringed and feathered jackets and colored-bubble printed tops.
Joel Rosales' Maligne for EsAc Uniforms
Yes, you're seeing it right: you are looking at uniforms. Joel Rosales is known for his minimalist corporate sets, but this time, he opted to catch attention with bold colors. He used wool, cotton, ramie linen, and black floral Mikado as his materials, and injected details through fabric manipulation and piping.
Joining his looks on the EsAc runway were Sennheiser's signature headphones that make for the perfect company for a corporate worker as he traverses Manila's streets and central business districts. The brand showed its variety of over-ear headphones, from foldable to wireless ones, together with EsAc's urbane pieces from Jun Jun Cambe, Jannette Visser, and Joel Rosales.
Jeffrey Rogador's JR | XX Philippines
Jeffrey Rogador has always been about streetwear, but he isn't just about the Manila scene. The designer expanded his reach as he included t-shirts printed with the names of few of the country's major cities and provinces—a reminder for you to embody true Pinoy pride and travel locally, preferably wearing his pieces. The collection can work as a traveler's wash-and-wear wardrobe, especially with the addition of Wraps earphones that can double as a bracelet when not in use. Making the gadgets more versatile were the Classic series that comes in braided fabric cable, and the Natural series in faux-leather braided cable, which comes with beads for a more accessorized look.