Derrick Monasterio splashes into summer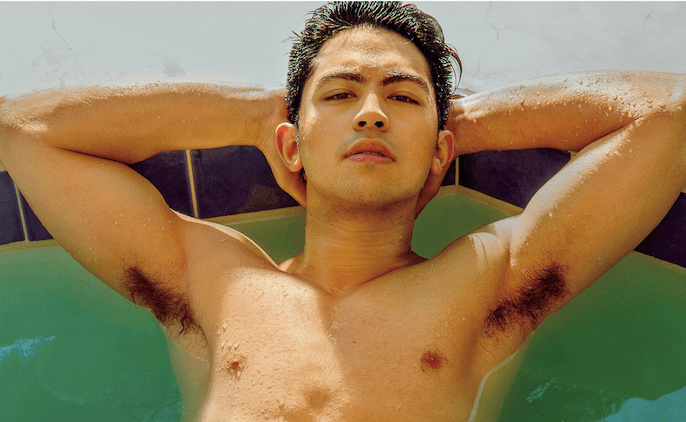 Derrick Monasterio is every millennial. He's 20, goes to the gym to get ripped, casually drops the word "feels," and gives me a high five for being part of this Palace Pool Club generation. But I go on Spotify, where his newly launched self-titled EP was, and find him crooning ballad covers like a veteran. No Thyro and Yumi beats, no pop gimmicks—just rich singing courtesy of the old soul trapped in Monasterio's body.
"I was really comfortable singing the songs because it was in my comfort zone," Monasterio says. Of course he would be: At age 8, he started singing to the tunes of Josh Groban and Andrea Bocelli. He was a soprano singer in a choir that competed internationally. A seven-track album for a seasoned choirboy seems like an easy throwback for an actor-artist who got his official break on Party Pilipinas. While his filmography is more varied—he's currently paired with Bea Binene in GMA 7's Hanggang Makita Kang Muli—Monasterio's genre choice has always been consistent. It's classical with the slightest hints of rock and other melodies.
"I was able to release my feelings through the songs," he adds, telling me that while recording the song 'Give Me One More Chance,' he cried as he remembered his past heartbreaks. "That's the essence of being a singer. You can show your heart through the song, and not just by singing it on tune."
You'd think that a rookie—Monasterio is, technically, a record newbie compared to his same-aged peers—should feel lacking. I ask him about his own insecurities. He pauses, maybe to ponder, before saying, "I'm gonna be confident on this one, ah." I nod in anticipation. "I don't have any insecurities."
"I think I'm the only guy who could do such things with my voice. I'm the only one who could sing the classical genre in my age," he says, sounding smugly mature. He quickly reverts to his conscious, young self as he asks me giggling, "I'm too proud, aren't I?"  He is, endearingly, but it is after all true to the bone.

"My biggest concern is artists getting albums even if they don't deserve one. It sucks to know that people are buying their album even when their voices are heavily edited," Monasterio says. "I just want to do well with my ballad singing. I hope more people," he mentions an older market, "would appreciate it."
He trains his vocals twice a week, and often records himself singing a cappella. When the time comes for him to produce his own EP, expect Luciano Pavarotti-inspired covers to go with his toned torso. He also hopes to act in musicals and hold his own concerts.
For now, though, he's a budding balladeer, versatile actor, a self-confessed joker and a cooking enthusiast who specializes in oil-based pastas. He'd also like to see Japan soon. Since he's hustling at the moment, all Monasterio could do is spontaneously cover Rihanna's "Work" and turn it into a classical song.
Or rather, that just shows what else Monasterio could do.

Writer Chryssa Celestino
Photographer Marlon Pecjo
Style director Edlene Cabral
Style associate Jerico Villamonte
Style assistant Yzza Hablado
Grooming Eddiemar Cabiltes