Actor David Licauco shows how it's done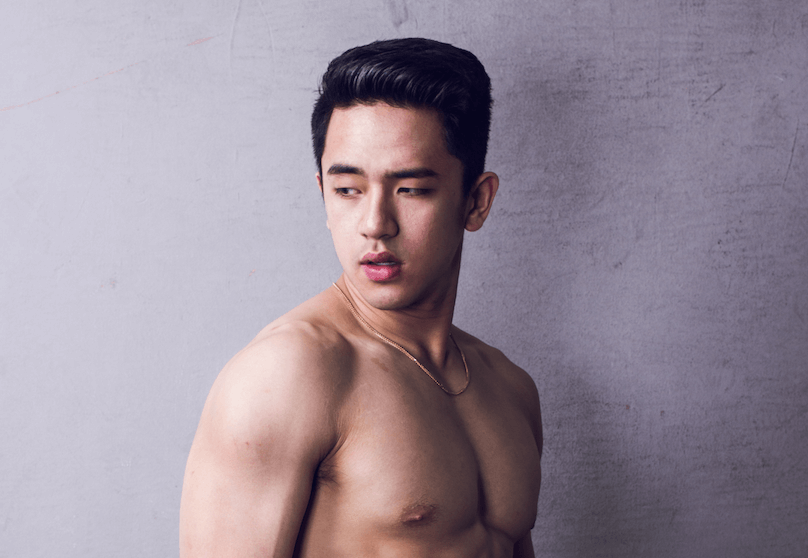 "I believe that it's 70 percent diet and 30 percent workout," exclaims David Licauco, as he moves around the purple-walled interiors of the free weights section at Anytime Fitness. Watching him workout tends to be infectious as David commands attention for his good looking physique as well as his intense fitness regimen. No wonder he has garnered a huge following on social media as well as contests like Mr. Chinatown Philippines as its first runner-up back in 2014.
With a body built like Grecian gods, the six-foot model doesn't take fitness and nutrition lightly. "If you really want to be fit, you'll make time for it," David expresses with eyes enveloped in pure focus. Also, he's a firm believer in resistance training to help build muscles and circuit training to effectively lose body fats as it doubles as cardiovascular activities. The College of Saint Benilde graduate admits to indulging into an active lifestyle as he wants to become a professional basketball player in the future.

Here, David shares how to develop a body worth bragging on- and offline, possess a strong sense of motivation, and reinforce your ability to chase after fitness goals.
How do you start your workout?
"I start my workouts by doing 20 minutes of cardio and then I proceed to targeting specific muscles of my body; it usually varies per day. Somedays I work on my chest and biceps while the next day I work on my back and triceps."
What is your nutritional diet?
"I eat a balanced healthy diet. I eat oats with scoops of whey and five egg whites for breakfast. For lunch and dinner, I feast on lean meat like grilled chicken and brown rice."
How important is fitness and health for you?
"Even if I don't do photo shoots as part of my line of work, I'd still probably include working out in my daily routine. I believe working out is essential for everyone's lifestyle. And hey, who doesn't want to look good?"
What's your favorite muscle group to workout?
"It's my abdominal muscles. Just because its the hardest to achieve."
Any fitness advise?
"You got to start now. Most of the guys or even girls say they don't have time for it. I don't believe in that saying. And besides, you can always improvise your workouts; you can workout at home and jog in the village, to name a few."

David's Workout
On chest exercises:
Three sets with 12-10-8 repetitions
Bench press
Incline bench
Flyes
Incline flyes
Dips
On back exercises:
Three sets with 12-10-8 repetitions
Lat pulldown
Deadlift
Rows
Pull ups
Single armrow
On core workouts:
Three sets with 12-10-8 repetitions
Weighted sit ups
Leg lifts
Abs scissors
Plank (hold for 60 seconds, 3 sets)
On bicep and tricep regimens:
Three sets with 12-10-8 repetitions
Hammer curl
Bicep curls
Dips
Photographer Toff Tiozon
Grooming Gaile Palma