At Escolta, sightseeing comes mixed with some sleuthing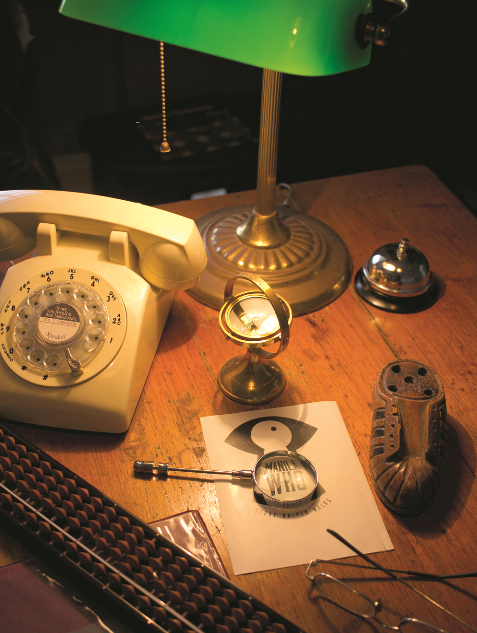 It was like putting a carriage before the horse: before Manila Who started taking tourists around Escolta, its founding partners merely wanted to rent space at the pre-war First United Building just because. To them, the big windows, the architecture, and the place's history were sufficient reasons to set up an office in the building; business ideas could come later. "Plus," photographer Nikkorlai Tapan adds, "the rent is affordable."
Soon, however, she and her six other business partners—EJ Constantino, Stefan Lowenstein, Vincent Chen, Abby Maglaya, Joanna Dureza, and Brian Baldos—formed Dérive Recreational Concept Production and Design and began developing a concept that would serve the community to which they now belong.
With its rich history and unique combination of heritage and urbanity, Manila doesn't suffer from a lack of tour guide services; even pedicab and kalesa drivers can take anyone around, complete with a basic spiel about some of the major attractions in the city's older districts. They rarely allow a tourist to move around at their own leisure, however, to dart into a quieter side alley for a closer look, to be more than just a passing visitor.
And while flânerie has its inherent charm, Dérive's Manila Who elevates it further with story-telling and mystery-solving to get the modern-day flâneur more actively involved with their visited environment.
There are two fictional back stories to choose from, each one based on 1950s Escolta, and they propel the tours forward, indicating where the guests would go and what they'd do next.
The first is The Tale of the Cursed Painting: based on the mysteries surrounding Juan Luna's "Mi Novia" portrait, it unfolds indoors as an escape room-like experience within a setting that fully immerses participants in pre- and post-war Escolta. The Tale of Rose, meanwhile, takes tourists outdoors to solve a murder case, with the clues hidden at some of the district's most famous landmarks and a couple of decades-old secret neighborhood spots; even the most frequent Escolta visitor will still get surprised, either by a new discovery or a new, closer look.
"As far as we know, we're the first ones to combine a history-centric real-life investigation, a treasure hunt, and a city tour all in one experience," says Lowenstein, Dérive's entertainment director. To make the story details as authentic as possible, they consulted Escolta old-timers who shared what daily life was like then: the more mundane aspects that built and sustained the district's economic vigor before the war, and the unglamorous work that went into rebuilding it after people had left, traumatized from the liberation bombings. "We continuously found new details about pioneering establishments and innovations that started in here."
Team manager (and long-time Binondo resident) Chen admits getting surprised by the existence of Escolta's small museums during those research-intensive early days of their business. "Unlike Binondo, Escolta hasn't been widely explored by urban adventurers yet, maybe due to the lack of exciting things to do, but also because the historical landmarks here haven't really been promoted."
And so Manila Who takes on that responsibility, right beside other new establishments that are rising in the area. Guests have been drawn in by the novelty of playing at both tourist and gumshoe-lite, and with The Tale of Rose, they get to engage a bit more with some Escolta locals whom Manila Who tapped to be part of the game.
The current first version of the case is pretty straightforward and fun, mostly requiring a sharp eye for visual hints. There are new cases in development, though, that Dérive hopes would draw the guests' attention to the precious cultural significance of Escolta's architectural marvels. "It's hard to know until when would these old buildings remain standing," Tapan remarks of the heritage structures still lining the former business district. "They're endangered here in Manila. Once a structure is torn down, we won't see the kinds of design details it has again anywhere else."
Dérive is also looking beyond Manila and beyond organizing tours, with food crawls and outdoor film screenings to be held in different places around the metro throughout the year. And before the year ends, they hope to finalize the details of bringing a Manila Who-like tour services to Taal, Batangas' heritage town.
All of their activities are part of an effort to foster a sense of community, "and we want to do that by supporting small local businesses and enterprises that aren't foreign-owned and franchised," Tapan says. While location came to them before purpose, Dérive found one that's worthy of the significance (and the cool factor) of the place they call their creative home.
The Tale of the Cursed Painting (60 minutes): Php450 per head
The Tale of Rose (two to three hours): Php800 per head for the basic package. Boosters such as sleuthing kits (P400), snacks and meals (P300), and calesa rides (P200) can be added to enhance the mystery-solving experience.
Both stories can have a minimum of two participants and a maximum of five.
Manila Who. Unit 516 First United Building, 413 Escolta St., Manila. 0917 – 868 8872. manilawho@gmail.com. @ManilaWho in Instagram.
This story originally appeared in Garage's February/March 2017 issue.
Photographer: Ronan Capili