Kanye merchandise is on tour before he is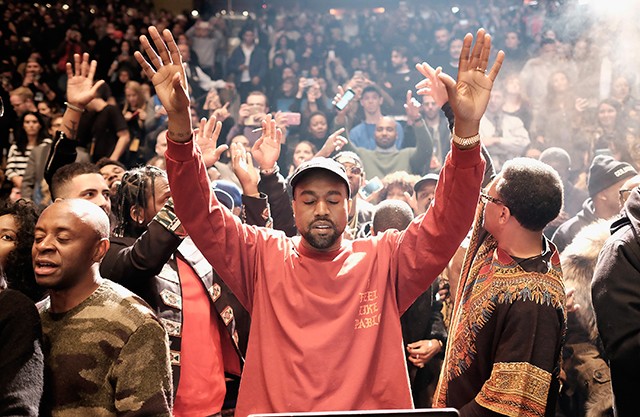 Kanye West's "Saint Pablo" tour, for his platinum "Life of Pablo" album, begins its course through North America last year. But even before it begins, his "Pablo" merchandise — tied to and inspired by the album — will have had its own worldwide debut.
On Friday, 21 pop-up shops across the United States, Canada, Europe, Asia, Africa and Australia opened to sell West's "Pablo" collection, which includes T-shirts, sweatshirts, hats and jackets.
West announced the pop-ups Wednesday night on Twitter, later revealing store locations and opening times on his website. Each city's pop-up has exclusive merchandise of its own, largely different from the "Pablo" collection that will eventually be available at stops on the concert tour, and remain open through Sunday, stock permitting.
Because the stores — in New York, Chicago, Detroit, Atlanta, Houston, Berlin, London, Singapore, Sydney and Cape Town, to name some of the locations — are staggered across time zones, his merchandise will effectively be on sale somewhere on the globe 24 hours a day. (Lest they seem too separate from West's music, the pop-ups will also have sound systems provided by Sonos, all playing "The Life of Pablo.")
On Friday morning, by the 10 a.m. opening time, the line at the Tribeca pop-up in New York had stretched around the corner and down the length of nearly an entire avenue. Many of those waiting were wearing "Pablo" shirts from earlier pop-ups, and the crowd was dotted with West's gnomic lyrics in gothic lettering: "This Is a God Dream" or "I Feel Like Pablo." Metal gates kept them cordoned off, and the police and hired security were hovering. The line had begun forming the night before.
What was once called concert merchandise has lately slipped the bounds of the traditional concert tour, riding a wave of popularity that West and his Yeezus merchandise helped to create.
Lately, other artists have been experimenting with new ways of marketing themselves and their branded merchandise, like wearing it on their own backs or selling it at Barneys New York.
West, whose ambitions are often grander than his fellow stadium-packing stars, is not merely introducing his own pop-up shops (as he and others have before), he is speckling the globe with them, in one weekend-long swoop.
The project came together quickly, said Mat Vlasic, the chief executive of Bravado, the Universal Music Group-owned merchandise company, who helped orchestrate the international stores, their stocking and security. It is the largest retail program Bravado has ever tried, and it was executed in less than two weeks. "It's an aggressive timetable," Vlasic said.
As 10 a.m. ticked to 10:30 and then past it without the doors being opened, the Tribeca crowd grew restless. (A chant of "Let us in!" began.) The wooziest early arrivals were shifting a bit: Some mugged for the cameras that were there to document the scene; one young man in a baseball cap briefly fell asleep standing up.
Khalid Abdalla, 17, was behind the metal gates closest to the door. He had been waiting since 6:45 the previous night, when he said he had been the first person in line, and had at his side the folded-up camp chair in which he had slept. (Circulating stories varied about when the first person arrived, but Abdalla pulled up a photo of himself, alone in the chair, to bolster his case.)
He had been at the previous "Pablo" pop-up in New York, in March.
"I bought everything," he said.
And now?
He shrugged. "I'm buying everything again," he said. NYT
Image from Getty Images