Rihanna debuts Fenty collection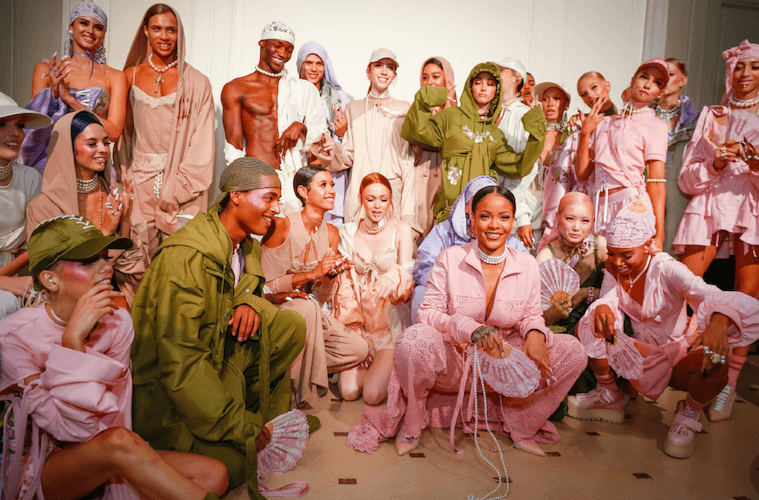 On an upper floor of the Hôtel Salomon de Rothschild, the 19th-century manse formerly occupied by the banking Rothschilds, a line of sweating models fiddled with the rings in their lips and the septums of their perfect noses, and waited to have their lip gloss reapplied. They chatted among themselves, fanning one another with torn bits of cardboard in the close, sticky corridor and examining their nails, which had been sharpened to talons and encrusted with miniature gems. They received compliments with the languorous equanimity of court ladies, which for a night they were.
Nice nails, a reporter said to one model, a heavy-lidded Dane named Frederikke Sofie. "Oh, they're not mine," she replied.
Not for the first time, and surely not for the last, the thought occurred that the European fashion shows, with their ritual peregrinations from palace to palace, were not so different from the French court, which took its pomp and circumstance on the road at regular intervals. The thought occurred with particular force Wednesday evening because Rihanna — pop megastar, fledgling designer — had decreed that the look she wanted for this, her Fenty show for the German sportswear giant Puma, was Marie Antoinette "if she was going to the gym."
Rihanna was in a chamber two rooms back. The hour appointed for the show, the second for Fenty and its first in Paris, ticked by. In this, there was nothing unusual. Fashion is not punctual, and Rihanna does not hurry. She was wearing a pink tracksuit/gown of her own design, twirling a long strand of pearls and receiving guests who had come to pay their court: journalists; executives; François-Henri Pinault, chairman and chief executive of Kering, which owns Puma. ("The collection is very interesting," he said gamely, on his way to the salons downstairs where the show would eventually begin.)
Attendants were barking out orders — "Nails, nails, we need nails! We're losing nails!" — but Rihanna was serene and unusually humble for a reigning monarch, which, for the evening at least, she was.
"I would never expect that I would be allowed in Paris to show a collection this early as a designer," she said. "That wasn't a thing that I expected at all. I couldn't believe — I still right now can't believe it happened." She added, sweetly, "Thank you for putting those butterflies back in my stomach."
Nerves notwithstanding, Rihanna's was, perhaps predictably, the most hyped show of the evening, so oversubscribed that two shows had to be staged, one immediately following another. Fans gathered outside the hotel gates, behind police barricades, and more hovered outside the Four Seasons Hotel George V a half mile away (though if she was actually staying there, who knows).
When the time came, the show went out on a live stream like a stylized music video (the soundtrack was "violins mixed with trap beats," she told Vogue), and the models sashayed through, fanning themselves coquettishly, their chinoiserie boiler suits and filmy, frilly windbreakers dipping off their shoulders. Rihanna took the final lap herself, her own best customer and model.
The reaction from those outside the court, from the queen's self-appointed subjects, was rapturous (on Twitter, a sampling: "I love this"; "LIFE GIVING"; "The look of the century"), and even among the stiff-lipped editors inside, some fun was being had, though none more so, it seemed, than by Rihanna herself, who came through with a giant smile on her face: Let them eat brocade!
Earlier in the evening she had been asked if she related to Marie Antoinette and she nodded.
"She was very dramatic," she replied. NYT