Designer Profile: Ivarluski Aseron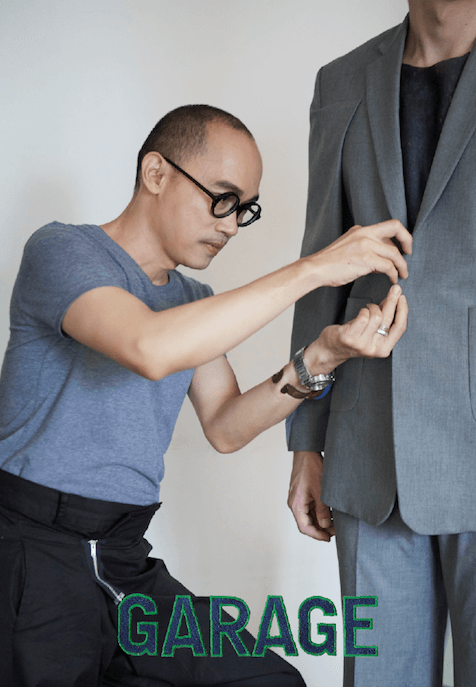 Ivar Aseron was standing in front of The Broad Museum in Downtown, Los Angeles, when he was triggered by this sleek architectural design philosophy. The designer finds the contemporary art museum an architectural feat as he deliberates on the methods used to build its structure. It appears simple from the outside, but there is an underlying complexity. Aseron wasn't able to get inside the museum since he came during non-operating hours, but he saw its curvilinear interiors mimicking a cave through the window glass.
This was his inspiration in building his latest collection shown during the Fashion Exchange International. It's filled with lines and structure; ferrying classic taste realized in inventive cuts. The menswear line has coats, jackets, and trousers in dark and light gray wool, plus a throw-in oversized shirts and a printed long tunic top in silk and knit. It seems straightforward until you see details in each garment wherein Aseron manipulated the fabrics through draping and folding to create new patterns, his way of embellishing his pieces. For example, he made a pair of pants that has an extended fabric traversing from the right leg to the left waist, making the pants look folded rather than cut and sewed. There was also a blazer with cuffed arms to which Aseron described as challenging to do for he had to make sure the front part is clean of stitches.
"I want every piece to have an unexpected detail," Aseron muses. And he did in almost every piece starting with a jacket made with buckled straps hanging loose on the sides. There was also a coat with draped shoulders that resembles a cape, and an oversized shirt in satin, often used on women's clothes, that has its neckline, sleeve ends, and hemline unstitched, allowing the garment to lay freely. There were also unexpected details injected to few pieces, like an extended fabric coming from behind the front pocket extending outwards. Just like its inspiration, the collection seemingly boasts uncomplicated styles yet the details are actually difficult to make.
Getting inspiration from art and design isn't something new to Aseron. "I once did a collection that is a play on light and shadow. It had a Japanese feel to it. There were visible brush strokes through it, and I dyed the fabrics myself," Aseron continues. Frank Gehry's Walt Disney Concert Hall in Los Angeles, the structure in front of The Broad Museum, was also an inspiration to some of his past creations.
Even though he is known for creating womenswear, Aseron isn't much of a newcomer in the menswear field, either. "I already produce menswear pieces when I started in the industry," Aseron says. "But those are just few pieces injected in a collection full of womenswear." Clients, mostly grooms-to-be, would also ask him to create custom-made pieces for them, and that is when Aseron utilises the opportunity to do menswear. His aesthetic remains the same though, a lot of linear silhouettes and experimenting on the limits of the materials he use.
Photographed by Erwin Canlas. Produced by Yzza Hablado. Model: Josh Cordovez.