Boots, beats, and a whole lot of buzz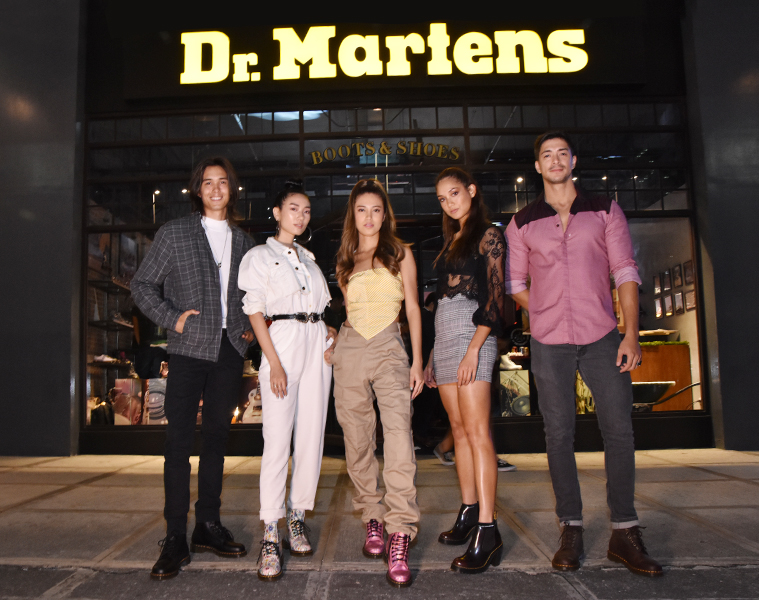 Models, artists, and celebrities together with boots enthusiasts welcomed the relaunch of Dr. Martens flagship store in Two Parkade in Bonifacio Global City. The store is back with newly renovated interiors, giving all the customers a brand new shopping experience which includes a wide selection of styles from footwear, bags, accessories, and shirts. The first and largest store also boasts its unique and exclusive spot located in one of the metro's premium spots at Bonifacio Global City, as this store is the only Dr. Martens in the country that can be found outside the malls. 
Aside from its merchandise that is very much in demand all over the world, the DMs Two Parkade store has become a venue for celebrating Docs as a brand closely related with music. Starting with its opening last May 2013, it has housed crowds of almost a hundred per gig, featuring Imago, Bloomfields, Squid (album launch) and the legendary OPM band Razorback, who did their performances twice at the DM Two Parkade. At the re-launch, the highlights of the night was the special performance of one of OPM's biggest names, The Itchyworms. Jazz, Kelvin, Chino, and Jugs put on an amazing show sing hits such as "Penge Naman Ako N'yan" , "Akin Ka Na Lang" and "Di Na Muli" which pumped up the crowd.
Along with the music that night, five style icons joined the Itchyworms upfront. Beginning with actor/model and Pinoy Big Brother 737 second big winner Tommy Esguerra, who wore the iconic pair of 1460 Classic Boots in Black Smooth which has 8-eyes that embodies all that is true and unique to Dr. Martens with its instantly smooth leather, grooved sides, a heel-loop, yellow stitching, and a comfortable, air-cushioned sole.
https://www.instagram.com/p/Bsx3BmcHs4T/
Model and certified fitness instructor Sam Ajdani wore the 1460 boot in Gaucho Crazy Horse.
Model Jessica Yang went for something feminine in 1460 Pascal Wanderlust boots with floral prints.
https://www.instagram.com/p/Bsx0K8zgtZI/
Asia's Next Top Model Cycle 5 finalist Jennica Sanchez rocked her Mallow Pink 1460 Pascal Iced Metallic Boot
https://www.instagram.com/p/Bsx0PYsBX14/
and Asia's Next Top Model Season 3 finalist Monika Sta. Maria picked Hurston platform Chelsea boots in Cherry Red Arcadia.
https://www.instagram.com/p/Bsxp3zFg7kO/
This global shoe brand proves that each pair, when worn, is made for those who seek their own distinct self-expression. Marketing Manager Edward Kabiling adds, "Made for the free spirit, a pair of Docs gives its owner a whole new sense of confidence. This makes every pair unique and worn different."
For more information about the brand, you can follow them in social media here.