In "Is it here yet?!" news: The Black Panther promotional roll out continues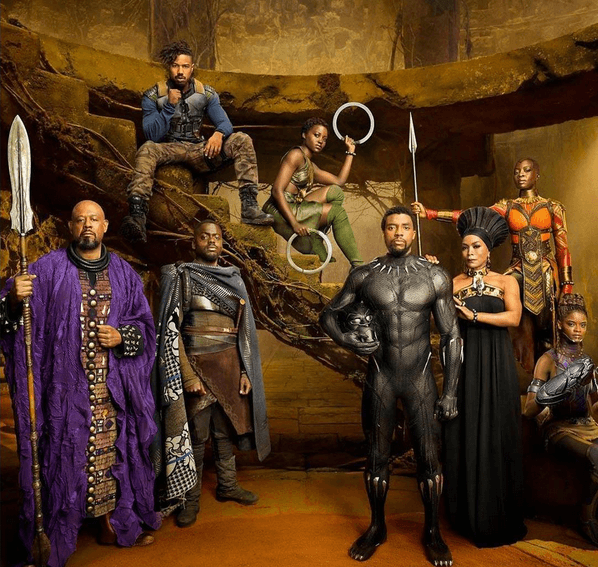 The most anticipated film for 2018 already got us #shookt when the first Black Panther trailer was released a few weeks back. Now, just before next weekend's San Diego Comic-Con, Entertainment Weekly released its pre-Comic-Con issue featuring the Black Panther cast on the cover.
And everyone looks ridic:
https://www.instagram.com/p/BWcwseBB3pK/?taken-by=chadwickboseman
https://www.instagram.com/p/BWcy85VBHK9/?taken-by=chadwickboseman
Ugh, why is February 2018 so far away?!
Of T'Challa's kingdom of Wakanda, EW wrote:
"In Marvel lore, T'Challa's homeland is the site of massive natural deposits of Vibranium, the near-mystical metal that comprises Captain America's shield, is woven into his Black Panther, and has allowed the people of Wakanda to make technological leaps nearly a century ahead of the rest of the world."
In short, this fictional and obviously African country is more advanced than any other place in the world, immediately wrecking the third-world stereotype that has too long been foisted on the entire continent.
Wakanda also has never been conquered: it deliberately closed itself off from the rest of the world, hiding its wonders behind a poverty-stricken front to put off opportunistic white people. But enemies aren't always from without; they could also come from within.
"In this movie, a lot like politics, it's a little tricky to define who's [a good guy]," Black Panther director and co-writer Ryan Coogler (Fruitvale Station, Creed) tells EW. "The film very much plays with those concepts, looking at conflicts and different motivations, and who's with who."
So again. Is it here yet?!